This post may contain affiliate links to products that I recommend and I may earn money or products from companies mentioned in this post. Please check out my disclosure page for more details.
---
A refrigerator is not something that you're going to replace very often. Once they start to give trouble, however, they can give up the ghost at any time, leaving you stranded. On the other hand, a small unit ideal for your college dorm room will not meet the demands of additional members of your circle or family and will have to be upgraded at some point. There is a best time to buy a refrigerator if you need to purchase one.
The best time of year to buy a refrigerator is April to June, weekends, public holidays, and Back-to-School sales. Observe retailers' and manufacturers' websites, and ask in-store sales staff for discounts, particularly when business is slow. Try Deal Alerts and cash-back coupon sites too.
This is where some planning can be invaluable. Refrigerators are not the most expensive purchase many of us will ever make, but you can save hundreds of dollars by buying at the right time. Even Statista notes cost as a significant concern for buyers.
The Best Time Of Any Year To Buy A Refrigerator
Many factors will come into play when you decide to make the purchase. Some will be on the day in question and others weeks or even months ahead of time. Let's consider some of these factors:
Shop Online for Savings When Buying Your Refrigerator
It's far easier to shop online for comparative prices rather than to do so in person unless time is your friend. You have far more time, and you don't get hit by that crazy 'gotta buy now' feeling in the pit of your stomach. Surf the web for the best deals before you even leave home. 
If you decide to purchase online, you can with ease. There are many online shopping stores that accept pay with eChecks which make your transaction easy to complete.
Many appliance retailers make looking for deals easy. They want your dollars, so why not help you spend them? Retailer websites sometimes have discount sections (like Lowe's Savings page, Home Depot's Appliance Savings section, and Samsung's Offers area.)
Discounts vary widely, but here are some recent offers:
Home Depot: Save over $300 on an L.G. 3-door Smart Refrigerator
Samsung: Get up to $800 off selected 4-door refrigerators
End Of Each Month Is A Great Time To Buy A Refrigerator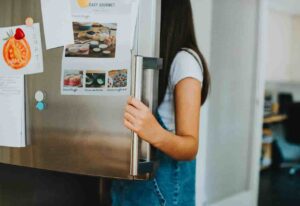 Many stores and salespeople have quotas that they need to meet in a calendar month, so you can sometimes nail a great deal if you go appliance shopping near the end of a month. This is the best time to haggle for better deals. You'll often find stores and salespeople have a little more leeway near the month's end as their quota stares them in the face.
Purchase A Refrigerator During Late Spring
Freezer and refrigerator manufacturers often update their models in late Spring, which seems contrary to logic at first. People often find that their fridges and freezers fail in the heat, and the manufacturers want their new models ready for summer buying.
As a result, you'll typically find the best bargains on refrigerators and freezers during late April, May, and early June. May is a firm favorite, as there will be Memorial Day sales and Maytag Month, a month-long savings event on the Maytag brand of appliances. Just make sure you don't have debit card declined error codes if you try to purchase that way.
Is The Memorial Day Weekend A Good Time To Buy A Refrigerator?
If you're buying a new refrigerator, highlight Memorial Day weekend on your calendar. It's in the April-through-June window when new refrigerator models are rolled out, and it's also a holiday weekend and late in the month, so retailers will be hoping to meet quotas. Thus, you'll often find substantial refrigerator discounts on the three-day weekend.
President's Day & Black Friday: Real Deals Can Be Had On These Holidays
Many merchants (Best Buy, Lowe's, and Sears) offered between 30% and 50% off refrigerators and other appliances on Presidents Day.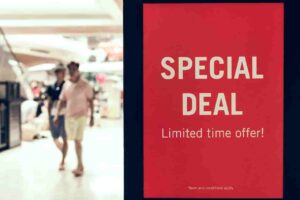 On Black Friday, Home Depot offered up to 40% off refrigerators with special buys, plus instant savings of up to $500 if you purchased two or more selected appliances. They are not the only chain that sharpens its pencils during the holiday, as evidenced by the 'temporary squatters' that take residence outside stores countrywide the night before. You can use a Visa provisioning service to purchase.
These holiday sales can be very significant, and savings of 50% are not uncommon.
Labor Day Sales Offer Large Deals On Refrigerators
Labor Day always has a plethora of great bargains attached to it. Not the best time to buy a refrigerator if you hate crowds, but some good savings might cheer you up noticeably.
Mid-Winter Refrigerator Sales In Mid-July
Can't face the crowds of November's Black Friday? Well, there's another Black Friday in the summertime! Nearly ten years ago, Target launched their summer flash sale called 'Black Friday in July.' Other major retailers like Best Buy and Walmart have followed suit with their own unique promotion periods during summer. Some of these stores are considered progressive leasing stores as well.
In 2015, Amazon introduced a day of special offers: Prime Day, which has historically fallen in mid-July. According to Slickdeals, more than 5% of the top Amazon Prime Day deals in 2018 were in the kitchen appliance category, including refrigerators.
Back to School Sales Offer The Best Refrigerator Deals
What about those of us looking for our first refrigerator or one for a kid going off to college? Maybe you need a compact refrigerator under the bar?
Back-to-school does seem like a weird time to think about buying appliances. Still, students are leaving for college, and they need refrigerators and other small appliances for their dorms and apartments. Many of the buy now pay later no credit check instant approval no money down deals exist for college students.
Manufacturers are aware of this trend, which is why some back-to-school sales include affordable appliances like mini-fridges. This is a perfect time to look for deals, especially if you're looking for a space-saving version.
Buying The Latest Refrigerator Models
If you're after the latest refrigerator models, the manufacturers have not forgotten you, and there is a time of year where you can get remarkable offers:
Naturally, all of the scenarios above are based on the premise that you want to save money on purchasing a new refrigerator. If that's not the case, and you want to know when the best time is to get the latest model, then Spring is your best bet.
Even HouseLogic notes a particular time and day to buy appliances online (3 PM on Thursdays) could be advantageous.
Should You Plan Ahead When Buying a Refrigerator?
You'll possibly get a lower price for your new appliance if you purchase it before it's required. If you wait until your refrigerator coughs and rolls over before replacing it, chances are you won't be able to hold out until Black Friday. As a result, you might make a careless, often poorly researched purchase.
Start by deciding what brand and model you're most interested in. What size refrigerator do you want/need? What features can't you live without? Then, note the prices of each refrigerator at several retailers, and check back periodically. When you're committed to parting with your saved cash, you will not be fooled by sales tricks.
If you can approach every sale with a basic knowledge of what price you should be paying, you'll be sure to get the best possible deal on the machine you want. Don't be discouraged by bogus sales because there are a lot of honest sales happening throughout the year.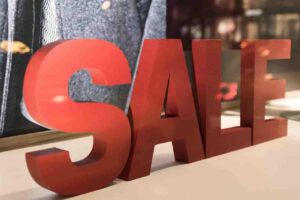 Remember that appliances being sold at crazy-low prices are sometimes demo models or have dents or scratches that might be near-impossible to see. This is an excellent tactic how to save money on large appliances. As long as you're comfortable with bringing home a perfectly functional yet slightly shop-soiled product, take the win. In many cases, the imperfections will be barely visible, usually around the back.
The most efficient way to learn about a specific appliance is from its owners. Ask your friends and family if they recommend their brand/model of refrigerator, and look online for reviews. Most major manufacturers or retailers have reviews posted on their websites, and people aren't shy about sharing their good or bad experiences. Take into account that sour grapes may color some reviews. 
Publications such as Consumer Reports are also a good of information when buying a refrigerator.
Tips When Purchasing A New Refrigerator
Here are some tips that to consider when making your next refrigerator purchase:
Energy Efficiency 
The cost of your new refrigerator is not limited to the price you pay for your purchase and includes the cost of the electricity required to run it. For the most significant savings on your monthly bill, consider buying a unit with Energy Star certification.
Avoid Unnecessary Features 
Appliance sales staff are often paid a commission on their sales, so if they can get you to spend more money on fancier models and special features that you may not need, it adds to their bottom line.
A filtered water jug in the refrigerator and a standard (or retro) ice cube tray in the freezer are two inexpensive and functional alternatives to ice and water dispensers.
Wi-Fi, odor control, and digital temperature monitoring are all very well, but you will save money buying a unit without them, and there will be fewer things to break down the road.
Exercise Common Sense
Just because a retailer advertises an item is on sale doesn't mean it's the best price. Make sure you shop around first to know whether or not the advertised deal is the lowest around. In reality, it's commonplace for retailers to mark something up, only to mark it back down on sale, but great deals do exist.
Focus on Color and Finish
Choose a standard white unit for those of you who could care less about your large appliance's appearance. White appliances tend to cost around $100 less than trendy Stainless Steel and those other in-vogue colors. These small savings can make a great machine more affordable.
Shop Around 
Shop around not only for bargains but also for shipping your product, for example. Lowe's and Home Depot offer free (local) delivery on most appliances, and you can even arrange for them to collect your old machine when they deliver your new 'baby.'
They also offer free in-store as well as a curbside pick-up for purchases made online. If it's not convenient for you to use them for pickup, there are other places. Just search free appliance pickup near me and you will have a list of options close to home.
Manufacturers' Websites 
Manufacturers' websites are the best place to start. Take a look at what is available in your budget's range and make a note of what features you feel you need and which others you would like. Then, check the price and look for free delivery, discounts offered if you take a second appliance, etc.
Check for any discounts offered right there: Maytag is offering 5% right now if you sign up for their mailing list and many other manufacturers offer something similar as an incentive from time to time.
Once you have all of this information noted down, you are in a position of power so that when you do hit the stores, no glib-tongued sales assistant is going to put one over you. Remember, knowledge is power.
Deal Alerts 
Once you've researched the subject and know what you'd like, set a deal alert for it on Slickdeals.net. This website will notify you once that item goes on sale, saving you precious time looking for deals. Or you can use the results to hone your search to a sharper edge.
Cash-Back Coupon Sites 
If you put in effort, using cash-back apps and sites is a wonderful way to earn money back on high-ticket purchases like refrigerators.
Here are just some of the specials recently offered at Couponcabin.com:
Home Depot: Save as much as 30% off, and earn 2% cash-back plus 4% bonus in cash
Lowe's – Save as much as 30% off, and earn 1% cash-back plus 4% bonus in cash
Bed, Bath & Beyond: You could save 20% on any item in the store with mobile alerts set up and get a 2% cash-back plus a 4% bonus in cash
Warranty Coverage 
Pay for the refrigerator with a credit card that includes warranty coverage. Some credit cards double the warranty offered by the manufacturer.
Size Matters 
Size does indeed matter, and that includes the length, width, and depth of the space where your appliance will be housed, as well as the passageways and corners you'll need to navigate as you install it. Measure your area before purchasing; sounds obvious, eh?
Signs That Your Fridge Needs Attention And Possible Replacement
Always consider a repairman first, but if your machine is over eight years old, the repair might be half the cost of a new machine, and then it's only the repaired part that is renewed, while the rest of the unit is old.
The rear is very warm or hot to the touch: the back of a refrigerator generally feels hotter than the front or sides. However, if the rear exterior surface radiates a noticeably large amount of heat, the motor may be running dangerously hot.
Unit is louder than usual: Most refrigerators have a gentle hum, but if your fridge starts buzzing louder, the motor might not work correctly. Unplug the refrigerator for a few minutes. If the buzzing doesn't stop when you replug it in, your fridge might be preparing for the appliance farm in the sky.
A silent fridge: coupled with food that appears warm, suggests a damaged compressor. Unplug the fridge (again) and plug it back in, then check your home's electrical panel to make sure a breaker didn't flip. Still dead silent? Call a professional.
Food expiring before the expected date: Any refrigerator with subpar power can cause food to turn bad before the printed expiration date. Safety standards require that perishable items be maintained at a temperature of 40F / 4.44C or colder, so first, check the adjustment knob on the thermometer to ensure it's correctly positioned. Pop a portable thermometer into the fridge overnight if unsure.
What To Do With Old Appliances
Even hard-working refrigerators can have issues over time. Ask your dealer for the details of some reliable repair people, so you have them on hand if a problem occurs. Ensure you can have the appliance serviced locally, or the shipping fees might be higher than the repair. Check out ways how to save money on appliance repairs.
You can also try to repair the appliance yourself. There are many places you can buy appliance replacement parts online, making tracking down the right parts a snap. Additionally, you can find all kinds of resources online to walk you through repairing the appliance.
If you have decided repair doesn't make financial sense, you can try to dispose of them. Once you have decided to replace your refrigerator, you will need to decide what to do with the old one. Facebook Marketplace, Craigslist, etc., might get you a sale, or you could consider donating to a charity or homeless-person shelter. Send some good vibes into the ether. Look for who buys used appliances near me online for some options.
And finally, you can contact appliance stores as well. These stores buy used appliances in bulk, but you might be able to convince them that your refrigerator is special. The best way is to offer it up for free or nearly free. You can always ask about trade-in options if nothing else works.
If you live in the Los Angeles area, there are many stores that buy and sell appliances in Los Angeles. You can sell your refrigerator for best price.
Related Questions:
Should you replace a refrigerator over 20 years old?
You should replace a refrigerator over 20 years old if the following conditions apply:
It's leaking water.
The compressor is making noise, such as squealing or grinding.
The door gasket is cracked, warped, or damaged and not sealing the fridge tightly.
Which credit card company offers the best warranties for high-ticket items like refrigerators? 
Some credit card companies offer the best warranties for high-ticket items. Discover card offers up to 90 days warranty on all the purchases made with their credit cards. And best of all, Discover card offer no-interest on items sometimes if they are paid in full within six months if you can catch their promotion.
What style of refrigerator is the cheapest?
The cheapest refrigerator is typically a freezer on top of the refrigerator. The best way to save money when buying a refrigerator is to shop for the best deals, which could be done online. And even if you are shopping for the best deals, it's best you can do your research because not all deals are created equal. Check out what is progressive leasing to learn about payment plans.
Conclusion
A refrigerator is a necessity for most of us, but don't wait until it's on its knees, begging for mercy before you start looking for a replacement. Timing is key, even noted by Consumer Reports for appliance purchases. Great deals do exist, so follow the advice outlined above and be prepared for your refrigerator's demise before it happens.
Related Resources