This post may contain affiliate links to products that I recommend and I may earn money or products from companies mentioned in this post. Please check out my disclosure page for more details.
---
Moving to a new place is exciting, but not so much on the preparation. You need to plan, organize, and pack efficiently to not leave any of your stuff behind. While cardboard boxes and laundry bags help to pack most things, the sturdiest and strongest of them all are wooden crates, but where can you find free wooden crates for moving?
The best places where to get free wooden crates for moving are Craigslist, U-Haul Customer Connect, social media community groups, and local stores such as grocery stores, book stores, liquor stores, restaurants, and coffee shops.
The rest of this article will explain in detail where to find wooden crates, along with what to store in wooden crates, the pros and cons of using wooden crates for packing, the best wooden crates sizes for moving, and finally, how to pack efficiently for a move.
What to Store in Free Wooden Crates While Moving
There are many reasons why you might need wooden crates. One example is for moving back in with parents so you can move your possessions quickly. Although you can store literally anything in wooden crates, it is better to pack certain items in bags or cardboard boxes. For instance, objects of weird shapes will not fit in wooden crates. Even if they fit in, they will take up a lot of space. Bags, bubble wrap, or cardboard boxes work best for unusual-shaped objects like lamps. You can also put free stickers on some of the bags an cardboard boxes to help remember the contents inside.
Wooden crates work best for:
Fragile items, like glass and mirrors
Heavy items like TV and large electronics
Items with sharp edges 
Heavy books 
In short, any item that is difficult to pack in bags or cardboard boxes can be packed in wooden crates. Try to minimize the number of wooden crates by not leaving out too much space after packing. Also, if you are hiring professional movers, more crates will mean more money, as movers will also consider the size of the move.
You can also use free wooden crates for businesses such as a pet waste removal business to store equipment in. This will make moving equipment simple.
Pros of Using Free Wooden Crates for Packing
Using wooden crates is an excellent option to pack for a move. Here is why.
They can be stacked easily. Since wooden crates have a definite shape, you can keep your things more organized and neat than bags and cardboard boxes. Whether you are packing books or utensils, they allow you to stack everything neatly inside them. The movers will also find it easy to transport crates as they do not have any sharp edges or awkward shapes. It is also easy to stack them on top of another in the loading truck.
They are sturdy and secure. Wood is obviously stronger than cardboard. They can also carry more weight than any bag or cardboard box. Wooden crates help in the safe transport of fragile things like glass and mirrors. Also, since wood is long-lasting and sturdy, wooden crates are great for long-term use. 
They are cheap. When compared to bags and heavy boxes, wooden crates are relatively cheaper. There are many places where you can get crates for free. Some places offer these crates at $1. Considering the functionality of wooden crates, getting them for free or for $1 is undoubtedly a steal deal. Even after you have moved to your new place, you can use these boxes to store groceries, books, or pillows. 
They are eco-friendly. Since wooden crates are made of natural materials, they are environment friendly, unlike their cardboard and plastic counterparts. Therefore, getting rid of wooden crates once you have moved in is easier than getting rid of plastic bags and cardboard boxes. 
They can be used for storage. Even after you have moved in and unpacked, you can use wooden crates to store books, magazines, pillows, blankets, or groceries. You can even make a bookshelf out of a wooden crate or use it as a shoe rack.
Cons of Using Free Wooden Crates for Packing
Just like any other packing method, using wooden crates has its own disadvantages. 
They can take a lot of space. Unlike cardboard boxes and bags that you can fold multiple times and keep it in your drawer, wooden crates can take up a lot of space. You can give the crates to a friend who is about to move, but if you want to keep them long-term, you need to have enough space for storage.
They are expensive. There are many places where you can get wooden crates for free or at a low price. However, sturdier crates made of certain types of wood can cost more than bags and boxes. If you do not want to spend money on these, you can use the ones that are available for free. 
They can start to smell over time. Most wood species do not have an odor. However, bugs and germs can permeate the wood and cause unpleasant odors. Some people apply pesticides on the wooden crates to keep the bugs away, but the wood can develop a foul smell over time. To remove the bad odor from wood, sprinkle baking soda and allow it to sit overnight. Vacuum the crate the next day.
If you plan on moving soon, here are a few places to look for free wooden crates.
Where to Get Free Wooden Crates
Craigslist
Craigslist is a great resource for finding free moving boxes. Simply go to the Free Section and search for wooden storage boxes or wooden crates. It is best to search at the beginning of the week. This is because people usually move on weekends and want to get rid of their wooden crates at the beginning of the next week.
If you cannot find any wooden crates giveaway listing, go to the Wanted section and leave a comment requesting free wooden crates. Many people use Craigslist to connect with people, buy, and sell things. 
Since posting on Craigslist is free and does not require any paid ads, you can easily check the availability of wooden crates or request for a few boxes.
Grocery Stores
Grocery stores mainly use rectangular wooden crates to transport and store fruits and vegetables. They even use these crates to display the produce. Since fruits and vegetables are frequently restocked, grocery stores may have many free boxes at hand.
Tell them you are moving and ask if they can spare a few wooden crates. Most store owners may be willing to give them away for free or at a very low cost.
Liquor Stores
Wooden crates are widely used for storing and transporting liquor. This is because liquor bottles are made of glass, and it is crucial to pack it in sturdy and durable boxes to transport it safely. 
Ask a local liquor store owner if they have any extra wooden crates. If they do not have any crates at that moment, ask them if they can arrange a few when they receive the next shipment of liquor bottles. It is best to go to the store in the afternoon when there are very few customers. 
Book Stores
Book stores often receive shipments in wooden crates in which books are stacked on top of each other. Although local book stores may not order frequently anymore due to free audio books and eBooks available online, ask the owner if they have any extra wooden crates. Or ask them when the next shipment is.
Restaurants and Coffee Shops
A yummy meal is prepared using a variety of ingredients. Restaurants and coffee shops receive these ingredients from different places. And how are these ingredients delivered to these shops? In wooden crates. 
For instance, for Starbucks to meet their coffee demands, they have to ensure that they get a steady supply of ingredients like coffee grounds and flavorings. They receive frequent shipments of all the required ingredients in wooden crates. 
Therefore, ask local restaurants and coffee shops if they have a few wooden crates to spare. 
Restaurants and coffee shops are also a great place where to get free newspapers for packing so be sure to ask for that as well.
Costco
Costco is actually a great place to buy wine from. Wines from Costco have actually won a lot of awards and not only do they sell wine in a majority of their stores, they also have an extensive selection of award-winning vinos. All that wine is shipped in wooden crates to their stores from the vineyards.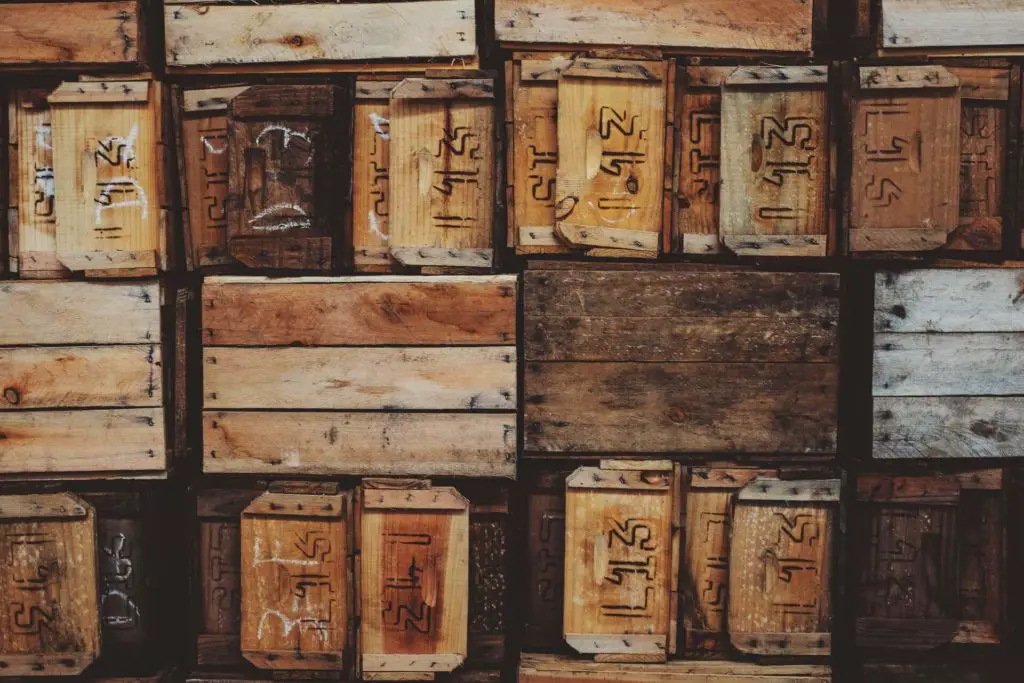 Check with your local Costco about picking up wooden wine crates for free from their store. You may also spot wooden wine boxes from Costco just by walking around in their store.
Classifieds
People looking to get rid of wooden crates may put up a listing on local classifieds. Although some may not be willing to give away the boxes for free, most people would want to get rid of them as soon as possible.
If you cannot find any such listings, you can post a request or advertisement asking for a few wooden crates.
Social Media Community Groups
Community groups on social media like Facebook community groups are amazing places to connect with people and get things done. Join local communities and ask them where you can get free wooden crates near you. You can also search for specific community groups created for swapping things. 
Another option is to open Facebook Marketplace and search if wooden crates are available under the Free Listings option. Both of these are great options where to get free wooden crates near you.
U-Haul Customer Connect
U-Haul Customer Connect is a service that lets you search for moving boxes available for free. The people on U-Haul include those who want moving boxes and those who want to get rid of moving boxes. Simply enter the zip code in the search box and see where you can get wooden crates nearby.
Target
This retail corporation gets big shipments frequently. Go to Target when there are very few customers, preferably in the afternoon, ask the employees or managers if they can get you a few wooden crates. They will most likely be willing to give away a few crates as they get a large number of boxes every week. 
Video Game Stores
Video game stores would be another option for free wooden crates because they receive a lot of inventory. This is especially true for people starting an online video game store because they have to purchase items such as gaming systems, gaming merchandise, and games to be sold to the genera public.
A lot of those items might be shipped in wooden crates which the store will end up throwing out more than likely. Contact your local video game stores to schedule a pick up time for wooden crates they are throwing away.
Ask Someone Who Just Moved
Ask among your friend, co-workers, or family if they know anyone who recently moved to a new place. You can get free wooden crates easily and ask for advice on packing and moving to a different place.
Related Article: Free Birthday Stuff: 72 Places for Meals, Gifts, etc.
Best Wooden Crate Sizes for Moving
Most of us may believe that large wooden boxes are the best to pack for a move. Well, this is true only for bulky items that cannot fit in any other sized boxes. Large boxes take up a lot of space in the loading truck. And if the objects are of different sizes, you will waste a lot of space in these boxes.
You will need one or two large boxes to pack bulky items. Medium-sized boxes are the best to pack most of your stuff. Small wooden crates are best for packing books, fragile objects like glasses, and mirrors.
Pack things with no definite shape in bags or cardboard boxes. For instance, it is better to pack clothes in laundry bags instead of wooden crates.
How to Pack for a Move
The key to packing efficiently for a move is to start early. Have a clear plan in mind and start packing at least two weeks before you move. You will need some time to figure what and what not to take to your new place. Having a packing plan is one of the best moving hacks to save money on moving costs.
Read on to understand how to pack for a move clearly.
Declutter
Decluttering involves getting rid of items that you do not want anymore. Choose a room to begin with. Start with big items like furniture. Ask yourself if you want to take all of them to your new place. 
If you want to get rid of a piece of furniture, list the item online for sale, donate it to a local charity, or keep it in front of your house with a "free" sign. You can also call a rental company or haul-away service to take unwanted furniture.
Once you are done with the large items, list down the small ones. Donate or sell things that you do not want but are in good condition. Trash everything that cannot be used anymore. Maybe you are downsizing into a cheap housing alternative and won't have room for most of your possessions anyhow.
Get Organized
After you declutter, get all the moving boxes to start packing. 
Keep a notebook and a pen to jot down what all you are packing. Divide the items into categories, such as kitchen or study materials. Keeping separate boxes for different categories will help you find the things you need easily. 
Make a list of the things you would need as soon you move to the new place. Pack them last or keep them in a separate box. These may include toiletries or medicines.
Start Packing
After making a list of the things you want to pack, take each item individually, and keep it in the corresponding box. Keep the following tips in mind while packing:
Pack heavy items in small or medium-sized boxes. For instance, stack books on top of another so that there is not much space left in the box.
Use bubble wraps or old clothes to pack fragile items like glass. You can also keep cotton in between the breakable items. 
Use newspapers to fill the empty spaces in the boxes.
Pack All the Essentials in One Box
Make a list of all the essential things that you need until the time of moving. Pack them in a separate box. For example, you would need toiletries, bath towels, utensils, or dish soap until the day of moving. Label the box as Essentials so that you can open it as soon as you move to your new place.
Make Sure You Packed Everything
After all your belongings are kept in boxes, check the house to ensure that you have packed everything. If you find a thing or two, see which category they belong to and keep them in the corresponding boxes. Once you are sure you packed everything, go ahead and tape the boxes.
Label the Boxes
Labeling the boxes will save you so much time at the time of unpacking at your new place. Clearly label all the boxes based on what is inside. Use large fonts and bright colors, preferably red or yellow. You can also print free labels from templates to affix to the boxes.
Count the Boxes
Once you have packed everything, count the number of boxes, and write it down. Count the boxes again while loading the boxes onto the truck while unloading the boxes at your new place.
Hire Professional Movers
Professional movers will pick all the items from your home and deliver them safely to your new place. Consider hiring a professional mover if you have a lot of stuff to move. 
Although hiring movers can be a bit expensive, it is worth the price because moving on your own will take up a lot of gas, money, time, and effort. However, if you have no furniture and heavy items, you can just load everything in your car. But remember, you would have to do the loading and unloading on your own. 
Conclusion
To sum up, the best places where to get free wooden crates for moving are Craiglist, grocery stores, liquor stores, book stores, restaurants, coffee shops, classifieds, social media community groups, U-Haul Customer Connect, and Target. You can also ask your friends or family if they know someone who recently moved to a new place.
If you search for wooden crates, chances are, you will get a few for free. However, you have to make sure the crates are strong and sturdy. You need wooden crates in good shape and free of damage to pack and transport all the items safely to your new place.
Do not forget to plan ahead to pack for your move. If you want to get rid of the wooden crates after moving, put up a listing on community groups or Craigslist and help a friend out.  
Related Articles
15 Ways to Get Free Appliances for Low-Income Families