This post may contain affiliate links to products that I recommend and I may earn money or products from companies mentioned in this post. Please check out my disclosure page for more details.
---
If you have ever planned a move, one of the first things you look for is where to get free newspapers for packing up your valuables. Even if you are debating leasing a house vs. renting, you will have to pack.
It's true that when you plan on a big move, you are going to have a lot of costs that come up. Some of those costs would include things such as paying movers, renting a moving truck, and also buying insurance in case anything gets damaged in the move.
You're also going to need free old newspapers.
That's why it becomes important to determine where you can get free newspapers for moving to help you out with things such as packing.
Using free newspapers is one way you can save money moving across the country when you start packing.
Free packing paper for moving can save you a lot of money. Some of the best places to get free packing paper for moving include local schools, businesses, local coffee shops, and libraries. You can also check grocery stores and gas stations.
Additionally, you can also use free newspapers for things such as reading, gardening, and couponing in addition to packing.
If you are looking for where to get free newspapers for some of the above reasons, then check out these top places below where to get stacks of free newspapers.
Where To Get Free Newspapers for Packing & Moving Near You
Having experienced several moves myself, I understand the importance of safeguarding cherished belongings. Consider Alaska, where unique opportunities arise for residents who can make a living remotely. This trend has prompted a surge in individuals relocating to the Last Frontier.
One way to keep all of these treasures safe is to ensure that they are packed correctly. Keeping treasures safe is done by most with a stack of newspapers.
In my own relocation journeys, I discovered the invaluable role of free newspapers in securing items during a move. It's not just a practical choice; it's a smart one. Engage with your neighbors—they might have useful insights on where to find these free old newspapers that become your moving allies.
Free old newspapers are a great way to protect items from moving. You can ask some of your neighbors as well where free newspapers are, and they may have suggestions as well for you.
In addition to that, there are a lot of establishments that offer free newspapers for packing as well.
Some of those places are listed below.
1. Local Nursing Homes Near You
If you currently live in an urban area like me, you probably see a lot of assisted living and nursing home facilities.
It is no surprise that with aging baby boomers, a lot of them can no longer live independently.
Therefore, a lot of them turn to these types of facilities to live out their golden years.
Some of these facilities have hundreds of rooms for private residents.
A lot of those residents like to read stacks of newspapers. Nursing homes are a gold mine for free old newspapers. If you are able to work out an arrangement with the facility, maybe you can come to pick up their newspapers for free each week.
2. Local Library Near You
A lot of libraries subscribe to newspapers from all across the globe and have stacks of newspapers. They have multiple subscriptions, so citizens can have access to these materials for free. Consider it a benefit of all that tax money you pay in your community.
Additionally, they also have magazines and periodicals as well available for packing. A lot of students in the area visit their local library for school projects and use these materials.
Libraries have quite a bit of newspaper and other materials available for recycling.
Contact your local library to see if you can work out an arrangement to pick up the newspapers free of charge.
3. Local Colleges and Schools
As mentioned above, students will visit the library to collect materials to work on class projects. A lot of non-profit organizations offer free newspapers for teachers as a way to help promote literacy and reading for students.
Additionally, local colleges and schools also have their own libraries and newspapers that they receive.
This is an excellent source for collecting expired newspapers from these organizations as well.
Using free newspapers from schools and colleges is one of the many moving hacks to save money moving.
Some colleges alone are the size of a small city, so being able to work out some type of service to collect their newspapers would be a huge advantage.
4. Airports
Although not initially thought of as a place where to get free newspapers from, airports do have newspapers.
I remember, as a kid going into the airports with an uncle who traveled a lot to a place called the Admirals Club. The Admiral's Club was nothing more than a really nice waiting area where business travelers would relax before and in between flights.
They would have things such as free drinks, televisions, and also all kinds of free newspapers lying around to read.
There may be some red tape to cut through to get free newspapers from airports, but airports don't just have newspapers in the Admirals Club. They also have free local newspapers in other areas of the airport terminal as well.
You could also contact the local convenience stores inside airport terminals to see what they do with newspapers that they don't sell every day.
5. Local Hotels
Most hotels offer complimentary newspaper services to their guests. As such, they must also collect all of those newspapers when their guest checks out or when the room gets turned over each day.
Contacting large-scale hotels in your area would be a good place to get newspaper scrap and where to get free newspapers from.
You don't have to go visit each hotel in person; rather, just call them up on the phone and ask them if they have unsold papers and what they do with their used newspapers.
6. Coffee Shops
If you are looking for a stack of newspapers, check out your local coffee shop. When I was a kid, there were not as many coffee shops in neighborhoods as there are today. Greasy spoon restaurants, yes, but separate stand-alone coffee shops were not born yet.
My parents would simply go to McDonald's to get a coffee.
People would go to McDonald's to read free old newspapers that were left behind by others.
Starbucks didn't exist, believe it or not.
Today there are coffee shops all over and in every single neighborhood.
What do people like to do when they drink coffee?
Read the newspaper!
Reach out to your local coffee shops in your area and ask about collecting their unsold and unused newspapers. Additionally, some coffee shops also offer free birthday stuff in addition to local newspapers to read for free.
7. Local Stores Near You
There are so many local stores that sell newspapers nowadays.
Here are just a couple examples of stores:
Gas stations
Grocery stores
Drugstores
Meijer
Walmart
Contact the stores to see what they do with their newspapers.
Schedule one day a week where you visit a couple of the stores, and you will have more than enough free newspapers in your possession.
How To Get Free Newspapers in Bulk Near Me
If you are looking for an easier way where to get free newspapers in bulk, take a look at the suggestions below.
By following some of these routes to free newspapers, you'll end up saving yourself a lot of time and running around.
1. Family and Friends
Looking for a bundle of newspapers? Contacting your sphere of influence may be the best place to start. Reaching out to all of your family and friends can be a great way how to get free newspapers in bulk.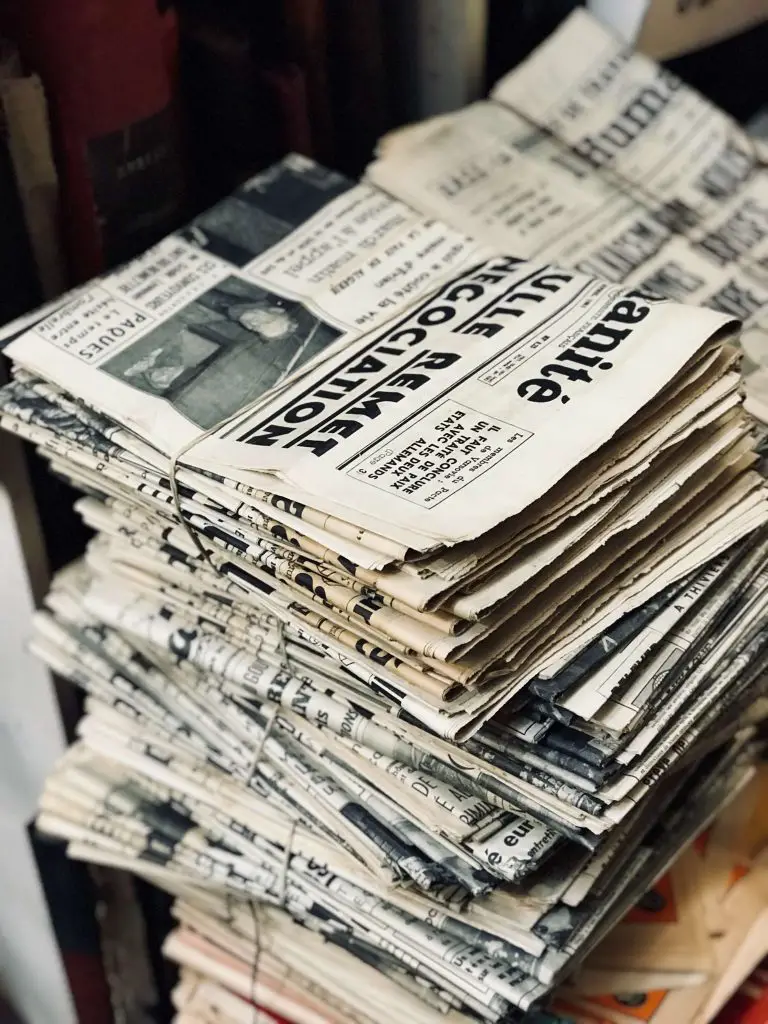 Send an email to them asking them to set aside their unused newspapers for you.
The next time you see these people, all of the organizing and heavy work has been done for the stacks of newspapers. All you simply have to do is just accept their newspapers.
2. Recycling Centers
Recycling centers often take a lot of used newspapers from people. Contact recycling centers in your area and see if they allow you to come and collect some free newspapers.
To find recycling centers in your state, be sure to check out RecyclingCenters.org for a list of places.
Some of these recycling centers will send used newspapers back to paper bills and make money that way, so they may not be willing to give you free newspapers.
They may end up charging a small fee which you will have to decide if it's worth it or not.
The one good thing about getting as many free newspapers as you want from recycling centers is that in one stop, you can have as much newspaper as you want!
3. Local Newspaper Office
There is no question that local newspaper offices have a lot of old newsprints and a lot of old newspapers.
Some of these newspapers are extra copies that are unsold newspapers from newspaper stands, some are misprinted newspapers, and some are copies or rolls that they have nothing scheduled to be printed or published on.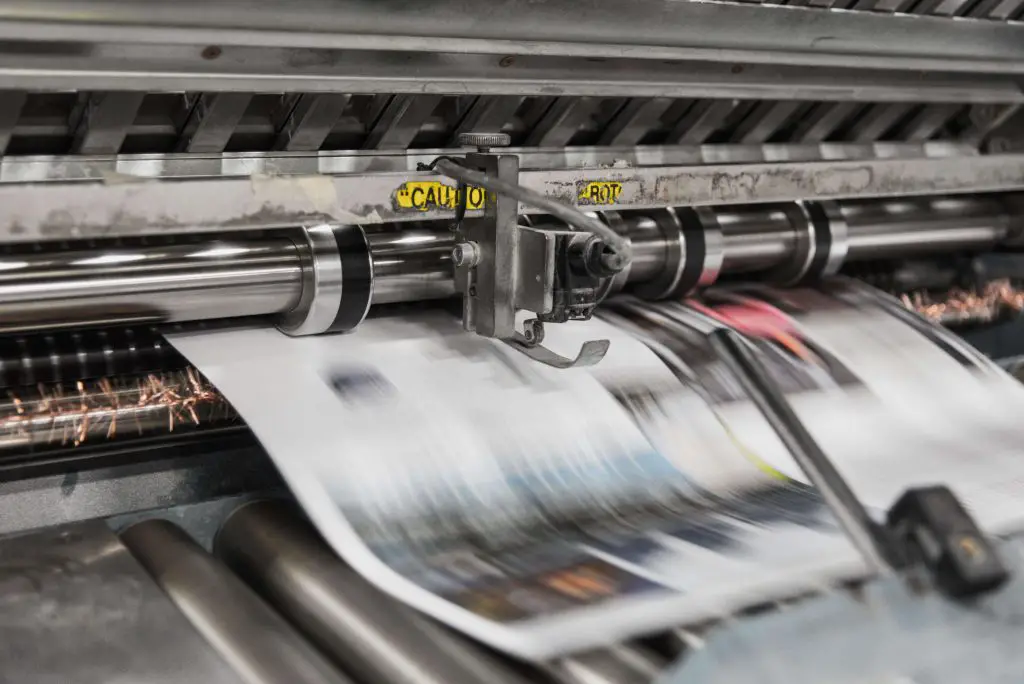 Contact your local newspaper offices to see if you can come to collect these newspaper copies or even better rolls of unused newspaper.
The benefit of collecting newspaper rolls that we never printed on is that you don't have to deal with newspaper ink which can damage your hands and clothing.
4. Post Classified Ads
One creative way where to get free newspapers is to post a classified ad.
You can do this on sites like Craigslist or in your local newspaper as well. Provide a contact email or phone number for people so they can get a hold of you to arrange the logistics of how you will pick up their free newspapers.
You may be able to coordinate a time and place where they can meet you or drop off their newspapers. Therefore, it may not be that much of an inconvenience for you. Posting a classified ad is a great way to get free old newspapers.
5. Advertise Pickup Services
In addition to running classified ads, as mentioned above, you can also advertise pickup services for free old newspapers, magazines, and other periodicals.
If you get a handful of people calling you, you can create a pickup schedule as well, which will save you time and money on transportation costs. Below are the best places to advertise pickup services.
Best Places to Advertise Pickup Services
Related Article:  How to Get Free Address Labels [Templates Too!]
How to Get Free Newspapers Online for Reading
One of the great things about the Internet is not only is it one of the great alternatives to cable TV, but it's also a whole wealth of information available immediately.
The same is true with reading newspapers online. There are a lot of places where to buy newspapers for reading.
Below are some of the best online newspapers and apps available where you can read free newspapers online.
Best Free Online Newspapers and Apps for Reading
A lot of major newspapers offer limited versions for free online of their newspaper articles and stories.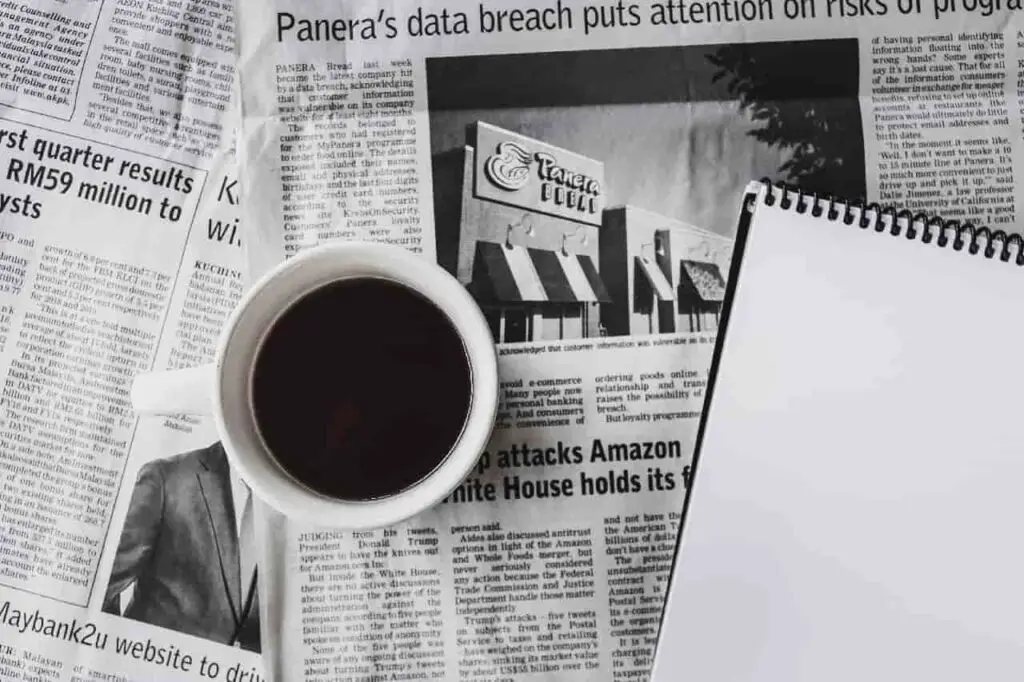 Below are some of the best free online newspapers available for reading.
1. Apple News
Apple News is only available for iOS users. However, this app allows you to follow your favorite news websites and receive important stories daily in the news digest.
2. News360
Available for both Android and iOS, News360 is a news aggregation app that allows you to change the text size, the theme, and local curated news. It also attempts to learn your interests by analyzing your behavior and interaction with news stories on the app.
3. Google News
Google News is probably one of the most popular newspaper apps available. It's available for Android and iOS.
One great feature of Google News is that it has the ability for you to download articles to read later.
4. Microsoft News
Considered the red-headed stepchild of Google, Microsoft works very similarly. Due to artificial intelligence and algorithms, this app learns your reading habits and inserts stories that seem relevant based on what you've read.
5. Feedly
This is designed for people that have their own RSS feeds instead of algorithms. You have to maintain and edit the list with RSS feeds that you want to see content from. Available on Android 5.1 or later; iOS 10.0 or later (iPhone, iPad, and iPod touch)
6. Wall Street Journal
With the Wall Street Journal, you are allowed to view a certain number of free articles per month. The Wall Street Journal also has a Twitter or Facebook page as well which is an excellent source to get your new stories.
7. Washington Post
The Washington Post has a special offer for Military and Government Employees (with verified email addresses). They can receive a free newspaper subscription with digital access.
8. New York Times
You can view a certain number of free articles per month at NYTimes.com, and then after that, they offer a $1.00 a week subscription (at the time of this posting, however, it may change) for unlimited articles on the NYTimes website and app.
9. FlipLens
Introducing FlipLens, an innovative personalized news aggregator application that tailors content to match your unique interests. This cutting-edge app provides a gateway to an extensive array of publications, encompassing newspapers and magazines, spanning a diverse spectrum of topics.
10. JournalHub
Navigate the digital news landscape with JournalHub, where numerous newspapers extend a curated selection of complimentary articles on their websites. While certain publications uphold a stringent paywall, others graciously permit free access to a specified number of articles each month.
11. Community Chronicles
Embark on a digital reading journey with Community Chronicles, where select public libraries extend online newspaper access through digital platforms like PressReader or their official websites. Verify the availability of this service with your local library for a seamless reading experience.
12. Chrono Archive
Delve into the annals of information with Chrono Archive, an expansive repository offering a rich collection of archived newspapers from varied periods and locations. While not all contemporary newspapers find a place here, Chrono Archive stands as an unparalleled resource for those seeking historical news insights.
13. Social Insights Gazette
Stay connected in the social media sphere with Social Insights Gazette, where certain newspapers curate and share selected articles on their official social media accounts. Experience content consumption without the necessity of a subscription by vigilantly monitoring the social media pages of your preferred newspapers.
Be sure to check out how to get free audiobooks and ebooks as well if you are interested in listening to books for free!
Where to Get (Almost Free) Newspapers for Reading
1. Discounted Newspapers
If you love reading physical newspapers, you might want to check out Discounted Newspapers.
They sell subscriptions to the largest local newspapers around the United States. Currently, they offer over 350 newspapers, serving over 40,000 zip codes with over 3,000 different subscription options.
Subscriptions are for local home delivery only. One cool thing about their site is that it is zip code targeted to ensure customers live in each newspaper's local delivery area.
Subscription options range in frequency from 7-days a week to Sunday only, and the duration can range from 4 weeks to 52 weeks.
Be sure to check out the current promotions they are offering.
2. Newspapers.com
Newspapers.com is home to millions of pages of historical newspapers (think 1700s newspapers) from thousands of newspapers from around the United States and beyond.
Newspapers provide a unique view of the past and can help us understand and connect with the people, events, and attitudes of an earlier time.
Newspapers.com is perfect for:
Historians
Genealogists
Family Historians
Researchers
Teachers
At Newspapers.com, it's easy and convenient to search or browse their collection to find news, notices of births, marriages, deaths, sports, comics, and much more.
They also have high-quality digital images and a powerful viewer that provide the best view of these historical papers and make it easy to print, save, and share what you find.
Be sure to check out the promotions they are offering.
Where to Get Free Newspapers for Coupon Inserts
Coupon inserts are a great way to save money, especially if you can find them for free in newspapers.
A lot of people who practice living stingy do so with couponing as their means.
If you're looking for coupons, there are a couple places you can get free newspapers for coupon inserts.
1. YES Newspaper
A lot of local communities have a free Sunday circular filled with coupons. There are a lot of companies out there that offer free delivery of these coupons simply for subscribing to their service.
Additionally, coupons are one of the best ways how to save money on groceries that exist.
They make money by you being a subscriber. The trade-off is that they deliver a free paper to you every week with coupons and ads in it.
The name of this newspaper is called YES Newspaper.
This is a great option where to get free newspapers for coupon inserts.
Sometimes you can also receive free stickers from companies as well mixed in with coupons in the Sunday paper.
Think of that as a little extra bonus to your Sunday newspaper!
YES Newspapers also are known as Your Essential Shopper.
If you can find either one of those in your community, chances are you can receive free Sunday insert coupons in the mail.
2. Dollar Tree
One of the best things about Dollar Tree is that they sell the Sunday paper there for one dollar.
Although not free, a newspaper for a dollar is a very good value when considering all the Sunday ad inserts that come with the Sunday paper, including coupons.
You'll definitely get that dollar you invest upfront back with the number of coupons the paper includes.
Where to Get Old Newspapers for Gardening & Weed Control
As someone passionate about gardening, I stumbled upon an excellent use for old newspapers—organic weed control.
Picture this: newspapers doubling as a protective layer, thwarting those stubborn weeds from infiltrating your garden beds. It's not just about gardening; it's about embracing a sustainable and effective solution.
Be sure to put down several layers of newspaper.
Additionally, one of the best parts is that it breaks down into your soil eventually.
As the paper breaks down, the cotton fibers that make up the newspaper make your soil softer and richer. This is an excellent benefit if your soil contains a lot of clay and rocks.
Using stacks of free newspaper is a great way to organically control weeds in your flower bed and gardens.
1. Salons
Many local salons will have a stack of freebie magazines for you to enjoy while you wait or during your service. Magazines are great for the soil.
2. Free Magazines by Mail
There are also a number of companies that will send you free magazines by mail. All you have to do is sign up for these magazines, and you'll get newspapers regularly delivered to your mailbox.
3. Spas
Like salons, spas also commonly have a waiting area with free magazines and newspapers for you to relax with. Complimentary newspapers are a perk offered by some spas and are one of the top places to get free newspapers.
What If I Can't Find Free Newspapers?
If you can't find free newspapers for packing, you have other options. You can go to one of several places where to buy newspapers if you come up short. There are many grocery stores and retailers that sell paper. Most of these places are located across the US in many communities, so chances are there is one by you.
Related Questions & FAQs:
How Can I Use Old Newspapers?
Old newspapers can be used for a variety of purposes. One common use is to line drawers or shelves. This helps to protect surfaces and prevent items from slipping. Newspapers can also be used as packing material when moving or shipping items. The paper can help to cushion fragile items and prevent them from breaking. In addition, newspapers can be used to start fires. The paper ignites quickly and provides good kindling for wood. Finally, newspapers can be recycled. They can be used to make paper mache or used as bedding for compost bins. When reused or recycled, old newspapers help to reduce waste and protect the environment.
What are Some Environmental Benefits of Recycling Old Newspapers?
The environmental benefits of recycling old newspapers are many. Recycling paper reduces the need to harvest trees, which in turn helps to preserve forests. In addition, recycling paper requires less energy than producing new paper from scratch. This helps to conserve energy and reduce pollution. Finally, recycling paper helps to cut down on the amount of waste that ends up in landfills.
The Bottom Line on Where to Get Free Newspapers
There are so many benefits that exist with stacks of newspapers, and you have a lot of options when it comes to where to get free newspapers from. You can even clean windows with free newspapers!
Those benefits include packing your prized possessions for a move, coupon inserts, advantages to organic gardening with newspapers, and also free newspapers, both online and historical papers, for reading.
With so many great benefits that exist, it makes a lot of financial sense to put newspapers back into your life!