This post may contain affiliate links to products that I recommend and I may earn money or products from companies mentioned in this post. Please check out my disclosure page for more details.
---
A TranscribeMe review is something I've wanted to write for a while now. TranscribeMe is an online transcription service that enables you to make money by typing out audio files of interviews, lectures, speeches, or any other type of audio file. You can sign up and start transcribing as many files as you want to generate income through the site's pay-per-minute system. Please note all workers and account users are paid per minute they work (meaning minutes to transcribe) and earn more when they perform faster!
If you are looking for flexible jobs to earn over $100,000, a TranscribeMe job is not an option. 
However, you can get paid a couple of hundred dollars a month from home through the transcription services field. Anything and everything from medical files to court records need transcription services. Therefore if you want to dabble in transcription jobs, TranscribeMe might be one of the best ways to get started.
This TranscribeMe overview will look at all the ins and outs of the transcribing crowdsourcing platform to see if it is an available work-from-home option for you.
TranscribeMe Reviews on Glassdoor: Is TranscibeMe Legit?
TranscribeMe is a legit online transcription service company. While there are many transcription companies out there that are scams, however, this one is not.
Even Glassdoor gives a favorable rating to TranscribeMe.
Out of 212 TranscribeMe Reviews on Glassdoor, TranscribeMe Glassdoor states a 67% positivity rating and is one of the best options for work from home during Covid. The comments also support that many are noting that you can contact support at the company via social media handles.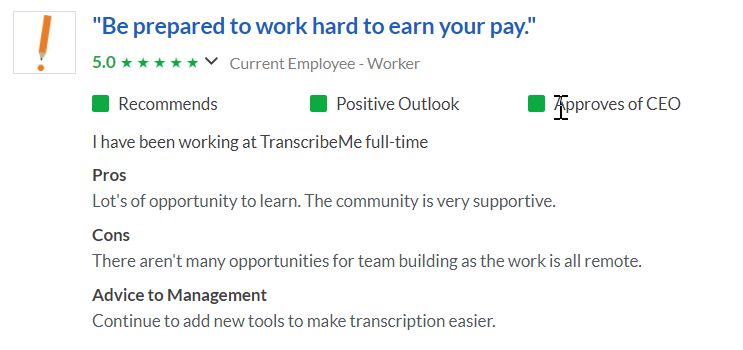 While you will have to work hard, this is a legit way to make money online that can net you income.
How Much Does TranscribeMe Pay?
TranscribeMe claims to pay more than any other transcription service out there per audio minute.
What Is The Pay Rate?
According to the TranscribeMe website, it has
the industry's best rates with earnings start at $15-$22 per audio hour and one of the highest monthly profits at $2,200 (average monthly payments are $250).
Unofficially, the average is around $20 per audio hour. Meaning you probably would be looking more realistically at earning about $250 a month initially.
However, if you have any former experience in a specialized background, such as in the legal or medical field, you may be able to get higher rates, according to their website. TranscribeMe regularly pays via PayPal, and you can request payment at any time for all the work completed weekly.
For this article, we will be looking at an average monthly income of $250.
What Does Getting Paid Per Audio Hour Mean?
You get paid per audio hour at TranscribeMe. This means that TranscribeMe pays you for every hour of audio you transcribe, regardless of the length.
How Does TranscribeMe Work?
As stated above, TranscribeMe is a crowdsourcing system. Here are the steps that occur for the audio files to be transcribed:
The clients submit their audio files to be transcribed to transcribers.
That file is split, varying on average between 10 seconds and one minute of audio.
These files are then made available to be completed on the work hub by teams of TranscribeMe transcribers in the community.
Once all of the pieces have been transcribed, they are joined together and pass through a quality-assurance audio quality stage.
Individuals from TranscribeMe who work in quality assurance will add appropriate time stamps and speaker IDs to the file.
The file goes through a final review and is sent to the customer.
What is remarkable about this is that several transcriptionists are completing one file, which in theory makes transcription, in general, less tedious and more flexible.
TranscribeMe Training
The transcription work you conduct will not be like typical transcriptionists. Another way to look at this transcription workload you are completing is to think of the work as micro-tasks in transcription services.
TranscribeMe also offers training on how to complete these transcription tasks.
An additional feature of TranscribeMe is they have their own YouTube channel and provide an 18-minute video of the type of work you will be doing as a transcriptionist for them.
I have included this video below, which is an excellent place to start.
They take you through a live transcription walk-through.
I find this to be highly beneficial because instead of wasting your time with registration, you can see if this would be something you would want to do.
You can get an actual preview of the exact type of work you will be doing before registering or taking any exams. It is a huge benefit to witness a transcriptionist transcribe a file right in front of you and the process that is used.
If you don't think this work would be something you would want to do, then you have just saved yourself a ton of time, and you wouldn't pursue it anymore.
Do I Need Any Special Equipment To Work For TranscribeMe?
The only equipment you need is a stable and reliable Internet connection and a computer.
It is recommended to use a desktop or laptop.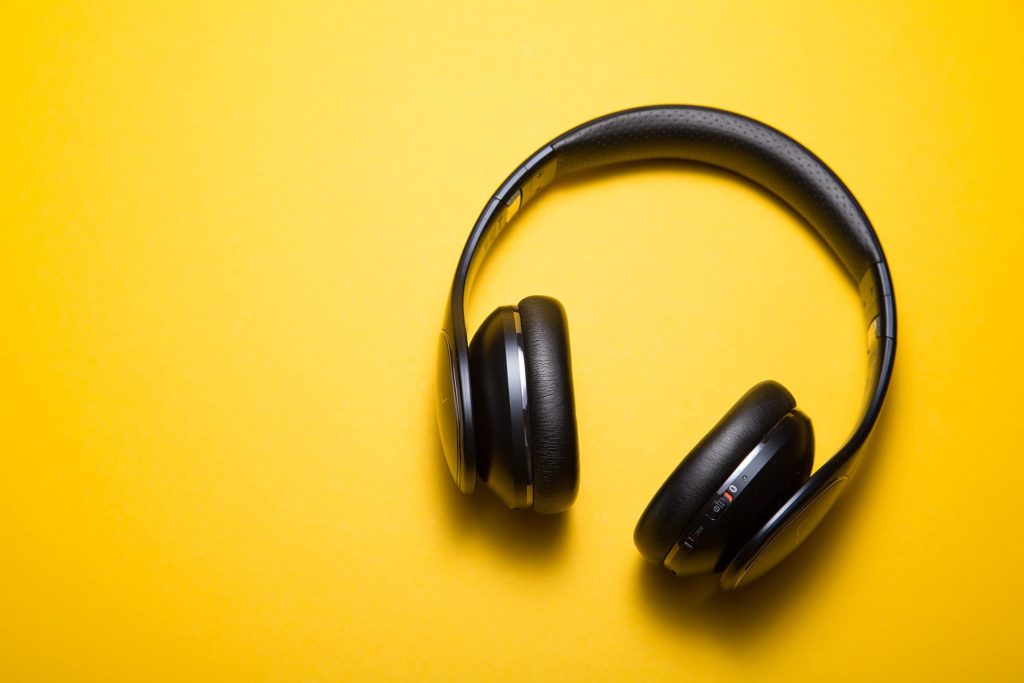 Additionally, if you don't have external speakers, you may want to invest in a quality pair of headphones to hear the audio files better. Since all the work is submitted and completed entirely online, there is no additional equipment needed.
Do I Need Specialized Experience to Work for TranscribeMe?
You don't need any prior transcription experience to work as a transcriber.
Additionally, TranscribeMe management believes in promoting from within. Their transcriptionists enjoy their work and have career advancement opportunities.
Over time, a transcriptionist can develop their skills and grow into higher-paying special teams projects and management positions.
Their website includes all types of testimonials from people that have done just that. It's an excellent avenue for how to make money as a teenager to work at home.
Is There a TranscribeMe Entrance Exam Test to Qualify?
Yes. There is a TranscribeMe test that you must pass as part of the application process.
First, you have to register online, and you will then take a training course followed by the exam. It is essential to learn the procedures and processes that TranscribeMe is looking for.
They provide you with access to a study guide in the efforts to help with passing their exam. Be sure to study for this exam because if you do not pass the exam, there is no feedback. However, there are multiple attempts available for each test.
The exam consists of multiple-choice questions as well as audio files that you will have to transcribe.
Will I Have a Set Schedule?
There is not a set schedule you have to work at TranscribeMe. You will transcribe short files, usually 1 to 2-minute clips, and once you have completed that, their transcription software will send over more micro tasks to transcribe.
There is no limit on how many can be processed in one session. You can work as little or many hours as you want, providing that there is enough work.
TranscribeMe Registration
According to their website, the registration process is creating an account and filling out a profile on their site. After passing the training course, they will contact you.
Is Working for TranscribeMe a Full-Time Job?
TranscribeMe is not a full-time job, it can be done in your spare time, and you can make some extra money via PayPal.
You could do TranscribeMe while working as an employee and use that on the side to earn some extra cash or when you have downtime during your day.
Who Are The Clients For TranscribeMe?
There are all kinds of clients that utilize the services of TranscribeMe. Some of those would include:
Oracle
Kaplan
Genesys
Salesforce
Facebook
Pandora
Ipsos
BNSF Railway
Harvard University
Cisco
What Kind Of TranscribeMe Jobs are Available?
This TranscribeMe review analyzed the types of jobs available that utilize TranscribeMe transcription services. They currently offer transcription services for six job fields:
Market Research Transcription Services
The type of tasks and opportunities you will transcribe for market research would include:
In-depth interviews and focus group dialogue
Some in-store and voice surveys
Anthropological research
Medical Transcription Services
These opportunities would include:
Recorded patient interviews and other medical research
Consultation and administrative letters
Medical history and physicians operative reports and discharge summaries
Business meetings
Clinical notes from medical professionals
Consulting Transcription
Transcription services for the consulting industry may include some of the following tasks such as:
Research interviews
Transcribe for focus groups during a conversation
Text to voice memos enable a quick way to aggregate notes
Meeting transcripts provided to clients that are delivering data along with reports
Technology Transcription Services
Transcription services in this field would include tasks similar to:
Market research to analyze customer and stakeholder feedback
Customer support contact centers to understand the voice of the consumer
Corporate communications to amplify and provoke company strategies
Digital media to simplify and identify valuable content
Human resources to improve and help mitigate potential liabilities
Other tasks such as sales call webinars, labor relations, and dictations
Academic Research Transcription
Specialized transcription services for academic professionals and students include some of the following:
Multi speaker meetings and focus groups recordings of lectures and seminars
Dictation by professors
Research interviews
Ideas for thesis and dissertation
Transcription Services For Entertainment
Common transcription services would include some of the following for the entertainment industry:
Feature film transcription
Movie transcription
Script transcription
Post-production continuity transcriptions
TV shows transcriptions
Documentary film transcription
Realty footage transcriptions
Screenplay transcriptions
Reality TV transcriptions
As you can see, there is a wide range of transcription services available in these fields.
TranscribeMe Review Pros & Cons
Our TranscribeMe review revealed you would not become rich working; however, it does offer a couple of benefits and some disadvantages for transcriptionists.
TranscribeMe Pros
Transcription Services Experience
First of all, this is an excellent way to get transcription services work experience. This can lead to other things down the road. Maybe you want to open up your own transcription business. You can also offer those services to many people in your local area where you live, such as attorneys and in the legal system.
On top of running your own business, you can still work for TranscribeMe as well to pick up an extra couple hundred dollars a month.
It's a great opportunity and just one example of 

creative ways to make money

 for a work-from-home type of job, especially if you are a parent who has young children at home.
You can avoid paying for childcare costs and, in your downtime, do transcription services and make a couple of bucks each day. If you are looking to get experience as a transcriptionist in the transcription services field, there is no better employer.
Aside from a desktop or laptop and a pair of optional headphones, you don't have to purchase any additional equipment, and they will hire you even with no prior transcription services work experience.
That is a huge plus if you are looking to get your foot in the door and gain some experience as a transcriptionist.
They also offer decent support from coworkers in addition to their YouTube channel.
It beats working a side hustle (like flipping appliances) and figuring out who buys used appliances near me which is a lot more work for monthly money.
TranscribeMe Cons
If you scour the Internet, there are a lot of opinions against TranscribeMe.
The biggest of those is there is not enough full-time work available.
Keep in mind that for a lot of companies, micro-tasking is the way of the future. You are not going to work for an online company of any sort and expect full-time pay. Unless you are a stellar performer, the expected pay, even stated by TranscribeMe on average, is $250 a month.
Given the fact that several different industries utilize TranscribeMe, the workflow has nowhere to go but up.
There is also a public conception that the support is not the best at TranscribeMe.
Our TranscribeMe review revealed you have to be reasonably decent at typing. In other words, you cannot use the "hunt and peck" keyboard strategy to do this job. You have to be fluent in typing at a relatively average (if not above average) pace.
Another con is that you are not guaranteed work as it is only available on a first-come, first-serve basis to transcriptionists.
However, one would expect this to be true for a company that promotes from within. If you put in the work, you will often be encouraged with higher-level assignments and pay to go along with it.
TranscribeMe Reviews Recommendation
Our TranscribeMe Review found several conclusions. If I were somebody looking to gain experience in transcription services, I would accept jobs with TranscribeMe. Gaining knowledge can be vital if you consider opening a transcription services business of your own down the road.
Additionally, once you have gained transcription services experience, you can move on to bigger and better assignments with TranscribeMe or other transcription services.
If you already have experience with transcription, TranscribeMe would only benefit if you are looking for a home job with higher pay and quick promotions. Remember TranscribeMe states that they do promote from within.
If you are looking for a part-time side hustle, there are several other opportunities to earn extra income. You can always make money with surveys to make a lot more than $250 a month. Remember that is what the average transcriptionist earns.
However, there are other ways to make money online with Google, or you can check out other at-home options for making money.
Whether you decide to work only at TranscribeMe or fold it into a schedule of part-time side hustles, you really can't go wrong. Many transcribers that have earned extra income have given positive comments in their reviews on the website. It is an excellent option either way as a means to make additional income. If you are looking for transcribing companies working from home, this is a perfect way to make money online.