This post may contain affiliate links to products that I recommend and I may earn money or products from companies mentioned in this post. Please check out my disclaimer page for more information.
---
If you are looking how to shop and save money at the grocery store, using some of these grocery hacks to save money on groceries is essential.
By learning how to shop smarter, you will be able to put some money back into your household budget instead of spending it all on food.
A key ingredient necessary for learning how to save money on groceries involves planning.
Best Ways to Save Money at the Grocery Store
We have all heard that famous quote "if you fail to plan, then plan to fail." 
That quote also holds true for saving money on groceries.
Learning how to save money on groceries starts by planning ahead.
Check out these planning tips below that will help you strategize your grocery shopping experience and create a healthy grocery list on a budget.
1.  Create A Menu
Creating a weekly meal menu is one of the best ways to save money on groceries.
By writing out meals each week, you will be able to see the specific items that you need to purchase and what ingredients are necessary.
Be sure to check out our post on over 270 cheap meal recipes fit for any family.
Additionally by writing out a menu each week, you will be able to include things such as what types of salads or side dishes that will be necessary to complement your main course.
2.  Create A Budget Grocery Shopping List
One of the main ways how to save money on groceries is by utilizing a grocery list. 
It is important to only buy items listed on your grocery list.
By only buying things listed on your list, you will save yourself time and money.
Often times when people go shopping they make impulse purchases and they end up buying things that they do not need.
Those extra items purchased usually expire if they are perishables or never get used.
Hence…a wasted purchase.
Save yourself the time and money and only purchase things on your list to keep your grocery budget on track.
3.  Create An Inventory List
It's important to have a spot somewhere in your household to write down household items that you use regularly.
An inventory list is key for how to save money on groceries when you shop.
These things may include:
toilet paper
paper towels
laundry detergent
shampoo and face wash
A good spot for your household inventory list would be on your refrigerator.
When you run out of these items, simply jot it down on the list so you have a record of that.
Then next time you go to the store be sure to take this list with you.
If you're going to a store that carries other things besides groceries, this is going to save you time and money by purchasing those items along with your groceries.
You can also purchase these non-grocery items as well as your grocery items at the same store.
4.  Freeze Meals
Writing out a grocery list that will make large portions is a good way to save money on groceries. 
If you are able to take half of a meal and freeze it for another meal, you are basically stretching or doubling your food dollars.
Being able to freeze meals is one of the best frugal living tips that can help save your household money.
Be sure to use things such as freezer bags so these items don't get freezer burn until you're ready to use them.
5.  Check Your Pantry
Take a look at your menu and see if you need any additional items to create those meals.
Do you have basil in your pantry?
What about spaghetti sauce?
How about oatmeal on hand?
Be sure to check your pantry so you don't buy more of items you already have.
6.  Don't Grocery Shop When Hungry
If you go grocery shopping on an empty stomach chances are you will end up purchasing things not on your grocery list. 
I have done this before and wound up with extra items in my shopping cart that were not on my list.
This is not a good way to save money on groceries!
Be sure to eat something before you go grocery shopping.
7.  Shop At Discount Grocery Stores
I am a big fan of grocery shopping on a budget.  By shopping at discount grocery stores, you can save yourself time and also a lot of money.
Discount grocery stores are usually much smaller and less crowded.
As a result, you can get into the store to grocery shop, get all of your items quickly, and save yourself a lot of time.
Stores such as Aldi, Kroger, and Publix often times are far cheaper than other grocers.
8.  Avoid Membership Stores
If you are looking how to save money on groceries, you should avoid those bigger membership stores.
These are stores such as Costco and Sam's Club where you have to pay a yearly membership but must also buy minimum quantities of items.
Buying items and purchasing groceries in bulk sometimes may not be the best idea.
A lot of times these items can often go bad before they have been consumed.
9.  Leave The Kids Home
You may want to consider leaving your children at home when you go grocery shopping if you want to save money on groceries.
Often times with younger kids, not only can it be hard to concentrate, but you may also find yourself with several extra items in the shopping cart!
This has happened to me over the years so I know it's not that unrealistic.  Coming home and unloading your grocery bags only to find extra unnecessary items is definitely a bit of a financial downer!
10.  Check The Weekly Sales Ads
I receive my weekly sales ads for grocery stores in the mail on Mondays.  It's probably a different day in your community.  Regardless of the day, a lot of these advertised sales ads get mailed directly to your mailbox.
If you are focused on saving money, be sure to check those circulars instead of pitching them right off the bat.
By focusing on the weekly circulars, you can see specific items and when they will be on sale.
If items such as granola bars, crackers, or cookies are on sale, then be sure to take note.
By utilizing the circulars there is a great opportunity for you to stock up on the specific items that do have a little bit longer shelf life then produce.
Stocking up is a great way to save money on groceries long-term.
11.  Utilize Coupons and Shopping Apps to Save Money on Groceries
Be sure to not only check out  hard copy ads, but also all of your shopping apps.
Things such as Rakuten, Ibotta, and Paribus, can supercharge those coupons and ad sales.
Meijer mPerks Reward Program will allow you sync some of those apps above to clip digital coupons as well as use manufacturer and paper coupons sometimes.
These policies differ by each grocery store so you want to be sure you check before heading out.
You also want to be careful that if it is an item you do not need, don't use the coupon.
Sometimes the items that are name brand even with the coupon, can end up costing far more than the generic version of that same product.
Be sure to review our best cash back apps for groceries and shopping available to reduce your grocery totals even further.
12.  Check Out Farmers Markets
If you're only going shopping for produce items, think about going to farmers markets.  The prices you will find at a farmers market are a lot cheaper than what you will find at the grocery store.
Aside from that benefit, you are also supporting local people in your community.
13.  Create Meals With Items In Your Pantry
Before going grocery shopping, see if you can make meals at home with items you already have in your pantry.
Often times I run out of room in my pantry to store new items.
Items such as baking goods, boxes of cereal, and canned vegetables, sometimes max out all of my available space in my pantry.
Sometimes, there are unusual things I stopped buying and no longer use.
Being able to use up old stock ingredients not only will save money on groceries, but it will also help make room for new items purchased.
14.  Bring CASH & Pay With CASH For Your Groceries
I pay cash for a lot of things in my life for several reasons.  One of those items is for groceries.
I found that one of the biggest ways for me how to save money on groceries is simply by paying cash.
This actually forces me to really think about the things I'm putting in my shopping cart.
If I only have a limited amount of cash available on hand, I scrutinize every single purchase and only focus on the things on my list.
How to Save Money on Groceries at the Grocery Store
15.  Only Buy What You Need
Be sure to only buy the items on your grocery list.  Avoid impulse buys at all costs.
Buying items not on your grocery list is a sure way to derail your grocery budget.
That's why it's important to only buy the items on your grocery list so you can get in and get out quickly without spending additional time shopping for items that you don't need.
16.  Buy Generic Brands
I buy generics a lot.  Often times you can find the same product in a generic version of the name brand.
You can also use this strategy for saving money on cable by looking for cable alternatives that exist.
This adds up to substantial savings.  Sometimes, although this is rare, you can even find a generic brand that is also organic.
Talk about a win-win for your grocery shopping budget!
Not only is it cheaper and helps you save money on groceries, but it also is better quality as well.
Some Generic Items To Consider:
Canned Items:  Things such as canned fruit or vegetables are the same in a generic brand.  Be sure to look for the BPA free liner cans as these are much healthier for you.
Snacks:  Buying things like granola bars, generic oreos, tortilla chips, party mix, and trail mixes taste the same as name brand items. You can save a lot of money by purchasing these in the generic label.
Food Staples:  Items such as butter, cooking oil, olive oil, sugar, and flour are the same as national name brands. You can't have a generic version of flour. It's just sold under a generic label.
Frozen Items:  Things such as frozen produce, chicken nuggets, tater tot's, waffles, frozen breakfast pancakes; all types of items can be bought in the generic version.
17.  Buy Based On Unit Prices
Grocery outlet stores such as Target, Meijer, Kroger, and even Walmart offer unit pricing on their labels.  When I say unit pricing, that is the cost per unit that the item costs in the particular package it is in.
For example you may have a 24 pack of waffles and a 20 pack of waffles.  Calculating the cost per unit or per waffle is a good way to compare across-the-board prices.
Per unit pricing is a great way to compare items which will allow you immediate ways to save money on groceries by knowing their unit cost.
18.  Buy Produce In Bags
I normally buy those 3 pound bags of apples.  They are typically cheaper than buying apples individually.
Also, think about purchasing your salads that are also in bags.  A 3 pound bag of salad is not only cheaper, but it's also cut and prepared which saves time.
19.  Buy Some Items In Bulk
Sometimes it makes more sense to buy certain items in bulk. 
This is only a good rule to follow if you know you are going to use the particular items in question.  Sometimes you can catch a 3 for $5 sale.  In that case, it would make sense to buy 3 items to get the sale price.
20.  Buy Frozen Juices
I recently switched over from buying fresh orange juice to frozen orange juice and apple juice.
I found myself throwing out a lot of unused orange juice that I was purchasing.
Therefore I switched over to frozen juice which makes smaller portions.  Not only is it more cost-effective, but there are also healthy organic frozen juices available now.  It's a hidden hack to save money on groceries, as fresh orange juice can cost 3x as much as frozen orange juice.
21.  Don't Buy Bottled Water
Americans are addicted to bottled water.  I am fortunate enough to live in one of the best areas of the country for fresh tap water.
Using reusable water bottles is key to reducing bottle water consumption.
I have several BPA-free water bottles I fill up with tap water and store in the refrigerator.  When I'm heading out, I simply grab one of my own bottles and take that with me.
Additionally you can also put filters on your tap faucets if you are concerned about the water quality where you live.
Buying reusable water bottles is good for your financial health, your physical health, and a better cost-effective solution than buying bottled water that takes up space in the landfill.
22.  Save Money on Groceries with Rainchecks
If you went grocery shopping to buy a particular item on sale and they were sold out of it, be sure to get a rain check.  This is a guaranteed way to save money on groceries in the future.  
A raincheck is a great way for you receive a guarantee of the item and the sale price when the item arrives back in stock.  Simply file it away for the next time you visit the grocery store.
23.  Shop Clearance Racks
Yes even grocery stores have clearance racks.  In particular, the bakery often has a lot of items on sale for clearance.
You can score great items such as pies, donuts, or other pastry treats at a fraction of the cost and you can freeze a lot of the items as well.
This is a great way to save money on groceries because the clearance discounts are usually significant.
24.  Buy Fresh Baked Bread
Sometimes the bread that is made at the store bakery is often healthier and cheaper than the national brands.
Stock up on these items when they are on sale and you can freeze one loaf of bread if necessary.
25.  Avoid Checkout Aisle Items
Don't ever buy anything in the checkout aisles.  These items are specifically placed there for you to purchase while you are waiting in line to check out.
Items such as soft drinks, energy drinks, even magazines are all designed for you to purchase while waiting.
More often than not, these items are not on sale and may also be old stock.
These are things to keep in mind while waiting at the checkout.
26.  Watch Your Grocery Items Get Scanned
Although this can sometimes be challenging to do, it is best to try and watch each item pass through the scanner.
There have been many times that I have been double charged for items and didn't save money on groceries in those situations.
Luckily I caught these in the checkout line and was able to alert the store associate to make the adjustment which they did.
Additional Ways How To Save Money On Groceries
27.  Do Your Grocery Shopping Online
One of the best ways to avoid impulse buys is simply by purchasing your essential items on your grocery list online.
A lot of stores offer online grocery shopping even with home grocery delivery.  Check out your local grocery store to see if they offer this service.
By having someone else do your shopping, you not only save money on groceries, but also save time.
28.  Use Cash Reward Credit Cards
Another way how to save money on groceries indirectly would be using cash back credit cards to pay.
By using these credit cards at the register, you can earn from 1% up to 5% cashback on your purchases depending on offers.
29.  Pay With Gift Cards
Often times when you pay for your groceries with gift cards you are also receiving a bit of a discount.
Some sites offer purchasing store gift cards at a discount.   You can save money on the face value of the gift card in addition to grocery store sales.
30.  Contact Companies For Coupons
If you don't necessarily want to wait for your ad circulars, you can also save money on groceries by contacting companies for coupons.
By reaching out to your favorite companies about products, you may be able to score some major coupons directly from the manufacturer.
31.  Start A Garden
You can also save money on groceries by starting a garden in your own backyard.   
There are very easy and inexpensive ways to make a garden directly at your house.
The best part…not only are you saving money on produce, but you can also grow your food items organically as well.  That is also a major health benefit to you and your family!
32.  Buy Meat When On Sale Only
One of the most expensive items on your grocery list will be meat.  Avoid paying sky high prices for meats.
Trying to catch a pot roast or Angus steak when it is on sale.  Considering meat is one of the most expensive items to buy, this is a sure way to save money and groceries.
33.  Take Leftovers For Lunch
If your meal plan includes making large portion meals, think about taking some of those leftovers for lunch the next day.
It is much cheaper to take leftovers then it is to buy lunch out every day and a local restaurant.  By taking lunch and leftovers every day you could save as much is $50 a week or even $200 a month!
Summary
The tips above offer ways on how to save money on groceries.
Everyone struggles with how to save money on groceries.  By creating a budget, tracking your expenses, and staying organized, it is possible to save hundreds of dollars per month.
Not only can you save money on groceries by these hacks, but you are also eating healthier.
If you are spending more time eating meals prepared at home instead of going out and purchasing food at restaurants, your making health-conscious changes in your lifestyle.
And that is good news for the bottom line of every family.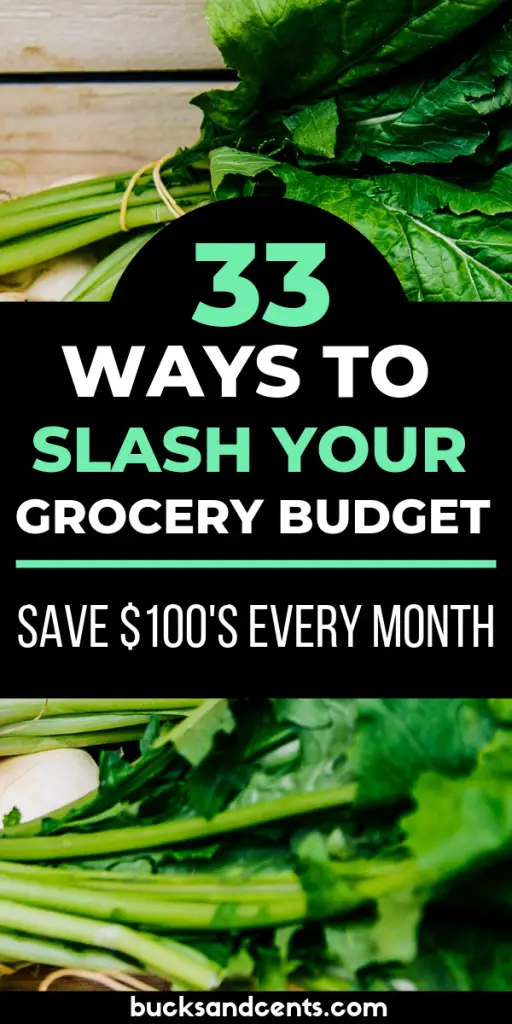 ---
Looking for more ways to save money?  
Check out our  Saving Money Guide:  Saving Money Strategies That Work 
---