This post may contain affiliate links to products that I recommend and I may earn money or products from companies mentioned in this post. Please check out my disclosure page for more details.
---
Who doesn't want to save money and find a sound credit card that'll give you cashback, discounts, and other perks at your favorite department store? Some department store credit cards offer this, many with instant approval. So you won't have to worry about debit card declined issues. These types of credit cards are fantastic and can give you all kinds of other bonuses along the way, both in-store and online.
Here are the ten easiest department store credit cards to get:
Walmart Store Card
Target RedCard
JCPenney Credit Card
Express NEXT Credit Card
My Best Buy Visa
Costco Anywhere Visa Card by Citi
Sam's Club Mastercard
Lowe's Advantage Credit Card
Amazon Prime Rewards Visa Signature Card
Macy's Credit Card
All of these are great choices and perfect for the busy shopper!
1. Walmart Store Card
First up on our list is the Walmart Store Card. This credit card only requires fair credit to get and can be used immediately.
This is also not a store card which means you can use it anywhere that you might need it. They offer 5% cashback from Walmart purchases (online or in-store) and lower cashback rates.
This card is perfect for travel along with general use. There is a complimentary concierge service, so you can use them to plan an itinerary and book restaurants or tours. You can also use this card for international travel because there are no foreign transaction fees.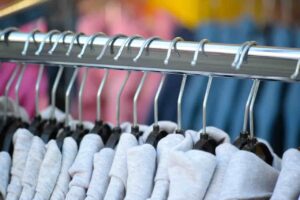 There is also the Walmart Rewards Card, which is another credit card that you can get and is very similar. This one is perfect for people who have poor or limited credit. It carries many of the same perks but can only be used at Walmart stores and has different interest rates.
Additionally, Walmart has so many convenient options, such as check cashing, making their credit card a good option. Just make sure to view the Walmart check cashing policy to know the rules.
What credit score do you need for a Walmart credit card?
You can get a Walmart credit card just by having a fair credit score. A fair credit score is considered in the 600-649 range. With instant approval, the department store credit cards require either fair or limited credit, so this is nothing special.
Best Features
It is the most widely used store credit card. You can use this card all over the United States and the world, so it's no wonder that it's popular!
You can use it immediately. There's no wait time to use your card.
There's no annual fee. This is a big perk of using this card program.
2. Target RedCard
This is the Target store credit card and another top-rated card. There are also perks that come along with it. 
One limitation is that you can only use this card at Target (online or physically) and any stores inside them, like a Starbucks inside the store. Some specific internal stores can also have limitations. However, this alone has so many bonuses that you won't even mind!
Cardholders get free two-day shipping on specific items and free shipping on all other products. There is a more extended return period for certain purchases; perfect if you want to buy early for the holidays. These are typical advantages of online shopping for consumers.
They also offer a 5% automatic discount on most Target purchases, which is perfect if you are going into Target all the time. 5% off a weekly grocery bill is even more money back in your pocket.
What credit score do you need for a Target credit card?
You can get a Target credit card with fair or poor credit and a FICO score of 650 or lower. Most department store credit cards with instant approval do not have a minimum credit score, so this one is an exception. They only require fair or poor credit to get approved.
Best Features
You can use it online or in-store. You can even use it on drive-up orders.
Just about anyone could get this card. You'll only really be denied if you have poor or limited credit experience. 
3. JCPenney Credit Card
With a simple name, the JCPenney Credit Card is also simple but effective. It is also very common and offers significant discounts to users.
This is one of the last true department store credit cards, and it is very useful. You can use it at any JCPenney store and online. If you use it for $500 or more in a year, you can achieve a higher tier status and get extra benefits. However, if you struggle with outstanding balance vs. principal balance issues, then this may not be the card for you.
Also, while it does take more purchases to earn more points, you have a larger, later benefit. This means that you can save even more money, faster. 
A unique feature with this credit card is for deferred interest on qualifying items for 18-24 months. You should carefully read the terms of service and other information to verify that what you plan to buy will be eligible for this program. 
Best Features
There are 5-15% discounts on various products in the store. This puts more money back in your pocket and keeps you moving forward.
You get access to special financing. These special offers are available on certain big-ticket items like jewelry. 
You can collect even more rewards points. Members can gather up rewards points for even more perks, like store credits.
4. Express NEXT Credit Card
If you're a fan of chic clothing and like to shop for it frequently, you should think about investing in the Express NEXT Credit Card. This is the store card for Express, a popular clothing retailer, which means that you can only use it in Express stores or online through their shop. 
You can acquire points and advance to the A-List Credit Card as well. You'll get extra points and all kinds of other additional benefits. The A-List tier starts after you reach 10,000 points, and at 20 points per dollar, you need to spend $500 to achieve this tiered status. 
This is a lot lower than other store cards, which means you can keep saving even faster. Points add up even quicker since the A-List amount is 25 points per dollar spent. 
However, this card also has a much higher APR than the other cards on this list, so you need to be careful. Make sure your bill is paid every single month and that you keep an eye on statements for any extra fees. There is a maximum late fee of $40, which means you can keep this card affordably.
Best Features
You get 20 points for every $1 you spend. This is much higher than other point cards on the market, like the JCPenney Credit Card program. 
You get all kinds of points and cash rewards just for holding the card during a regular year. These include birthday gifts and other occasions!
Everyone has the same terms. While other programs might offer two different cards for different types of credit, Express only has one card; everyone is on the same foot.
5. My Best Buy Visa
The My Best Buy Visa is perfect for a tech fiend or anyone else who is buying all kinds of electronics and appliances. There are types of Best Buy store cards: the My Best Buy Credit Card and the My Best Buy Visa. 
The My Best Buy Visa is the better of the two cards, but it is only available to those who hold good credit. You can use the Best Buy Visa at any place that accepts Visa cards, online or in-person.
This is a great card for someone looking to make big moves on Black Friday going into the holidays. You can take advantage of all kinds of perks and get a lot of cash back on various purchases.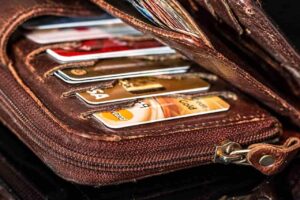 Something essential to think about before applying for this card is that there is a sliding scale of annual fees depending on your credit score. You can only qualify for a $0 annual fee if your credit is excellent, so those out there with a lower score need to wait until they get it higher.
It would help if you also were careful with the deferred payment options. This can rack up massive interest fees and costs, which are not good. You should pay off your debt on these cards as fast as possible and carefully review the fine print.
There are also buy now pay later no credit check cell phone financing options available.
Another concern that users have reported is that the customer support and helplines are not very good compared to other store card helplines. If you need assistance, plan enough time to wait and have everything ready to ensure the process is as smooth and painless as possible.
Best Features
You get early bonuses. For example, extra cashback in the first 14 days after opening.
It's easy to get higher tiers. You can quickly get additional bonuses and rack up points to get all kinds of perks.
You can use the Visa anywhere. This is perfect for anyone on the go who needs a solid card. 
6. Costco Anywhere Visa Card by Citi
The Costco Anywhere Visa Card is one of the best-rated cards on the market. It is backed by CitiBank and rated with five-star reviews on multiple financial advice sites like NerdWallet and Credit Card Insider. What makes it so unique?
First, this card is only available to members of Costco. You have to pay their yearly membership fee even to get started. The credit card can then operate as your member ID and bring you special rates on Costco gas.
There are also two versions of this store card. One is the Costco Anywhere Visa, and the other is the Costco Anywhere Visa Business Card. You can use these cards anywhere, even with Visa provisioning service, and get all of the benefits of a consistent cashback program. You also don't need to be a business member to qualify for the Business Card.
Cashback is also handled differently than most other stores. Once a year, all the cash you've accumulated becomes available, and you have to claim it in person. You also receive cash back from all different gas stations, businesses, and purchases.
However, this credit card is not for everyone. You should maintain excellent credit to keep this card and get the best rates. It's best if you are a fan of shopping at Costco since most of their benefits will be through their stores. 
Best Features
It pairs perfectly with a Costco membership. If you and your family are already big shoppers at Costco, this card is perfect for maximizing savings.
You can get special gas rates. These rates are specifically for Costco gas.
This card is co-branded. You can get all kinds of cashback across the board and use it internationally as well. 
7. Sam's Club Mastercard
Wholesale stores are great for prominent families or anyone else who needs to buy in bulk, and Sam's Club is an alternative to Costco. Not only does Costco accept EBT, they also have their own credit card.
Many of the features for the Costco Visa also apply here.
You have to be a member first.
Cashback is delivered in a check once a year. 
The card doubles as your membership card.
However, there are some crucial differences.
For one, the Sam's Club card has a cap of $5,000 on cashback. Costco does not have a limit, so this could be a deal-breaker for anyone who's frequently shopping at big box stores. 
In addition, there are different terms for how much cashback you can get from different purchases.
| | | |
| --- | --- | --- |
| Cash Back Item | Sam's Club Rate | Costco Rate |
| Gas | 5% | 4% (Costco Only) |
| Travel & Restaurants | 3% | 3% |
| Purchases at Store | NA | 2% |
| All Other Purchases | 1% | 1% |
While these rates might seem very close, there are some key differences. A higher cashback rate on gas at Sam's Club means that you'll reach the $6,000 cashback limit even faster. You need to keep an eye on your spending, stay within your budgetary guidelines, and keep track of how close you are.
Best Features
This card has higher gas cashback rates. 
It pairs with membership fees.
You get a lump cashback sum at the end of the year.
8. Lowe's Advantage Credit Card
A little bit different than other stores on this list, the Lowe's Advantage Credit Card is perfect for the handyman or DIY guru in your life. You get an impressive 10% off deal from the first day of approval and can make some big moves.
This credit card is similar to the Best Buy card I discussed further up in this list. You can choose between 5% off savings or work with deferred financing on larger bills. Just like the Best Buy card, you need to be careful and pay back any debt you might accrue.
If you don't pay back your debts promptly, there are several consequences. One of them is that Lowe's uses a complete back interest policy. This means that the interest will be applied to the bill back to the date of purchase. If wondering will canceling a credit card stop recurring payments, it won't.
This is very dangerous, especially if you choose Lowe's 84-month financing option. Think very carefully before you agree to any financing. Overall, the best thing to do in these situations is to take the cashback option and not use the financing.
Best Features
You can adjust your financing on large purchases. This means you can get exclusive APR rates on certain items.
There's a 10% off starting deal.
You can only use this card at Lowe's, which is perfect if you shop there frequently.
9. Amazon Prime Rewards Visa Signature Card
This credit card is not for a physical department store, but it packs a punch. This is an excellent choice for anyone who uses Amazon all the time, and specifically, this is intended for Amazon Prime members. Specialty cards such as this with perks for online purchases are one of the advantages to online shopping.
There are some great features of this card. For one, you can redeem your rewards as products and special deals on Amazon.com. You can even move them around if you need to and want to get your reward in a specific way.
There is also a significant drawback. Compared to other cards on this list, the Amazon Prime Rewards card has a significant APR. This can cause some severe issues, affect your financial leverage ratio for household finances, and rack up all kinds of fees.
Best Features
You can use this card at all the stores that are under the Amazon umbrella. This includes Whole Foods and other subsidies.
This card is an open-loop card. You can use open-loop cards at any locations where Visa and Mastercard are accepted.
There is no cashback cap. This means that you'll earn significantly more cashback than you would from other store cards.
10. Macy's Credit Card
Last but not least is the Macy's Credit Card. Featuring instant approval and all kinds of special perks, you'll save even more money at your favorite department store. 
Unlike other stores on this list, Macy's credit card gives users rewards based almost entirely on the tier system. Your cashback percentage, your points to dollars ratio, and other rewards are determined by your tier level. 
This can be frustrating to deal with, especially if you're chasing the 5% cashback level. However, this should be easy to solve if you frequently shop at Macy's. Occasional shoppers are the ones who need to steer clear of this card.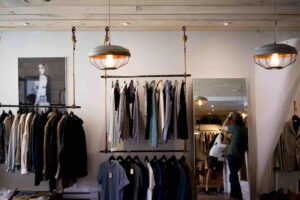 To move from level to level, you need to make more purchases. If you want to move from silver up to the gold level, you must spend over $500 to get enough points. It is an upward climb, but holiday shopping can make things easier.
You'll need at least fair credit to qualify for this card, but you should ideally shoot as high as possible. The higher your credit, the better specific deals may become. You may also qualify to upgrade to higher and better credit cards through the company.
Best Features
Macy's credit cards offer instant approval. This means you can start earning right away and can get early rewards too.
There are special member events that give you even more perks. These are extra cashback days or special sales that only show up in your text messages or email.
What Is The Hardest Department Store Credit Card To Get?
The department store credit card with the hardest approval process to go through is Sears. You'll need at least average credit (620) to qualify for this department store credit card, but you should avoid this one if possible.
Sears department store credit card has the highest interest rate of all department store credit cards. They also have fewer rewards and deals compared to department stores like Macy's.
How Long Does it Take Department Stores To Give You a Credit Limit Increase?
The department store credit card approvals department will likely be slow when it comes to increasing your limits. It's a department store credit card, which means you'll have to build your credit in order to get approved. Building your credit takes time, and department stores are going to want to make sure they can trust you before they increase your limits.
You should also consider that department store credit cards don't always offer the highest limits to begin with. Macy's department store credit cards, for example, have a maximum limit of $1,500. This is fine if you just want department store credit, but it's not ideal if you need department store credit to help boost your overall credit as well as your spending power.
Are Department Store Cards Considered Credit Cards?
Department store credit cards are not considered credit cards because they do not have a line of credit. Instead, department stores issue you a card with a pre-set limit to spend within the store.
You're then required to pay off your debt in full each month, or else you will be charged interest and fees on what you owe.
The advantages of department store cards are:
• You can save 5% or more on purchases made at your favorite department store by signing up for a specific credit card.
• They offer exclusive discounts and offers you won't find anywhere else except in the department store, which makes it easier to shop around.
The disadvantages of department store cards are:
• Because they're not considered credit cards, if you don't pay off your balance in full every month, then you will be charged fees on what you owe. In addition, interest can add up really quickly if you're not careful with how much debt you have. Check out stores that accept afterpay as an alternative.
• Most department stores only offer a preset range for their credit limits which means they'll often be lower than other types of credit cards. This is especially true
Don't forget to check out the online store credit cards guaranteed approval options that are available.
Are Department Store Credit Cards Convenient?
Department store credit cards can either be convenient or inconvenient depending on how frequently you shop at department stores. If you enjoy shopping at Macy's or Nordstrom, then having a department store credit card is going to save you money when it comes to sales and rewards offered by the company.
However, if you don't shop at department stores often, having a department store credit card can actually be more expensive for you in the long run. It is a way to buy now pay later with instant approval no money down for items.
Do Department Store Credit Cards Build Your Credit?
Department store credit cards can be a great way to build your credit if you use them responsibly. Any department store credit card will help you earn department store points which you can exchange for department store rewards. These department store rewards may not be much, but they can add up over time and help you get department store credit cards approved in the future.
Do You Need a Bank Account For a Store Credit Card?
A bank account will not help you get approved for a department store credit card. You can get a credit card without a bank account. In fact, department store credit cards are known for some of the best instant approval no bank account offers.
To sign up for a department store credit card, all you need is identification such as your social security number and proof of identity such as your driver's license.
What Stores Give You Instant Credit Online?
There are some stores that offer instant credit for new purchases on their website, but it's best to use these cards in stores. Stores like Amazon and H&M give you instant credit when you make a purchase online, while the actual card will be mailed to your home address.
There are also progressive leasing stores like:
• Wayfair: Instant credit when you make a purchase online and give them your email.
• Lowes: When you create an account, checkout as normal, and they'll offer you instant credit in-store.