This post may contain affiliate links to products that I recommend and I may earn money or products from companies mentioned in this post. Please check out my disclosure page for more details.
---
If saving money ranks high on your everyday living list, then you need to read our Paribus review.
I used to be the type of person that would just pay whatever the price of a product was and would not even think about using a coupon.
To me, spending the time to search out products and coupons was just not worth the time it took to do that in my mind.  I am very old school like that.
Who in their right mind would spend 15 minutes or even 30 minutes looking for a coupon to save $1.00?!
It made NO SENSE to me!  And, to this day, it still doesn't.
Then the process of "couponing" evolved.
Money-saving and conscientious shopping changed with the development of money-saving apps and services for smartphones. These apps and services started offering digital coupons all the time based on shopper preferences.
No longer did the consumer have to wait for their ad circulars in their Sunday paper (so 2010 isn't it?!).
Money-saving apps and tools started popping up offering different, easy, and quick ways to save money on products.
Some of these apps and services include Swagbucks, Ibotta, Rakuten (formerly known as Ebates), and Paribus.
Be sure to take a peek at our best cash back apps for shopping and groceries to maximize your savings.
This Paribus review will examine the Paribus app.
What is Paribus
Paribus is a money-saving price adjustment service that automatically scans your online purchases and gets you money back when the products you purchased drop in price.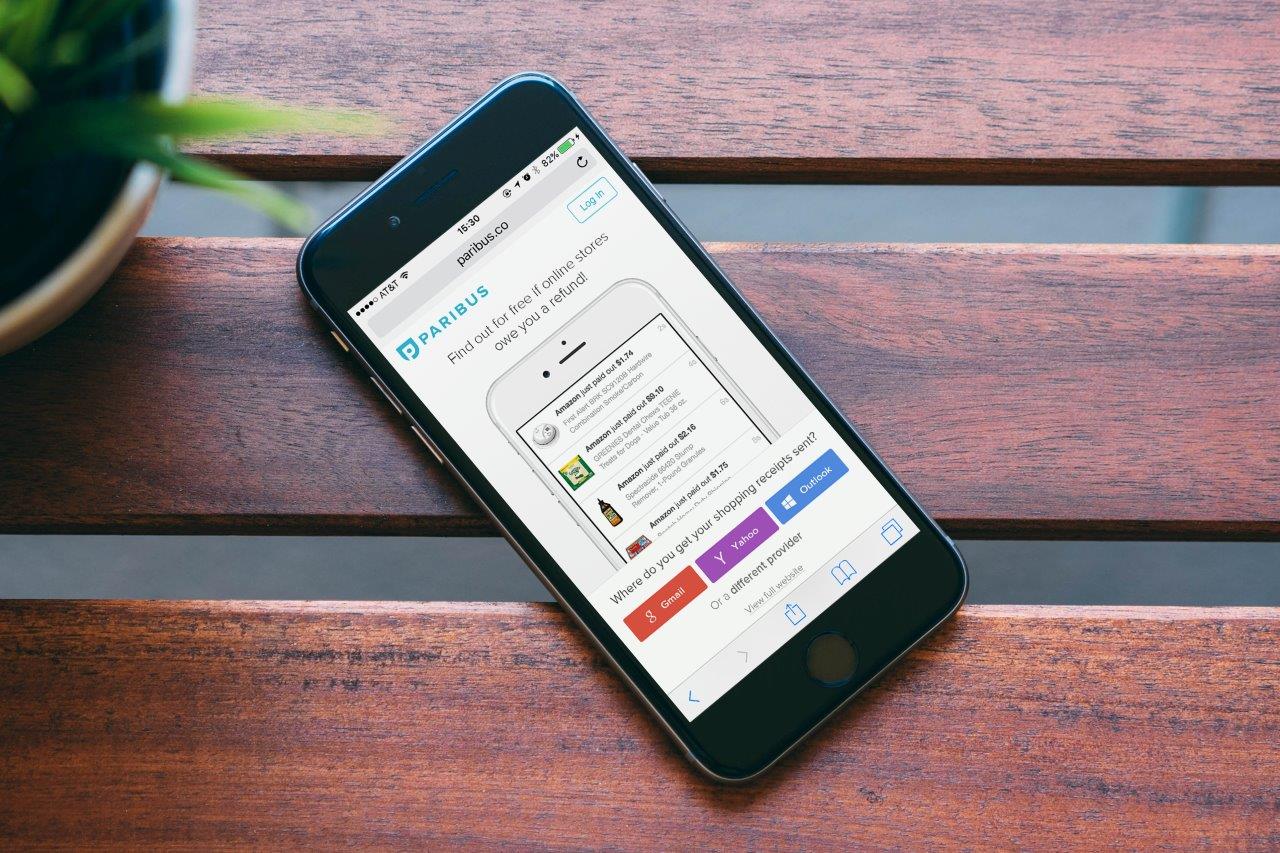 I often joke and say its a personal shopping assistant because it automatically gets the price adjustment for you so you don't have to wait in line at a store.
You also don't have to send a bunch of emails to a retailer's customer support either for a price adjustment.  Paribus handles all of that for you.  As a result, you can do other things with your valuable time.
How Does Paribus Work
As stated above, the main function of Paribus is to get you money back when prices drop of products and items you recently purchased.  Paribus has filed over $20 million in claims for their users. 
This is all made possible through algorithms.  The Paribus algorithms work by first identifying recent (past 30 days) purchases based on shipping and order confirmation emails found in your mailbox.
Paribus then continuously monitors and compares price changes for these items in real time.
Once an eligible claim is detected, Paribus engages with the retailer on your behalf and files a claim requesting a refund or provides you straightforward instructions on how to do it yourself. 
It's like a virtual shopping assistant doing all the grunt work to get you your money back.
Keep in mind that different retailers have different refund policies and some retailers may require action from you to complete your refund.
When Paribus succeeds and a retailer issues a price adjustment, you are credited funds directly onto the original form of payment or provided the equivalent amount in store credit. 
It's that simple, and you, the consumer don't have to lift a finger to make any of it possible.  That is one of the best parts because Paribus is working in the background for you on your behalf.
How Much Does Paribus Cost
There is no cost to use Paribus.  It is 100% free to use.
Is Paribus Legit
Yes.  There is nothing to worry about with Paribus because it is owned by Capital One Bank. 
Is Paribus Safe
Paribus functions by being able to scan your inbox and email.   That is the main method it uses to get you money back on your purchases.  They access your inbox to find your savings opportunities. 
Paribus uses technology to scan for emails that reflect a purchase or transaction.  Their system captures email subjects and sender information from your inbox, then uses proprietary logic to identify which of those emails appear to be receipts.
They don't open any emails nor any email that is not shopping related with receipts. 
They have a pledge to not sell your data.
I know some people may not be comfortable with this type of monitoring.  I would therefore recommend creating an email account specifically for all of your shopping.   That way Paribus only has access to your shopping transactions.
There are ways that they do protect and anonymize your data:
They use a tokenized login flow to view your inbox.  This means that Paribus uses a token given to them by your email provider (instead of storing your username and password) to track your purchase activity for refund opportunities.  This token helps ensure your email can only be used for the permissions you agree to when you sign up for Paribus.
Your data is stored in encrypted format (using AES 128 encryption).
They implement multilevel security mechanisms including dedicated firewalls, VPN services, intrusion prevention systems and stringent access controls on all information.
They collaborate with outside security professionals to ensure highest standards and conduct audits on their infrastructure as well.
How Do You Save Money With Paribus
There are three ways you can save money with Paribus.
1. Retail Price Drops
If the price of something you bought online drops, Paribus will help get you the money back.
Sign up for Paribus – Price Adjustments.
Once a retailer confirms a price adjustment you are typically refunded within 3 to 7 business days depending on the retailer.
Retailers typically refund you to your original form of payment depending on the guidelines and policies of each retailer.
Most retailers offer price-matching on purchases if you find a lower price within a specified period of time.
This is something that happens to me a lot.  I will be out and about and see something that I need.  More times than not, I will just buy it on the spot since my time is extremely valuable.
If it's a product I definitely need, I will purchase it and not even hesitate.
Then, of course I see it on sale the following week in the advertisements.  That is the worst feeling!
Most of the time, I won't have the time in my schedule to go back to the store or to initiate these refunds or watch for price-drops.
Therefore, Paribus acts as my online shopping assistant. 
It is a great online service that uses the receipts it finds by scanning your emails, tracking your online purchases from certain retailers and finds a lower price, and requests a refund for you of the difference.
2. Late Deliveries
Paribus tracks your shipments from select online retailers like Amazon to get you compensated for late deliveries.  
There are a few steps to setting this up, but you can successfully do it with the steps that they provide you with once you sign up for your Paribus account.
Millions of consumers pay extra for expedited shipping from retailers.  Most retailers will guarantee that their deliveries will arrive on time.
Often, deliveries still do not arrive on time despite these guarantees.  Paribus will also assist with money back on deliveries that arrive late.
If you have a delivery that arrives after its guaranteed delivery window, paribus will contact the retailer to request compensation.
Currently, this service is only offered with Amazon Prime subscriptions, paid guaranteed shipping with Amazon, and Walmart.com purchases where you paid for guaranteed shipping.
Even still, I have had deliveries with Amazon Prime that have been delivered after the 2 day guarantee.  It doesn't happen often, but it has happened to me in the past when I have sent gifts to people.  It would have been great to have gotten some type of credit back.  Paribus will work to get you refunded when gifts come late! 
3. Hotel Price Drops
If you book a hotel room, Paribus will monitor this purchase for you as well.  This is a relatively new feature of Paribus.
If you book a hotel from popular sites, Paribus will make sure you get THE BEST deal automatically.
You can get a lower rate even after you have booked the hotel.
Paribus currently monitors reservations from Expedia, Booking.com, Hotels.com, Priceline, Hilton, Marriott, and Holiday Inn.
Another thing Paribus will do for you is watch for a better deal at the same hotel.
Paribus hotels finds a lower rate on over 25% of the reservations it detects as they monitor over 100,000 hotels.
When they do find a better rate, they help you re-book to get money back.  It's a great way to get some "spending money" for your vacation.

How To Get Paid With Paribus
Once a retailer confirms a price adjustment you are typically refunded within 3 to 7 business days depending on the retailer. Retailers typically refund you to your original form of payment depending on the internal policies of each retailer.
How Does Paribus Make Money
Paribus makes the bulk of their income through their new hotel price protection and reservation system.  Paribus hotels price protection is absolutely free for their users.  Through re-bookings, Paribus is paid a small compensation for making a new reservation on your behalf through their partner, Priceline.
Which Stores Honor Paribus
You can find a complete list of the retailers that Paribus works with here.  They are always working to add more stores and retailers.
Benefits To Signing Up With Paribus
There are a few really cool benefits with Paribus if you sign up using the specialized links below:
Paribus now files claims with Amazon and Walmart when your delivery arrives late!
Stores guarantee money back when prices fall. But you have to ask. Let us do it for you, automatically.
All in all, there is one thing to take note of in this Paribus review.  That would be that the Paribus app is one of the most passive apps for getting cash back.
It is literally doing all of the work for you in the background to get that price adjustment or re-booking your hotel room for a cheaper rate.
Using the paribus app is one of the best ways to save money during the holiday shopping season.
Paribus Review Summary
The paribus app does live up to the hype.   It does what it is supposed to do which is get price adjustments for consumers.  This saves the consumer a tremendous amount of time to do other things.
It is one of the most passive ways to save money on products and receive cash back.
I think that the biggest feature is that it has expanded into hotels.  This is HUGE because to book a room now a days is not cheap.  Unless your staying at a motel frequented often by transients of the night, most hotel rooms now run an average of $80 for your typical Holiday Inn, and Wetsin hotels.
Paribus will not only get the refund back for you of the difference in price, but it can also assist with booking the same room at a lower rate.  The potential payoff on that could easily be $10 per night or more, plus applicable lodging taxes.
There is the issue of big brother going through your inbox sniffing out your deep secrets buried within your emails.  We have all seen house of cards, so we all know how this could potentially end.  Not to worry.
Paribus Recommendation
I would recommend setting up a separate email address specifically for both your online shopping and in-store purchases.  A lot of times now you can get the receipt emailed to your inbox right from the register. 
By setting up a shopping only email account, your only allowing Paribus access to your shopping transactions.
I however, do feel comfortable with all of the security and privacy steps that Paribus has in place.  Let's not forget they are also partnered up with outside security consultants.
They conduct "self-audits" regularly of their infrastructure to make sure appropriate safeguards are in place.  A lot of companies would not conduct "self-audits."
The paribus app is one of the best shopping and cash back apps that you should be using during the holiday season.  
The holiday season is one of the most active times for changes in prices of products.  Let the paribus app do all of the work in the background for you.   You will save money, time, and stress by using the paribus app.   I don't see how you can go wrong by having this shopping assistant in your life!
Sign up today if you want to start earning cash back on your shopping purchases! 
---
If the Paribus app doesn't sound like its for you but you still want to make some passive income, then check out my very detailed guide on how to make money with surveys.  This guidebook also has a profit strategy included and how to maximize the amount of money you make.  Earn up to $1,000 per month! Check it out!
---