This post may contain affiliate links to products that I recommend and I may earn money or products from companies mentioned in this post. Please check out my disclosure page for more details.
---
The American Pet Products Association estimates that pet owners will spend almost $100 billion in 2020. Of that $100 billion, at least 10% will be spent on pet services, including waste removal and dog poop service.
When looking at how to start a pooper scooper business, it is important to know that there are a lot of steps that need to be taken before you officially begin. From creating a business plan and looking into the legal side of things, to building a website and reaching out to potential customers, it can be a long process.
In this article, we will walk you through the various steps related to creating a comprehensive business plan, legal considerations, financing, building a website and social media presence, and provide information on how to be successful. We will also look into potential franchise opportunities. 
Where to Begin
More than 36% of households in the US have a dog. In larger cities of over 1 million, that can translate to more than a quarter of a million potential customers. 
Even in the suburbs which houses 175 million Americans, there are thousands of dog owners, many with more than one given they have the room and land. In the suburbs, it is not uncommon to find pet owners looking for help with their pets. 
If you have looked at the increase in spending and decided that pet waste removal is a viable business, the following steps will help you to get things started. These steps below will help shotgun how to start a pooper scooper business fast.
Create a Business Plan for your Pet Waste Removal Service
Creating a business plan is an excellent first step. By laying out all your information and research, along with a plan of action and a list of to-do's, you will have a clearer understanding of what you need to achieve for your pooper scooper business. Know the pros and cons of hiring an accountant to see if you need one.
Benefits of creating a comprehensive business plan include:
Proves you are serious, to yourself and potential investors
Helps with understanding your competition
Helps with understanding your customers
Assess the plan's potential for earning
Encourage deep research into the market
Can attract investors or help with financing
A solid business plan will be the cornerstone of your new business and will help to start, manage, and eventually grow your business. 
Is There a Market for Pet Waste Removal
Firstly, start by looking into your area and researching the viability of a potential new business. Though you may be living in an area with lots of dogs, there may already be a number of other pet removal services established. Although that doesn't mean you shouldn't try, it just means that it may take some time to fit into the market.
On the other hand, looking at the demographics of your intended area could decide if this idea is viable. Though people are spending more on their pets, lower-income communities would be less inclined to spend excessive money on waste removal. 
Business Overview
If you are wondering how to start a pooper scooper business, the first step is creating a rough initial business plan. When you are starting a pooper scooper business, be sure to consider what services you will offer to dog clients. A good business overview will contain what you plan on offering as your service, what your goals are, and how you plan to achieve those goals. 
It can include a basic outline of your business structure, general company information, a mission statement, and goals for the future. All in all, starting a pooper scooper business is one of the best creative ways to make money with a business. Picking up dog poop is considered a top low stress business.
Market Research
Take a deep dive into the pet service industry. Look at who is spending money and specifically on what. Establish whether a waste removal service alone would be enough to be profitable, or if you need to look at offering other services, such as dog walking.
For example, it is believed that Millennials and Baby Boomers tend to spend the most on their pets. Millennials are starting families later and using their extra money on their pets. Boomers, on the other hand, usually focus on their pets once their own children have left home. 
However, Boomers tend to have more disposable income over Millennials, so targeting this group could be more beneficial in your business plan.
Outline Products and Services for Pet Waste Removal
From the beginning, having a clear understanding of what you will be offering will help with:
Pricing
Research
Target marketing
Advertising
Understanding initial costs
Initial Costs/ Budget
Having a tentative understanding of the initial costs of starting your business will help to decide if you can achieve your goals, and where you may be able to save.
For example, costs like a business license, insurance, and supplies are all required. Whereas the cost of building a website or advertising is a little more flexible. Determining your potential costs is one of the important steps for how to start a pooper scooper business.
By laying out exactly what you need, and the costs involved, you can figure out if you have the capital yourself, or if you will need to look into a loan.
Legalities for Pooper Scooper Service
Before you can legally offer any kind of service for money, you will have to register as a business.
In the case of a small, self-employed business, you may only need to register a 'Doing Business As' (DBA) name. This can be your trade, or assumed name and should be registered with your state, county, and city. 
Before choosing your name and taking the step to register, ensure the domain is available for your future website. You can use a domain name checker online to see what is available. 
Permits and Insurance
Review your state and local laws to see what permits you may need to run your business. For example, for large quantities of organic disposal, you may need a permit or to pay a fee for proper disposal. 
In addition to the correct permits, liability insurance is absolutely essential. As a pet waste removal service, you will be entering people's property, and it is possible that something could break or that their pet could get out of an open gate. Insurance will cover you in the event of the unexpected. 
Financing
Financing a pet waste removal business is more involved than starting an online video game store for example. Opening a business bank account, obtaining starter checks, registering for taxes, and establishing how you will receive payments is another step that needs to be taken before you get paying clients. 
A bank account is needed to deposit cash or check payments. However, even if you choose to only take online payments, such as through Paypal or Stripe, you will need a business account to access that money.
It is at this point you should also mock up an invoice and finalize payment options. For example, you need to decide if you will be adding taxes on top of what you charge, or have it included in the price. Similarly, many payment companies will take a percentage, and you should decide if you will need to include that into your pricing. 
Finalize Pet Waste Services and Pricing
Pricing is key for how to start a pooper scooper business because if you charge too much, pet waste removal business might fail. Through your initial business plan, you should have taken a look at other services and what they charge from competitors. You should also have an idea of what you need to earn to make your business a viable option.
At first, keeping things simple is advised. As a pet waste removal service, you should stick to just that. There will be time later to add services, once you are established as a business and have loyal clients.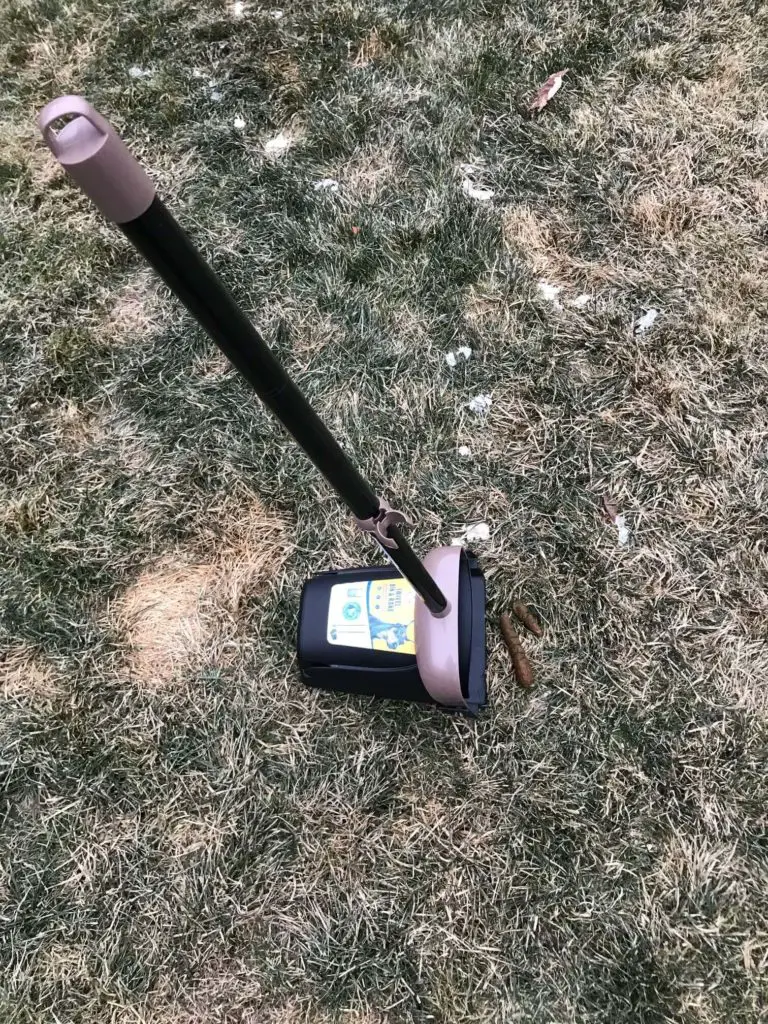 However, at this point, you should be deciding an exact price for the service you will offer, along with potential discounts. 
For example, you may decide to charge $15 per week, per dog. But what would you charge if the owner has two dogs? It is more common to offer a household discount, rather than simply doubling the price.
Build a Website
Having an online presence is essential for your dog poop service. It makes you easy to find and you look more professional as a pooper scooper business. 
Website building websites, such as Squarespace, make it easy for non-tech people. Not only that, it is far less than the cost of something custom. A good developer can charge upwards of $50 an hour. Designing, coding, and finishing a custom website is time-consuming and will be expensive. 
For a new business, using a website template is a more budget-friendly and easy to follow option. 
Your website should include information about your services and what you charge, along with contact information. It should also be mobile-optimized since more than half of users browse on their phones. 
If you choose to design your own website that's not a template, there are excellent tutorials how to start a website but it will take a lot of effort from either yourself or a designer.
Logo
Having a distinct brand can really set you apart. However, designers can be expensive and often out of small business budgets.
However, by checking sites like Etsy, you can often find designers that will take your company information, along with some ideas you may have, and produce anywhere from 3-6 designs for under $100.
In the beginning, this will be a great investment and you can always modify the designs in the future. 
Purchase Tools and Equipment
As mentioned above, supplies are a required purchase. You can't begin to offer you service without the right equipment. It's an essential element of how to start a pooper scooper business.
The tools you start with will depend on a couple of things:
How much start-up money you have
How many clients you think you will have 
If you're lucky enough to have a relatively large initial budget, then you can look into getting the tools you might not absolutely need, but that will make your job easier.
If you're lucky enough to have a client list before you begin, then even with a lower budget, you should be able to spend a little more, as you know you will have some money coming in right away. There are places where to get free newspapers though which can help you keep your startup costs down initially.
However, if you are starting without any known clients, and if you have a tighter budget, you should just get the essentials at first.
Essential supplies might include:
Rubber gloves
Disposable gloves
Poop bags
Trash bags
Buckets
Bleach Spray
Newspaper
Rakes
Pooper scooper
Sealable plastic container or trash can for waste
Shoe covers
Plastic key fobs
Treats
Trying to keep your costs down for equipment can help your company become profitable fast. You can keep all of your pet waste equipment in crates for easy transport. There are a lot of places where to get free wooden crates that will make transporting your equipment fast and easy.
Pet Waste Removal Advertising
Outreach
While making money with a pooper scooper business isn't as easy as getting paid to deliver cars, it's still relatively easy. However, you will have to physically network with pet-related establishments in person.
When starting a pet-related business, a great idea to get your business name in front of clients is to approach local pet stores about your pet waste removal services.
One of the best ways to start pet waste removal advertising is by pet shop assistants, daycare attendants, groomers, and dog walkers. They all get to know their clients and have relationships with them and their pets. By working with these people, you may find that they are willing to suggest your services. 
Research and visit various locations. Bring business cards and flyers with all your information and introduce yourself. It might also be an idea to leave behind keepsakes or gifts. 
For example, you can purchase a box of Greener Walker Poop Bags for less than $20. Using some colorful ribbon, you could attach your business card and ask stores to leave them in a bowl for people to take for free. 
Pet Waste Advertising on Social Media
Social media is quite possibly the best way to get your name in front of clients for free. It costs nothing to set up a Facebook page, and with more than 1.7 billion daily users, it's a platform you cannot ignore. Similarly, users of Instagram are incredibly active, with almost 500 million active daily users.
Facebook
Facebook is an excellent way of building your brand, building your relationship with clients, and getting relevant information to your audience. From selling used appliances to dog poop scooper services, Facebook is a great option for brand building. In the event you are taking time off, chances are more people will see and respond to a Facebook post than a note on your website.
Facebook ads are very easy to create:
Ensure you have a Business Page, and not a personal page
Select "Promote" in the bottom left corner
Choose a goal for your ad, such as "Get more visitors"
Add images and text (Facebook will suggest from your feed but you can change it)
Target your audience by locations, interests, and age
Set your budget, which can be as low as $2 per day
Set ad duration
Submit for review
Starting with your company logo, your ad should have just a few words. Tell the audience what you are offering and give a price example. 
Using target marketing, you can not only select your specific area, down to the mile, but you can also focus on the client demographic you worked out during the planning phase. 
For example, we know that Millenials and Boomers are sending more on their pets. We also know that Boomers tend to have more disposable income. With that in mind, you can have your ad target only people in that specific age range.
Further to that, you can select an audience by their interests. Using their 'likes', Facebook can help you find customers that are interested in your service. This can be dog owners, as well as people who may have 'liked' a local pet store. 
Instagram
Instagram is a far more visual and fun way to promote your business. Animals and behind the scene snapshots do well on Instagram, along with food and inspirational quotes. 
A great way to build your following would be to document your process of starting a small business. Walk people through your steps with small glimpses into what it's like. Incorporate plenty of cute pets posts and you might find you have a small following before you launch.
Engagement
Creating content will encourage engagement. Your followers will 'like' and comment on posts, and hopefully share those they enjoy. The more 'likes' and shares you get, the more followers you can reach.
However, it is not just about getting 'likes'. As a small business owner in a local area, it is vital to gain confidence from your clients. They want to get to know you and trust you, and you can achieve this by engaging with them online.
For example, if a client posts a fun picture of their dog, you should 'like' and comment something casual. Similarly, if you get comments on your own posts, comment back, and start a conversation. 
Customers are far more likely to do business with and recommend an active and responsive page.
Pet Waste Removal Franchise Opportunities
Starting a small business is not easy or quick. There are a lot of steps to take, research to do, and work to put in to make your pooper scooper business a success. However, franchising can help with the process.
If you select the franchise option, you can skip some of the steps on how to start a pooper scooper business because the franchise has covered those.
When buying a franchise you can expect to receive a framework for their existing business. The owners will likely offer comprehensive instructions and training programs that will cover everything from marketing and accounting, to daily operations and a specific business model. 
These are designed to help streamline the whole process, making it easier and faster for you to open your business. 
Below are some examples of pet waste removal franchises and their initial investment costs.
| | | |
| --- | --- | --- |
| Franchise Name | Initial Investment | Net-Worth Requirement |
| Pet Butler | $30,000-$42,000 | $30,000 – $42,000 |
| Poop 911 | $0 | n/a |
| Got Poo? | $37,800 – $108,800 | n/a |
| Camp Bow Wow | $783,500 – $1,485,000 | $500,000 |
| DoodyCalls | $35,612 | $50,000 |
| Scoop Wizards | $100,001 | $100,001 |
| Hound Mounds | $20,000 | $30,000 |
| Doo Care | $37,000 – $54,000 | $40,000 |
Pet Waste Removal Franchise Opportunities
How Much Money Can You Make as a Pooper Scooper?
You can expect to make anywhere from $50 to $70 per client for full dog pooper scooper service. Many companies charge around $50 per month which includes weekly dog poop scooping service. You can earn closer to $70 if you are providing a one time pooper scooper service pick up. Running a pooper scooper business is a great way how to make $2,000 in a month easily.
How Much Should You Charge for Picking Up Dog Poop?
Based on industry averages, you can expect to charge anywhere from $10 to upwards of $70. If you are providing very basic pet waste removal services such as drop off and pickup of a pet waste bucket, the normal charge to clients is around $10.
Below are some of the best pooper scooper services you can charge for regarding dog poop services.
You can charge on average $15 per week for weekly cleanings
For larger dog poop scooping jobs, you can charge on average $70 for seasonal or for a one time only dog scoop service.
You can also charge on average $50 for a dog pooper scooper monthly contract.
Conclusion
Starting a pooper scooper business, as with any small business, has a lot of steps. By starting with a comprehensive business plan, you can effectively lay out your goals, finances, and market research which are all key for how to start a pooper scooper business.
With your plan in place, you will need to register your business, open a bank account and set up your taxes, build a website, buy your supplies and start to get your brand out there. 
However, if you are looking for a faster option, buying into a franchise can help to streamline the whole process. You will be provided with a business model and details of how to market, operate, and grow your new small business.