This post may contain affiliate links to products that I recommend and I may earn money or products from companies mentioned in this post. Please check out my disclaimer page for more information.
---
Savers rejoice…your time has finally come!  As a result of the recent federal rate increases, interest rates on savings accounts are finally on the move.  They have also increased as well especially for establishments such as CIT BANK.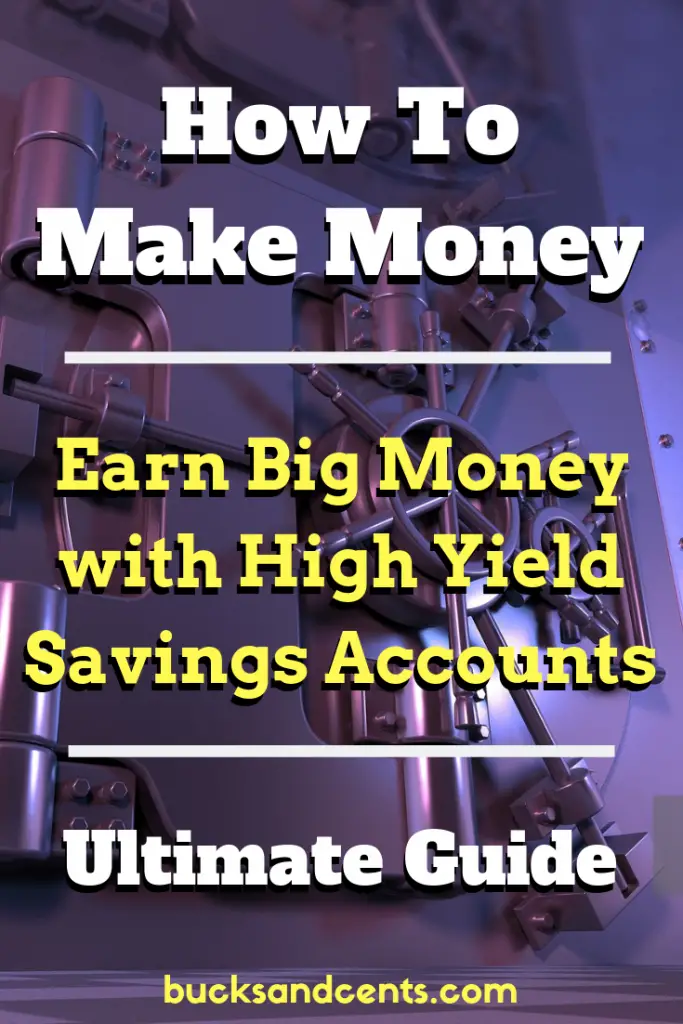 I can remember as a 16-year-old walking to my local bank and depositing my check I received from my part-time job slinging burgers and shakes (you know because online side hustles and creative jobs that make money didn't exist yet).
When I got home, I would then write the amount of the deposit down in this little pocket booklet the bank gave me to track my balances and interest paid.
I was so excited because at the end of the month, I would earn more money with something that was called interest.  This worked out to about three extra cents per month.
 Yup at 16, I had made it!
Well, times have changed.  There is no such thing as going to a bank anymore to deposit your Grandma's $20 check she gave your for Christmas.
The days of dismal .25% savings account interest rates are also over.
Behold the era of online banking, mobile banking, and high-interest and high-yield savings accounts.
One of the best FDIC insured banks I have found that offer high-yield savings rates at the top of the industry would be CIT Bank.  
Below I am going to show you why saving and investing your money there is one of the smartest moves you can make with your money.
CIT Bank Savings Builder Review: 

Interest Rates to Grow Your Savings 
Over the last decade and a half, I have always utilized high-yield online savings accounts through various banks.  I have been a client of Virtual Bank, Capital One, ING Direct and its subsidiaries, and many others.
One of the current leaders with one of the highest interest rates for online savings accounts right now in the industry is CIT Bank.  At the time of this review they are currently offering one of the highest APR interest rate for their CIT Bank Savings Builder Account!   
Why Saving Money is Important
Having freedom in life starts with taking control of your finances.  Many reasons why hardships happen in life is because people fail to plan.  That holds true with personal finances and saving money as well.
According to the Federal Reserve Board and the Report on the Economic Well-Being of U.S. Households, 44% of Americans cannot cover a $400 medical expense emergency.
People don't take saving money seriously until it is too late and it becomes a significant hardship and struggle in their life.
Luckily, there are banks out there that can help people get started by taking small steps, learning how to build a savings account, and offering great interest rates for them.  CIT Bank is such a bank.
Who is CIT Bank
CIT Bank stands for Commercial investment Trust which was the name of the bank used early on.  It is part of the CIT Group which is a California-based bank dating back to 1908.
CIT Bank's holding company, CIT Group, is a leader in middle market lending across a variety of industries.
Since 2008, the company has shifted to a more everyday banking and customer-like business model and offers very competitive interest rates on its deposits.
Some information found on their website states:
"CIT is a leading national bank focused on empowering businesses and personal savers with the financial agility to navigate their goals. CIT Group Inc. (NYSE: CIT) is a financial holding company with over a century of experience, approximately $50 billion in assets as of Sept. 30, 2018, and operates a principal bank subsidiary, CIT Bank, N.A. (Member FDIC, Equal Housing Lender). The company's commercial banking segment includes commercial financing, real estate financing, equipment financing, factoring and railcar financing. CIT's consumer banking segment includes its national online bank, CIT Bank, and a Southern California branch bank, OneWest Bank."
Is CIT Bank FDIC Insured
Yes.  CIT Bank is a member of the FDIC and your deposits are insured by the US Government for up to $250,000 for single depositors and $500,000 for joint accounts.
You can find more information on FDIC Insurance at fdic.gov.
One thing to be aware of according to the CIT Bank website is that CIT Bank, N.A. and OneWest Bank, a division of CIT Bank, N.A., are the same FDIC-insured institution.  Deposits held under each name are not separately insured, but are combined to determine whether a depositor has exceeded the $250,000 federal deposit insurance limit, per depositor for each account ownership category. For purposes of calculating aggregate deposits held in CIT Bank, N.A., you should include deposits held in OneWest Bank.
Why Should I Use CIT Bank
When it comes down to selecting an online bank for a high-yield savings account, there is only one factor that is important.
That one factor is what the APY (annual percentage yield) or interest rate is.
When I select a bank for a high-yield online savings account, I only look at the banks with the highest interest rate.  I want to know how much interest will I make by having my money invested there.
Online banks are known to offer the best and highest interest rates available.  This is because they do not have physical branches which saves the bank a tremendous savings on their real estate cost.
And as a result, they are able to pass on those savings with high interest rates to their customers and clients.  Not to mention CIT Bank has also won several awards last year.
What is a CIT Bank Savings Builder Account
The savings builder account at CIT bank is an high-yield interest-bearing account that pays a tiered interest rate based on their stated qualifications.   The tier levels are subject to change without notice. Interest rates and Annual Percentage Yields (APYs) are variable and may change without notice.  Minimum to open account is $100.
The top interest rate for the CIT Bank Savings Builder Account is currently 1.80%* although interest rates do change from time to time. 
There are also a few qualifications that have to be met in order to maintain and earn the top APY tier rate which is currently 1.80%*.
How Do I Qualify For The Top APY Tier Rate
All new savings builder accounts earn the top APY tier rate through the first full evaluation period as part of the introductory offer as long as the qualifications have been met.  
As you can see, all accounts qualify for the base rate which is also higher than most banks.
This is regardless of the balance you carry each month or whether you make any additional deposits into the account.  So that is already a higher rate offered than a lot of other online banks to even begin with.
To earn the top tier interest rate, one of the following requirements must be completed:
If you are a monthly saver:  
Make at least one single deposit of $100 or more during the first evaluation period which begins on the third business day prior to the end of the month the account was opened.
Additional deposits made between the account opening date and the beginning of the first evaluation period will not qualify.
In order to continue to earn the higher rate, make at least one single deposit of $100 every month.
If you are a high balance saver:
Have an account balance of $25,000 or more on each evaluation day. The evaluation day is the fourth business day prior to the end of the month.
If you are able to carry a balance of $25,000, you will qualify for the higher tiered APY rate.
if you are below $25,000 but still make at least $100 in deposits each month, you will still qualify for the top tier rate. 
Top tier accounts earn a much-higher APY.
All accounts will be reviewed each month on what CIT Bank calls "evaluation day."  This day, which is the fourth business day prior to the end of the month, is when your interest rate for that next month will be determined.
If you haven't reached a $25,000 balance by evaluation day, or haven't made an additional $100 in deposits that month (your initial opening deposit doesn't count), you'll be bumped to the base tier for the next month.  
At the end of the first full evaluation period, the account will be reviewed to determine if the qualifications have been met to retain the top APY tier.  Accounts that do not qualify will earn the lower AP by tier which is still a great interest-rate.
Yes it really is that easy to earn this great rate. 
Either have a balance of $25,000 or make a $100 per evaluation period (each month) and you are on the fast track to growing your savings.  

Are There Any Fees For The CIT Bank Savings Builder Account
There are no fees for common, routine, and normal banking transactions.  A lot of banks charge you a minimum monthly maintenance fee if you don't have a high enough balance in their bank.
Others say that they offer free checking but you can only write a certain number of checks per month.  I have also seen daily limits on the amount of money per day that can be transferred out as well with some banks.
You will not encounter any of these situations at CIT Bank.
Here is a look at the current fees for their Savings Builder Account as of December 2018:
| | |
| --- | --- |
| Account Closure | Free |
| Mail Check | Free |
| Monthly Service Fee | Free |
| Online Transfer | Free |
| Incoming Wire Transfer | Free |
| Outgoing wire transfer for accounts with an average daily balance of $25,000 or more | Free |
| Outgoing wire transfer for accounts with an average daily balance of less than $25,000 | $10 per wire transfer |
CIT Bank Calculators
What also makes CIT Bank stand out as an emerging leader in personal banking is that CIT Bank practices what they preach.  The bank offers several different calculators to help you save money for things like college, retirement, and even paying off your mortgage.
With so many people saddled with debt and some not even having an available emergency fund, these are great tools to use and help people better manage their money.
---
If you are looking for extra ways to fund your CIT Bank Savings Builder Account, be sure to check out our post on how to earn $1,000 per month by filling out surveys.  We detail how to maximize your time and profit with strategies for some survey companies!
---
CIT Bank Security
You may be wondering if CIT Bank is safe to do banking with.  That's a valid concern because lets face it, not a lot of people have heard of CIT Bank.  However, their security measures they do have in place are some of the toughest in the industry.  Some of those include:
Transaction and activity monitoring
Layered security to ensure that only you can access your account information
Antivirus protection to keep our computer systems virus-free
Firewalls to help block unauthorized individuals or networks from accessing your information on our systems
128-bit Secure Socket Layer (SSL) encryption to create a secure browser connection when you sign in or fill out an application—so your information won't be intercepted
Secure messaging portal with communications encryption
Automatic sign-out of your secure session after a period of inactivity
Protecting your online security is always a top priority for CIT Bank.
CIT Bank Savings Builder Benefits
If you are still looking for more reasons to open an account, then read on!
Grow Your Savings FAST: The APY rate pretty much sums it up because it is one of the highest in the banking industry.  Online savings banks offer much higher rates than everyday banks. Open an account with $25,000 or more and earn a top tier, competitive APY on your money.  This is currently one of the top savings rates in the nation.
Plan For Life Events:  Supercharge your saving power by designating

savings builder accounts

for things such as vacations, college, houses, and weddings.  Take advantage of one of the highest APY rates in the country.
Master Your Money:  If you are just now learning

how to budget your money

, making a monthly contribution to your savings account is something that should be incorporated into all budgeting methods.  If you don't have $25,000 in your account, you can still earn the APY top tier by making a monthly $100 or more deposit. Pay yourself first and build your habit of savings.
How To Open a CIT Bank Savings Builder Account
If you have decided to open a CIT Bank Savings Builder Account, these steps below will assist you to accomplish that.
Steps to Apply:
Step 1: Gather Your Banking and Personal Information
You will need the following information to apply:
Account and routing numbers of current bank (to link accounts)
Date of Birth
Email Address
Home Address
Phone Number
Social Security Number
Step 3: Submit Application
Step 4: Receive a Confirmation
You will receive an  email confirming approval of your application.
Step 5: Fund Your Account
There are a few methods available to fund your account.  You can either mail in a check if you feel more secure doing that or fund your account online by linking your current bank account to your CIT Bank Savings Builder Account.  Either option works.
CIT Bank Savings Builder Account Review Summary
I decided to open a CIT Bank Savings Builder Account in 2019 because this was the highest APY I could find for a high yield online savings account.
Not a lot of other online banks offer interest rates this high.
CIT Bank and their savings builder account is for people who are serious about earning a lot of interest and receiving the most bang for their buck.
What is great about this bank is that even if you are unable to maintain the minimum balance of $25,000 to qualify for the top tier APY rate, there is still another option available to you.
By making a $100 deposit during each month, you will still qualify for the top tier APY rate.
I don't know of any other bank right now offering that high of a rate with those type of minimal account balance conditions.
So go ahead and make your Grandma proud by earning one of the highest interest rates in the country.
To learn more about CIT Bank and their savings builder account, or to open an account, visit the CIT Bank website click here to get started and build your savings today!

*APY rates will vary from time to time.  Actual APY rates may be greater or less depending on opening date of account and other factors as well. APY also assumes additional qualifying deposits are made during the evaluation period.  APY can also be affected during the introductory period as well based on qualifications.  For any questions, or to verify this information, please see CIT Bank.