This post may contain affiliate links to products that I recommend and I may earn money or products from companies mentioned in this post. Please check out my disclosure page for more details.
---
Whether you are moving locally or nationally, implementing some of the best moving hacks can save a lot of money on your move.  There is no question that it costs money when you undertake a move.
Whether your move is across town or across several states, you'll end up with a lot of moving expenses for things you didn't plan on.  Expenses such as packing materials, movers, and a moving truck are just some of the costs you'll have to cover for your move.
There will also be a lot of incidental moving costs as well.
However, there are a lot of different ways you can save money on a move if you are on a dollar store budget.  Some of the ways you can save money on a move include writing out a list of moving tips to follow for packing and look for discounts on moving truck rentals.  Additionally, you can also use moving hacks as well to save yourself money.
There are a lot of moving hacks that will help drop the cost of your move especially if you are trying to move cheap.
If considering leasing a house vs. renting these moving hacks below will save money when it comes to moving on a budget.
Best Across Country Moving Hacks
If you are planning a cross country move, there are a lot of ways to save the burn rate of your cash.  One way is to rent your own moving truck as this will be cheaper than any professional moving company out there.
While there are a lot of ways to save money moving cross country, there are also a lot of moving hacks that can help you save money on things such as moving truck expenses, lodging on your journey, and many more items as well.
Below are the best cross country moving hacks to help you save money.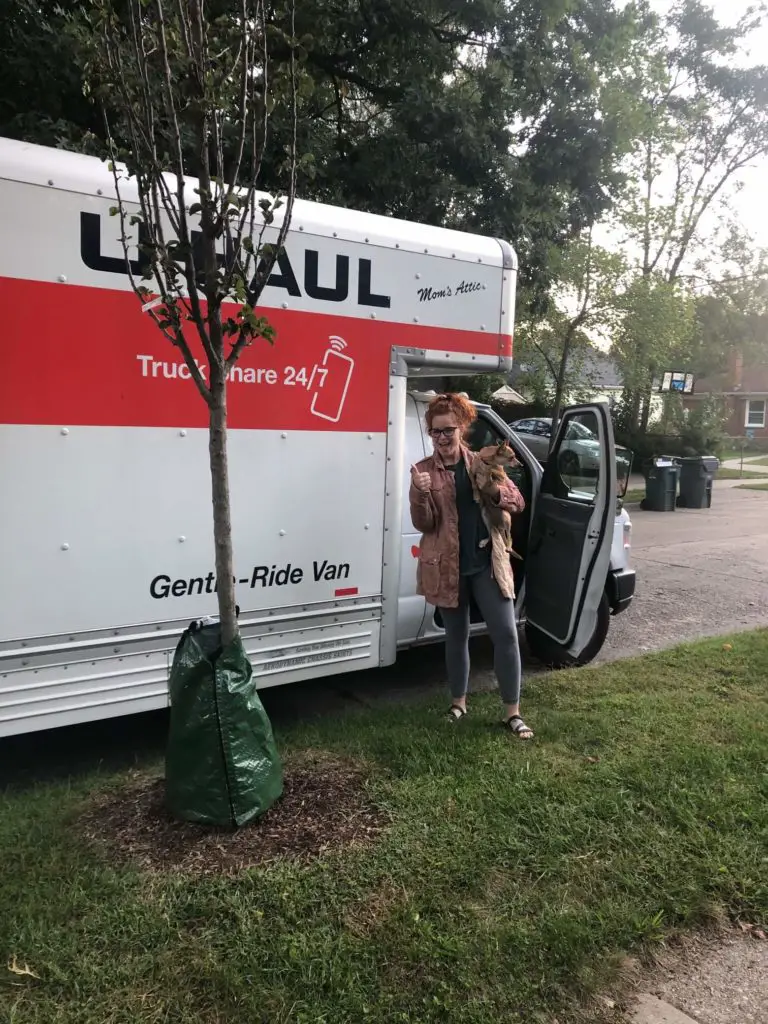 Drive Below Speed Limits
If you are planning to make the trek across the country with a truck rental, there are ways you can save money on expenses.  There is no question that moving trucks don't get the best MPG.
Moving trucks are used for utility and their MPG numbers reflect that principle.  At best, you can expect to average around 8 MPG for a 20 foot truck.  For smaller trucks, you can expect to average 6-10 MPG for a truck between 10 feet and 17 feet.
One way to increase MPG's for these utilitarian behemoths is to simply drive at slower speeds.
Driving at slower speeds can increase your miles per gallon.  If you drive at slower speeds, you won't have to worry about passing people.
It can take a lot of fuel to get 12,000 pounds of your possessions up to passing speed on a highway.
However, by driving at slower speeds you can set your cruise control and let others pass you.
Get Free Packing Paper
Buying packing paper from storage or moving companies can add up fast.  Truck rental places and storage places do sell packing paper, but it is expensive.
Another great cross country moving hack is to use free paper for packing.
By using free paper for packing you are saving a lot of money since you won't have to buy packing paper.
The best part is whatever paper is left over, you can just recycle.
Use GPS to Save on Fuel and Tolls
If you don't have a GPS for your drive, you should consider investing in one.  Buying a GPS will actually pay for itself tenfold.
Using a GPS is a great moving hack to save money.
By using a GPS, you can plan out your route ahead of time.  Most GPS devices will alert you and give you the choice if you want to take toll roads or bypass them and use a toll-free route.
If you were to drive across the United States for your move, you could potentially pay well over $100 just in tolls alone.  By using a GPS you can avoid those fee and take roads less traveled.
In addition, some GPS devices will also calculate miles per gallon which can be a great tool for drivers to help change their driving behavior.
There are a lot of buy now pay later stores online for electronics that offer GPS devices.
A knowing driver may decide to drive at a slower speed if it yields an increase in fuel efficiency.
Some GPS units can also display the speed limits of the roads you travel on.
Move Off Season
Another one of the best moving hacks to save money is to move off season.  When you choose to move off season, you will save money on a lot of items.
The biggest savings will be the cost of the moving truck rental.
According to the Brookings Institute, less than 10% of Americans moved between 2018 and 2019.
While moves are down in general, most moves occur during summer months when kids are out of school so it's easier for families to relocate.
Additionally, the weather is also better during summertime months.  Nobody wants to move during blizzards.
Those are two reasons why truck rentals are so expensive during the summer.
An unlicensed real estate assistant might be able to help you with some general logistics or information to help make your move as smooth as possible.
If you can coordinate and time your move outside of the peak summer months, you can save money not only on the moving truck, but also on lodging.
Hotel rates will also be lower off season as well because families won't be vacationing as much then as they do in the summer months.
Move During the Week
Moving during the week can also save a lot of money on your move.  Your moving truck rental will be cheaper because a lot of people move during the weekends and therefore rent moving trucks on those weekends as well.
That can drive up the rates of moving trucks because of the higher demand for them on the weekends.
By planning your move during the week, moving truck rental rates will be cheaper.
You will also see some savings at the pump for gas as well during the week because less people travel for trips during the week.
A lot of people take trips on weekends and gas prices at the pump often reflect that as well.
Finally what makes this one of the top moving hacks to save money is that by traveling during the week, you can also have lower rates on hotel costs.
Hotels always have higher rates on weekends than during the week.  By booking weeknight room rates, you can save additional money that way on your move as well.
Avoid Rush Hour in Urban Areas
One thing that can blow your move budget is driving during rush hour in urban areas.  There is a strong possibility that if you are planning a multistate move, you might have to travel through an urban area.
Places like Atlanta, Chicago, New York, Philadelphia, and Boston have some of the worst traffic in the United States.
If you have to drive through one of these areas, make sure that you plan your trip accordingly to avoid rush hour times in these cities.
Driving in an urban area during rush hour will kill your MPG due to all of the braking needed.
By planning your drive to avoid rush hour in urban areas, you can breeze right through and save gas at the same time.
Avoiding rush hour is a great moving hack that saves money which is easy to follow.
Use Discounts for Hotels and Truck Rentals
There are so many moving hacks to save money if you're on a tight budget.  You can also use discounts for hotels and truck rentals. For example, AAA offers discounts on Penske Truck Rentals and also .05 per gallon when you register at Shell for the fuel rewards program.
If you are planning to use professional movers, AAA also offers a discount for state-to-state moves with Atlas Van lines.
Be sure to check AAA discounts for the most up to date offers available.
If you end up using U-Haul, you can also receive discounts at hotels.  U-Haul has partnered with Choice and Wyndham hotels to offer 10% to 15% discounts on room rentals.
Check out the U-Haul offers available to see current offers available.
Have a Second Driver
Moving fast and saving time is a great moving hack to save money.  Think about having a friend go with you and help during your move.
They can also act as a second driver.  If you are moving more than 1,000 miles, it will be really hard to drive several days for 8+ hours a day.
By having a second driver, you can save yourself from fatigue that might set in.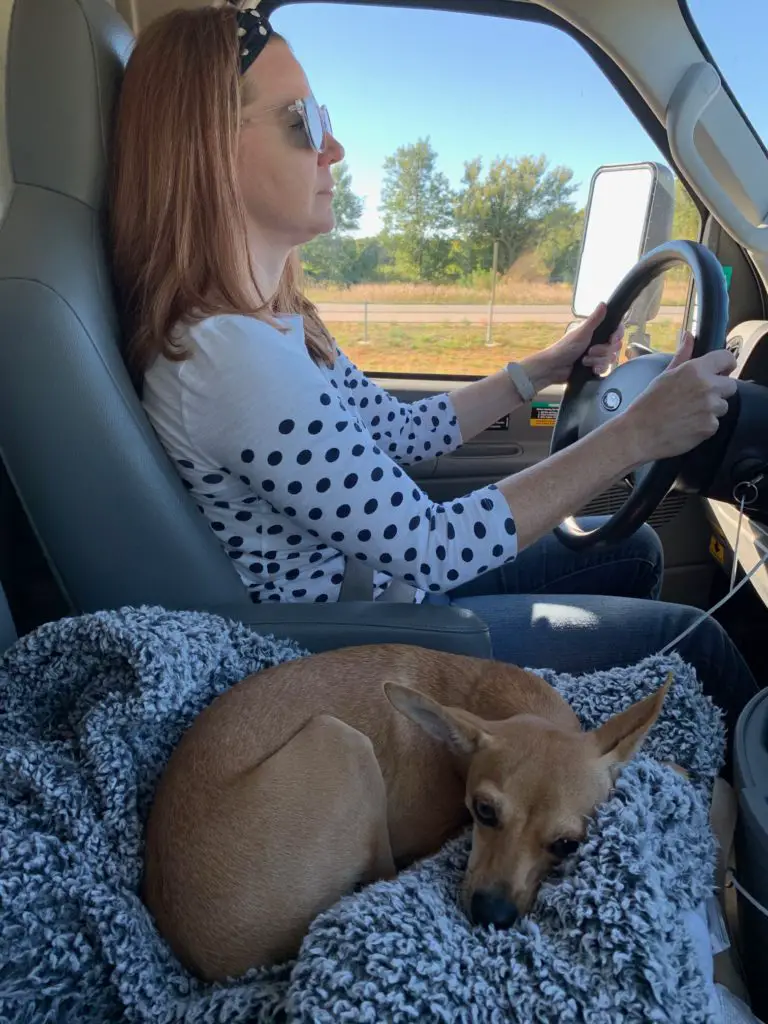 You're going to reduce the risk of a crash or accident by having another driver share the wheel with you.
Additionally, taking turns driving can be a huge time saver because you are essentially reducing the move time by one third to half.
With reduced move time comes reduced costs such as hotels and meals on the road.
Having a second driver is one of the best moving hacks to save money not to mention it also increases the overall safety of your move in many ways.
Use Proper Moving Equipment
Chances are that you will have some big and bulky items that you'll move with you like furniture or some of your appliances.
For the appliances you're not taking with you, be sure to look up who buys used appliances near me so you won't leave free money at the curb.
You can also buy used appliances near me when you get to your new location.
Knowing how to save money on high end appliances can also add up to big savings.
For the appliances coming with you, use proper equipment to move them such as an appliance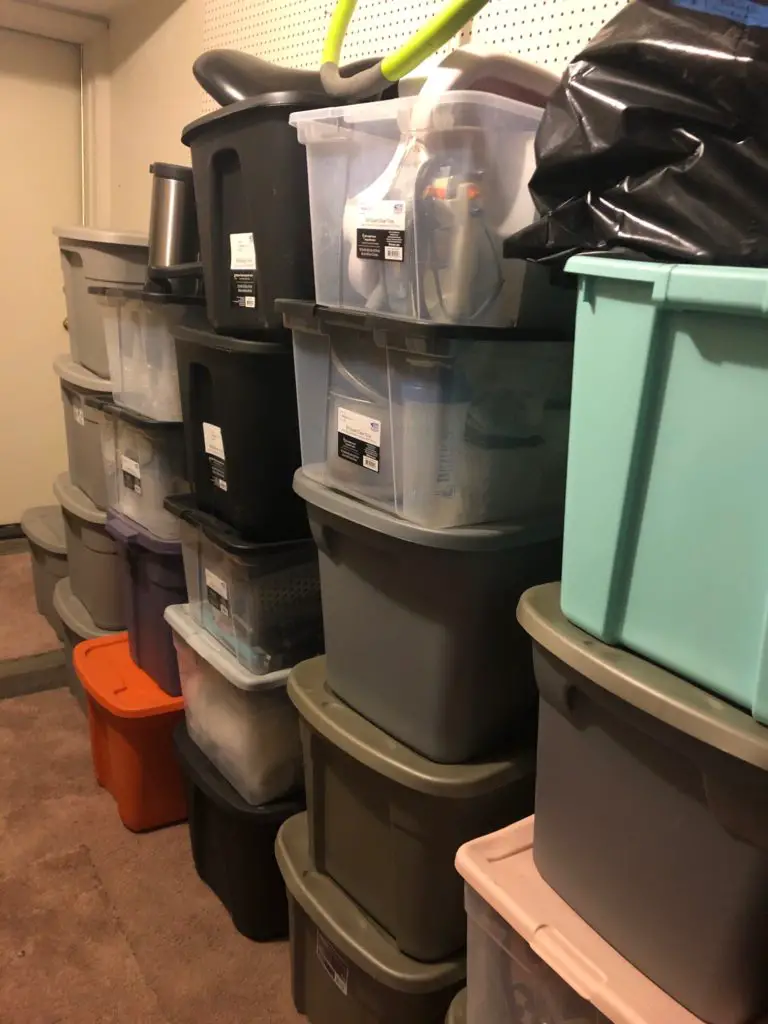 dolly.  Appliance dollies are made specifically for appliances to help with moving these bulky items around.
Be sure that your moving truck has a loading ramp as well.  Using a loading ramp will save a lot of physical effort because you can easily roll your appliances into the moving truck instead of having to carry them out.
There are also stair climbing dollies as well that can help with the mobility of big items between different levels in a house.
Finally, if you are not fortunate to locate appliance or stair climbing dollies, consider using moving straps to get the heavy lifting done.
Moving straps are extremely affordable and can be used to move large items.  Make sure that the proper weight capacity straps are used as most moving straps have a weight capacity rating.
Using the proper moving equipment is one of the best moving hacks to save money and strain on your body.
Check out where to get free wooden crates for moving to help assist with packing up small appliances. 
By using proper equipment you can avoid calling professional movers to get the job done.
Stay at Hotels with a Continental Breakfast
There are a lot of moving hacks to save money on a move out there.  While this one may not be considered an essential save, it can still have an effect on your moving costs.
If you have to obtain lodging while on the move, stay at hotels with a continental breakfast.  By using a continental breakfast, you can also obtain food for lunches and additional snacks such as your lunch.
You won't have to purchase additional meals or worry about instant online check cashing on the road if you utilize the continental breakfast at hotels.
There are always pre-packaged items at continental breakfasts at hotels because people are on the go.
Hotels know this so they package food so you can take it with you.
Due to the pandemic, a lot of the seating areas for continental breakfasts at hotels are closed.
However, a lot of hotels still offer this service and take the liberty of packaging up meals to go.
This can also save time by eating your meal on the go.  Using a second driver will allow the passenger to eat while your moving truck is still on the go.
Once the passenger is done, you can switch drivers and allow the driver to eat.
Not only have you saved time by not having to stop for meals, you have also saved the cost of some of your meals while on the road.
For those reasons, that's why this is one of the more unknown moving hacks to save money.
Get Discount Packets & Moving Programs
There are a lot of places that give out discount packets for free.  The USPS gives out packets that are filled with coupons for all types of stores.
One such example is a 10% off coupon for Lowes in addition to other coupons.
The coupons vary by location and not all USPS branches offer the packets. You may also have to ask at the counter because they are kept behind the counter.
Utilizing discount packets are great moving hacks to save money on supplies you might need to buy for your move such as a dolly or moving tape.
You can also join the IKEA New Mover Program and receive a coupon delivered to your email.
Simply create a profile at IKEA.com with your credentials and moving date and you will receive a coupon to your email provided you opt in to receive communication from IKEA.
You can save $25 off of a $250 in-store purchase.
Save Receipts for Moving Expense Deductions (Active Military Only)
If you are employed in the military, one of the best moving hacks to save money comes from Uncle Sam.  That's right Uncle Sam also gives you a break if you're an active military member and are being relocated.
Talk about one of the best cheap housing options available?!
Your moving expenses are deductible.
Some of the deductible moving expenses for active military that move because of relocation would include the moving truck rental and the cost to move your personal and household items, your lodging and hotel charges, and tolls along the way.  Additionally, you can also deduct portable moving containers and PODs, moving supplies, and any supplemental insurance that you might have to purchase.
Up until 2018, everyone had the advantage of this moving hack and was able to deduct moving expenses if they met a few criteria related to distance and timing of employment.
However, with the Tax Cuts and Jobs Act of 2017, moving expense deductions were eliminated and the only class it applies to now is active military members with regard to your federal tax return.
There are a handful of states that did offer moving expense deductions as well prior to 2018 for job relocations.  Those deductions might still apply for those state tax returns.
You will need to check with those individual states to see if their moving expense deductions still apply.
Best IKEA Moving Hacks
If you are pressed for time moving, there are things you can do to speed up packing.  Check out some of our Best IKEA Moving Hacks to save money on your move.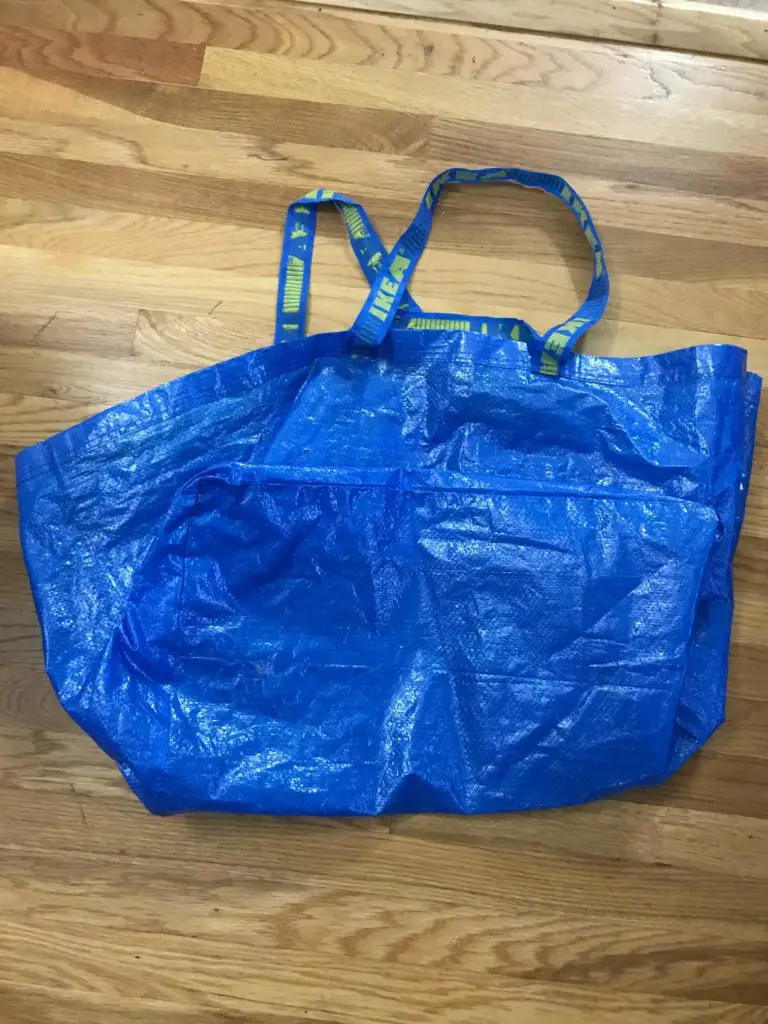 IKEA FRAKTA Shopping Bags
One of the best IKEA moving hacks to save money is to use their shopping bags for packing.  Instead of buying moving boxes, consider buying IKEA's Frakta shopping bag.
What is great about these bags is that they have a capacity of 19 gallons and you can dump stuff in them and go.
IKEA's Frakta shopping bags are great for moving items such as linens, towels, and some clothes.
They are extremely reasonable and actually cost LESS than some of the boxes you might have to purchase for your move. With a cost of just .99 at the time of this posting, buying a large quantity won't break the bank.
The best part is that one you are done moving, you can also reuse the bags as well. That's a better alternative then sending your moving boxes to a landfill.
IKEA DIMPA Storage Bag
If you are looking for a bit more capacity than 19 gallons, IKEA has another solution for you.  IKEA offers the Dimpa storage bag which has a 25 1/2 by 25 1/2 storage bag that is fully enclosed.
With a fully enclosed bag, you don't have to worry about your possessions getting dirty during your move.
Using IKEAS's Dimpa storage bag is one of the best moving hacks to save money because these bags can also be reused after your move.
IKEA PLURING Clothes Cover
Instead of buying wardrobe boxes that can cost upwards of $20 or more per wardrobe box from moving companies, IKEA has a cheaper option.
Another IKEA moving hack to save money involves purchasing their Pluring clothes cover.  Clothes covers are also known to Americans as garment bags.
You can buy a set of 3 for just $2.99 from IKEA at the time of this posting.
Best of all once you arrive to your new location, you can simply keep some of your nice garments in the Pluring clothes cover bags and put them directly into your closet.
This will keep your clothes protected for years to come.
Not only is it a great way to protect your clothes but it's also one of the best moving hacks to save money for moving your clothes as well.
Best Dollar Store Moving Hacks
Everybody knows that the dollar store has great deals on household items.  The dollar store is also a great option for moving hacks to save money on your move.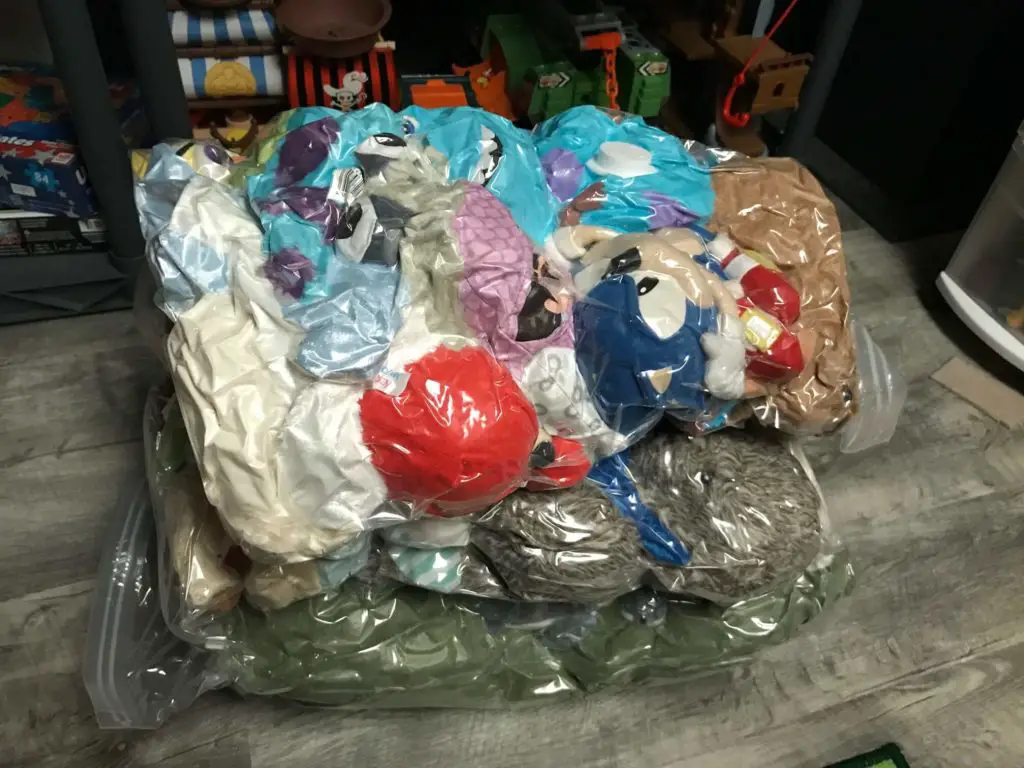 In addition to great products, a secret dollar store moving hack is free boxes.  So many people ask if the dollar store has free boxes?  The dollar store does have free boxes and the easiest way to get them is to make arrangements with the store manager.  Coordinate a time to go pick up the boxes after they receive their delivery.
In addition to free moving boxes from Dollar Store, there are other moving hacks.
These items below represent the best moving hacks from dollar store to save money on your move.
Markers, Tape, & Rope
Moving requires having a lot of supplies on hand.  In addition to the common items such as boxes and packing paper, you also need other moving items.
Some of those items include markers to mark on your moving boxes.  If you don't want to wait for free address labels by mail, you can buy labels at the dollar store.
You can buy packs of markers at the Dollar Store which you can use to label your boxes.
Buying rope at the dollar store is also a great moving hack especially if you are renting a truck.
You're going to need rope to tie down items so they won't get damaged in the back of the moving truck as you drive.
Lastly, you will need tape as well to close all of your boxes.
Vacuum Sealed Storage Bags
This is probably number 1 for the best moving hacks to save money on a move.  I stumbled onto vacuum sealed storage bags from the dollar store because I was looking for a way to store my kids stuffed animals.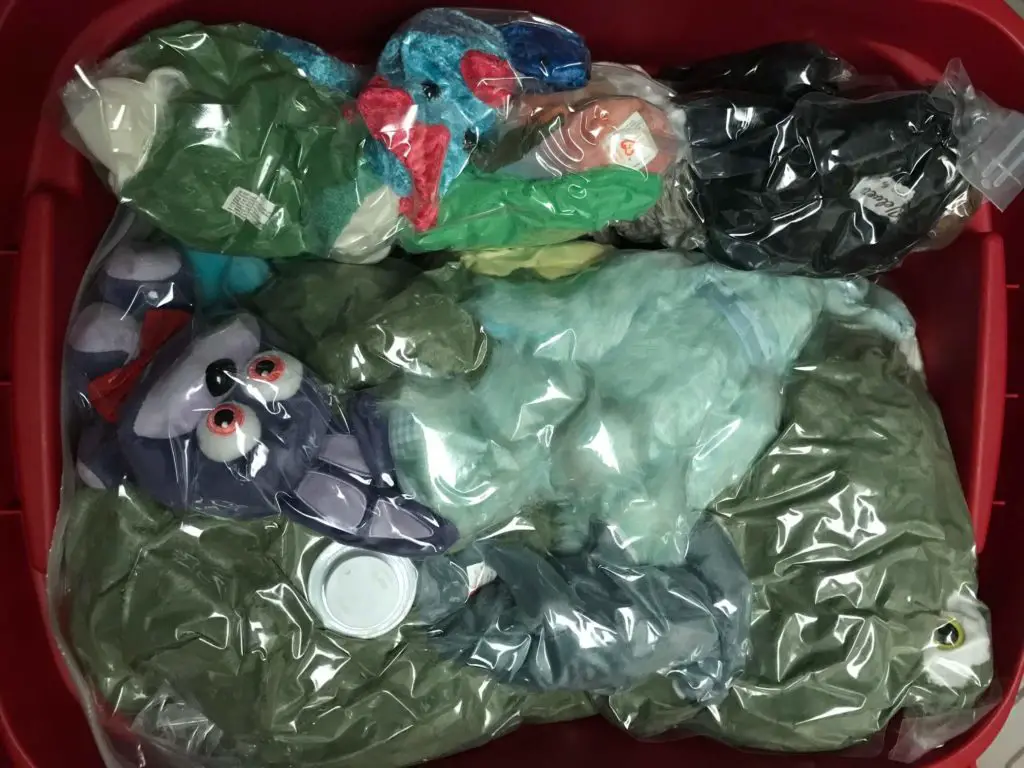 The dollar store sells vacuum sealed storage bags for $1!
Simply fill them up with contents, and then hook your vacuum hose up to the outlet and you can watch your items reduce in size.
If your looking for a way to save space on your move, be sure to use vacuum sealed storage bags.
Zip Ties
Another one of the best dollar store moving hacks is to use their zip ties.  If you are moving, you will need zip ties.
Zip ties make it so convenient to bundle things together when you are moving.
When you use zip ties you don't have to worry about cutting string and using it to tie and bundle items together.
With zip ties, you can complete that same function in a matter of seconds.
Related Questions
What is the best month to move for local moves?
The best month to move for local moves would be November because this is not considered peak season for moving.  You also have less risk of severe winter weather such as ice storms and blizzards in November if you live in a northern climate.  Moving trucks and professional movers will also be cheaper because November is not considered high demand month for moving.
If you are moving to get paid to live in Alaska, there may not be a good time for a big move such as that.
Can you move a dresser with clothes in it?
You should remove the drawers to help reduce the weight of the dresser when you move it out of your bedroom and into your moving truck.  One you have placed the dresser in the moving truck, put the drawers back inside the dresser.  This will save space and allow more room in the moving truck for other items to be packed.  By having the clothes in the dresser they will stay clean, protected, and secure.
Should you take apart furniture when you move?
If your furniture is large and can be easily disassembled you should take it apart.  It is a lot easier and convenient to move the pieces rather than large, bulky furniture.  By taking apart your furniture, you will be able to fit through doorways easier which will be faster overall for your move.  It will also be more lightweight as well since your moving the pieces instead of the whole furniture piece at once.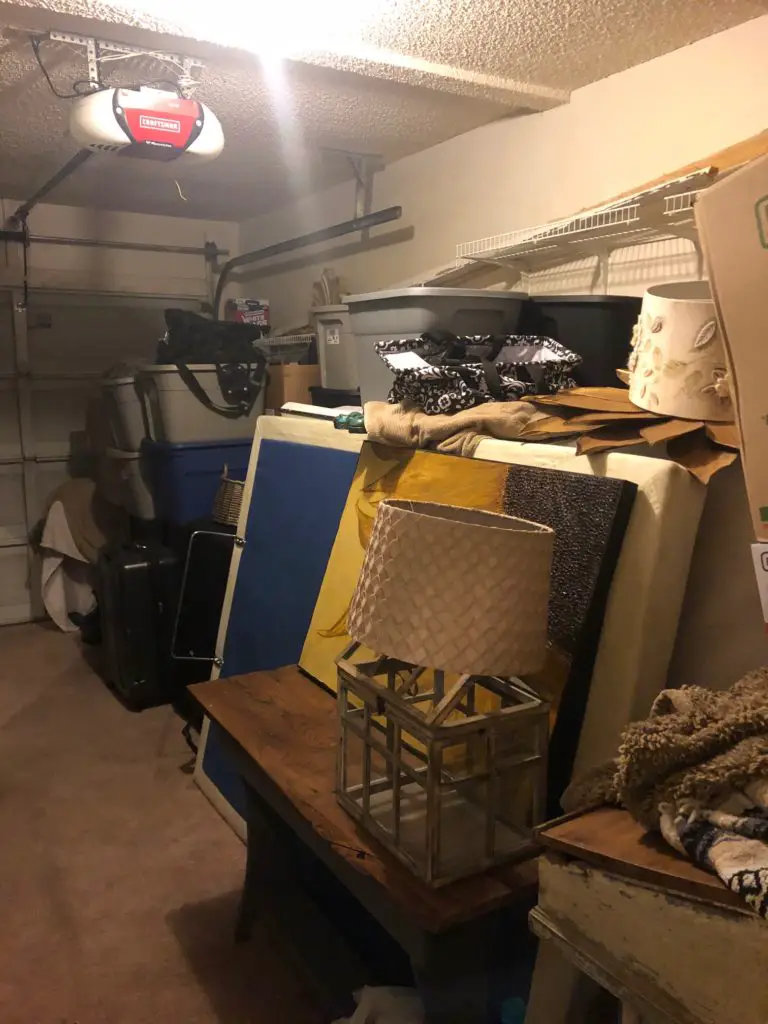 Save Money with Moving Hacks
Whether you are looking for cross country moving hacks or just general moving hacks to save money on a move, the hacks above are some of the best that exist.
There is no question that a multi-state move has the potential to cost a lot of money.  Driving at lower speeds, using discounts, and moving with a buddy can bring the costs down.
Additionally IKEA moving hacks such as using their clothes cover and shopping bags are smart ways to move your clothes and household items.
Dollar store moving hacks can provide the supplies needed for box labeling and also storage bags for convenient moving of items while also saving space. You can also get a mortgage loan from a foreign bank as a way to save on finances with exchange rates.
With so many moving hacks available, you are bound to save money on your move.