This post may contain affiliate links to products that I recommend and I may earn money or products from companies mentioned in this post. Please check out my disclosure page for more details.
---
Figuring out how to make money as a teenager has changed over the years.
It used to be you would think about a retail store or restaurant you would want to work at after school was over and go apply in person.  The manager would interview you, and sometimes you got hired on the spot.  That still is one way how to make money as a teenager.
Although, with the rise of the Internet, there are all kinds of new opportunities and teen jobs that pay well.
Some of the best ways to make money as a teenager include dog walking, cutting lawns, flipping household items, and offering landscape services to friends and neighbors. Additionally, you can make money as a teenager online by filling out surveys, becoming a social media evaluator, and starting a blog.
Be sure to check with your state or country on the appropriate labor laws and the legal requirements and permits that might be necessary in order to legally work.  Having a summertime job is a great way how to teach teens financial responsibility.
The list below focuses on several different ways how to make money as a teenager.
Some of those can be done from the comfort of your own home.
1. Dog Walking
There are a lot of single households in the United States.   A lot of those households also have dogs.
A professional who is not home that often to take care of their Fido will gladly pay money to a teenager to take their dog out for a walk.
This is actually a growing trend nowadays and it's not that uncommon for this job to turn into a full-time teen job for summers.
Once you have gained some experience walking one dog, you can take multiple dogs at the same time on a walk.
You could actually double, triple, or quadruple your income if you can handle multiple dogs at once.
If you have three dogs and charge $15 per dog, that is $45 in your pocket.  Not to mention you are also getting some exercise.
The best place to advertise this service would be in senior living communities, condominium associations, and other highly populated areas.  These communities will have people that may not be able to take their dogs for a walk or who are not home much making your service a solid winner.
2. Take Surveys
There are online companies such as survey junkie and swag bucks where you can take surveys and receive payment for that.
The advantage of this is that it can be done at your house from your bedroom for as little hours or as many hours as you would like. You can even use survey sites that pay instantly via PayPal accounts.
Be sure to take a look at our make money with surveys guide that will detail how to earn the maximum amount of profit in the least amount of time.  Not to mention it's also packed with the best survey companies to work for!
3. Sign Advertiser
I know you have seen those guys on the street corners twirling around the signs doing crazy acrobatic moves.
A lot of companies (particularly pizza stores and cell phone companies) like to use this advertising medium.  Not only will you be earning quick cash, but you'll also be getting a work out as well and staying healthy.
4. Cutting Lawns
A classic favorite of any teenager would be cutting grass.  This is a sure way how to make money as a teenager.
Where ever you live, there is a neighbor or somebody a few doors down that needs help with cutting their lawn.
Try to get a few houses on your block to sign up for your services.  Spend a couple hours on a weekend and cut all of their lawns at once.
With an average charge of $25, you could walk away with $100 per weekend just by cutting and mowing lawns.
Think about adding on other lawn services such as fertilizing or edging to increase your compensation.
5. Shoveling Snow
On the flip side, you can also offer snow shoveling services.  Yes, this service is only for parts of the country that receive snow.
Invest in a snowblower and do several houses in your whole neighborhood.  After a couple snow falls, you may have earned enough cash to pay off your snowblower.
6. Flip Household Items
The great thing about the internet is that it's very easy to create your own business from home.  A great example of this would be flipping household items that are in demand.
Go to garage sales or local thrift shops and purchase these items.  Use sites like Craigslist,  eBay, and Facebook Marketplace to resell these items to people nearby.
One example of a specific item to flip flip would be used appliances because they are high-profit items.  Therefore, the pay off on the time you invest is rewarded because your making more money per appliance unit.
Be sure to check out our article on who buys used appliances near me for an extensive list of places you can sell your appliances to.
7. Sell Stuff At A Pawn Shop
If you don't want to deal with the hassle of eBay, Facebook Marketplace, or shipping items and meeting people at all hours of the day, there are other options.
Instead of selling those items that you have picked up on the cheap at multiple places, think about selling them directly to a pawn shop.
Now granted you may not make as much money at a pawn shop versus at some of the other avenues.
However, if you are able to sell numerous items at once, you don't have to worry about listing each specific item or going to the post office to ship those items once they are sold.  Your time is worth money.
If you do want to start an online reselling business, check out the best things to sell on eBay to make money.
8. Assistant For The Elderly And Disabled
A lot of senior citizens,  elderly, and disabled individuals routinely need assistance on a wide range of personal tasks.
Some of these tasks would include light home maintenance, shopping, and also running errands.
It is very difficult for a lot of disabled people to leave their homes which is why they  have no problem paying for a service to run errands every now and then for them.
There are a lot of teen jobs that pay well, and this is one of them.
Not only are you making money, this is also a great way to help an individual in the world that truly does need some assistance.
9. Taking And Selling Pictures
There are a lot of people that will pay for a really beautiful picture.  Marketing companies, publishers, even bloggers, have no problems paying for a great picture if it will help them tell their story.
If you invest in a camera, you can upload your pictures to several websites where people will pay to use your photographs. Or, you can sell feet pics and focus on niche areas.
Not only are you making money, but you are also getting your name out there as well with some stunning pictures.
10. Become A Mock Juror
It is said that being a lawyer not only requires book smarts, but also requires someone who can demonstrate exceptional speaking skills as well. 
Successful lawyers not only have to be smart, but also have to be persuasive as well while telling their story to a jury.
A lot of lawyers will practice mock trials and oral arguments to see how their case may fare in court with a jury.  Check out sites like eJury and Online Verdict to see about signing up as a potential juror and earning quick cash.
11. Sell Used Books
Selling used books can be a great way for a teenager to make money.
There are a couple ways to maximize this:
Shop Garage Sales:
Garage sales usually have books for super cheap; sometimes $.25 I have seen them.  Buy a couple good quality books and then resell them.
Find Old Books Around Your House:
Spend some time and search your house to find old textbooks and other books you loaned no longer need.  You can use sites such as Book Scouter and

Cash 4 Books

to help you cash in on your used books.
12. Garage Sale Coordinator
Garage sales can be big business.  Often times, the person doing the garage sale can often get overwhelmed.  It can be very stressful going through old items not to mention all the work necessary to set up a garage sale.
That's where you come in.
Being able to assist somebody with the set up of the garage sale, pricing items, cleaning items, and display set up, would be excellent services to offer.
Also items like 6 foot long tables that you could rent for use would be another way to increase cash in your pocket.
13. Social Media Evaluator
Another great job for how to make money as a teenager would be a Social Media Evaluator.  This can be done from the comfort of your own home.
I have actually done this job and it is a wonderful way to make some money that does not require a lot of time.
I worked one hour a day for a year reading 20 Facebook ads a day.
This job focuses on whether or not you would want to see this Facebook ad in your news feed and also if it was useful to you or not.
What is great about this job is for just one hour a day, you can make over $300 per month just for giving your opinions on Facebook ads!
14. Junk Removal
Another great option how to make money as a teenager (while also getting some exercise) would be a junk removal business.
There are all kinds of people who need help removing items from their garages and basements.
However, a lot of these homeowners may not physically be able to complete those tasks.  They would be willing to pay a teenager to help haul out yesterday's treasures to the curb.
This would be a great business to advertise with flyers in particular neighborhoods that may have a lot of elderly citizens.
15. Personal Assistant
This is a great job for teenagers who are looking for a job.
Maybe your Mom, Dad, or other family members, know people that need help with every day tasks.
There are many tasks that a personal assistant can do such as:
taking items to the post office
picking up a few items at the store
help with taking out the trash
Becoming a personal assistant for somebody can be lucrative.   There are always people that need help with things and being able to assist them with these types of jobs will always be in demand.
16. Landscape Services
We mentioned above about mowing lawns.  Other services you could offer would be:
fall cleanup
weed treatment
planting bushes
tree pruning
17. Putting Up And Taking Down Seasonal Decorations
I believe this is one of the best ways how to make money as a teenager that could eventually turn into a business long-term.
There are a lot of companies that will pay someone to decorate and put holiday decorations on their building.
They do this because companies can't afford to spare any of their people as they are busy working for the company.
Nobody has time to spare their employees to go hang Christmas lights.
That's where you come in.
A lot of businesses and buildings decorate for the holiday seasons.
Think about starting this business up small and local with your neighbors and eventually you can expand into the corporate world.  It could turn into your full-time gig down the road.
18. Sell Crafts On Etsy
This is a great job for teenager with a business focus.  If you are able to make crafts, you can sell them on Etsy.
Think about buying all the supplies to put together your craft.  There has been people on Etsy that have made millions of dollars selling very unique crafts.
Who's to say it can't be you too?
19. Make And Sell T-shirts
I have always been intrigued by the T-shirt business.  Although there is a lot involved, they are one of the most profitable items to make and sell as they can be sold at so many places.   Some of those places they can be sold at are online, at art fairs, and even on Facebook business pages.
If you are good with graphics you can design your own T-shirts.  
However, if that's not the case, you can also buy licensed images and just put that on T-shirts and sell them.
You'll need to invest a little money in a T-shirt press and other equipment but once you start selling, you will be profitable in no time.
20. Become A Freelance Writer
If you get all straight A's in school for English and like to write, think about becoming a freelance writer.
There are all kinds of people out there that will pay for your content for blog posts, magazines, and other publications.  This can all be done from your home as well.
You can check out Dotdash to become a freelance writer or iWriter as well.
21. Make Videos
Two things teenagers love is technology and playing video games.  For those reasons alone, this is a great idea for how to make money as a teenager.
There are all kinds of people that upload videos onto YouTube.  A lot of people, myself included, just use YouTube videos as alternatives for cable TV and entertainment.
Additionally, there are all kinds of celebrities, such as Dan TDM, that dictate and narrate their video game playing experience and upload the video to YouTube.
These videos get watched millions of times by all kinds of people.
Cashing in on that audience through advertising money is a great way to make money.  YouTube will pay you more money for the more views you receive on your videos.
There are other sites as well you can use such as Twitch TV that will also pay you for your videos as well.
22. Become A DJ
If you like to be the life of the party and be in charge of the music scene, then becoming a DJ is for you.
Whatever the occasion wedding receptions, graduation parties, or summer time festivities, becoming a DJ is a great job for teenagers who want flexibility in scheduling and also need a great way to earn money quick.
23. Sell Shave Ice
Think of this endeavour as the ice cream truck 2.0.  Selling shave ice can be big business.
Ice cream trucks used to drive through neighborhoods, but that's not the case anymore.
Well…where are they you may ask?
A lot of times you can find these ice cream trucks just parked at popular parks filled with kids and parents.
Work smarter.
Let the customers come to you.
These ice cream trucks now sell shave ice which is basically different flavored snow cones and parents buy them up as fast as they can for their little kids.
24. Selling Popcorn
Selling popcorn is another good way for how to make money as a teenager in your spare time. 
Make up big bags of popcorn before major weekend sporting events.  Things such as kids baseball games and soccer games would be a great venue to sell popcorn at.
25. Babysitting
If you like babies and feel responsible enough to care for one, consider babysitting for people.  Babysitting has been a great job for teenagers for decades.
With the advancement of cell phones if an emergency should arise, help is only a phone call away.  Some babysitters clear $40 or $50 a night in income.
It's not a bad gig to get paid and hang out with kids and maybe watch some kids movies!
26. Computer Repair
If you are good with computers, you might have a great job in computer repair.  There are a lot of people that struggle with computers, especially older generations.
Offering them help desk support, installing and cleaning their computers, and keeping their computers up-to-date are services people would gladly pay for.
27. Convert Millimeter Movies To Digital
A lot of grandparents have those 8mm movies sitting around in boxes in their basement.  Starting a service such as converting those over to DVD format would pay handsomely.
Not to mention this can all be done on your spare time after school or on weekends.
28. Gutter Cleaning
If you have a ladder and are not afraid of heights, a side job in gutter cleaning is a good way for a teenager to make money.
Line up a couple jobs every weekend and drive around to clean out gutters.
You could easily make $100 per house to clean out those gutters.
29. Dog Poop Scoop Service
You won't find this one on anyone's list.  If you have a vehicle, preferably a pick up truck, think about starting a dog poop scoop service.
There are commercial companies that currently offer this for a hefty price.  If you can offer this service cheaper than the commercial big boys, then those customers may go with you to scoop up Fido's mess.
Those companies typically charge $12 per visit per week. You may have to disinfect your tools and footwear to prevent the transmission of diseases between customers yards.
Check out our detailed guide on how to start a pooper scooper business.
30. Sell Produce
Another way to make money from home would be to start up a garden where you live.  Plant produce there and you can harvest it and sell it.
Sell your produce to venues such as local farmers market and maybe even on Facebook marketplace.  People are always in the market to buy fresh produce instead of at a grocery store.
31. Clean Houses
A lot of working families hire maids and cleaning services because they are just too busy to clean their house.
They also charge a lot of money, usually a couple hundred dollars or more per visit depending on how thorough of a job is needed.
You might be able to come in and offer those people a better rate.
32. Work For A Property Management Company
If you're looking for a way how to make money as a teenager but you want to actually learn a skill, consider working for a property management company or a section 8 landlord as general labor.
This job definitely beats taking orders at a fast food establishment.
By working as a property management company doing general labor, you will learn all kinds of new skills.
There will be things they may have you do such as:
painting homes after tenants move out
maintenance issues on the property
or making repairs to the mechanicals of a home
These are great skills to know how to do in life not to mention also a great way to earn a paycheck as a teenager.
33. Tutoring
If you enjoy school work and have brains to boot, a side job in tutoring would be a good choice.
You can make the hours whatever is convenient for you and have tutoring sessions either at your home or somewhere else close by such is a coffee shop.
34. Bicycle Repair
A lot of people nowadays ride their bikes to work.  Starting up a bicycle repair venture would be a smart thing to do.
Many people don't have the skill set to make such repairs on their bikes which is why they would gladly pay somebody to do that for them.
35. Scooter Repair
For people that are too lazy to ride a bicycle, there are also electric scooters that will get you around from point A to point B.
Electric scooters need a lot of repair work done.
Companies such as Bird will hire you and pay you so much per scooter to fix.
In addition, you can also become a "Bird Charger" and pick up dead scooters around your town and recharge them overnight at your house.
What is great about this is the schedule is completely flexible.  If you decide you don't want to work for two weeks, you simply don't select any scooters to repair or charge.
36. House And Estate Sitting
One of the most relaxing ways to make money as a teenager would be house sitting.
A lot of times people go out of town for all kinds of reasons; vacations, business trips, or maybe long-term to go live at a second home that they own.
Those homeowners want to know that their home is safe and secure so they hire a house sitter.
The role of a house sitter is just that; to be at their house overseeing everything such as collecting mail and taking care of the property.
37. Start A Blog
If you like spending time online, consider starting a blog to earn extra money as a teenager.
There are a few ways you can make money with blogging.
The main way however would be through display ad revenue.  Ad companies would basically pay you money to put ads on your website.  Check out our beginner's guide on how to start a blog within 15 minutes (also includes screenshots!).
The amount of money they pay depends on what your monthly traffic volume is.  Blogging is one of the best passive income streams there is because once your blog has content, it is online for as long as you have a website active.
38. Affiliate Sales
Along similar lines of blogging, affiliate sales are also a great way to make money.
This is done by promoting your favorite brands and services online that you love.
If you are able to get people to sign up and purchase those products or services, that company will give you a commission.
39. Create an e-Course
Creating an e-Course is also a great thing to do for quick cash.  If  you are an expert in something, consider making a course detailing your expertise.
For example if you are good at organizing, maybe you can create a course that will teach somebody how to get organized to save time and money, or how to go through their old items and organize their house.
Somebody just may pay you for that information.
If you are going to be blogging, creating an e-Course is a great thing to supplement that.
40. Become A Caddy
If you like working outside, maybe you would like to work on a golf course as a caddy. 
A caddy follows around a golfer and carries all of his golf clubs in a bag.
A teenager will work for all different types of people from the business world.
Becoming a golf caddy as a teenager is not only a great way to earn some money, but it's also a great way to network yourself possibly into a future job.
41. Participate In Focus Groups
A great way to make money as a teenager would be to participate in focus groups.  You can make money online with no experience with focus group studies. There are marketing companies that will conduct focus groups for national brands such as Domino's Pizza, Coca-Cola, and Home Depot.
You will participate in a panel and discuss the pros and cons of items such as new pizzas being created, or maybe new products that will eventually be sold in Home Depot as tools.
42. Sell Art
If you are creative, think about doing some paintings and selling them at a local art show.
Not only is this a great way to make some money, but it's also a great way to get your name out there as a local artis.
43. Forum And Review Posting
There are a lot of people and places that are starting new websites and ventures.  Posting a review on their website is not only great for them but it is also a great way for you to make some cash.
Be sure to check out Paid Forum Posting for opportunities.
44. Wedding Supplies Distributor
A great business you can do from  home is to sell wedding supplies to engaged couples.
Couples that are getting married have to plan out a whole host of issues, including those little wedding gifts that they give away to their guests.
Creating those gifts is one great way to make money as a teen form your home.
45. Doing Tasks For People
Single, married, young, or old, whatever the reason there are always people looking for help with everyday tasks.
Whether or not it is helping them move furniture or hanging pictures, somebody is always looking for an extra hand for labor.
Check out Task Rabbit for some tasks available.
46. Data Entry Jobs
A lot of places need data entered into spreadsheets.  While this work is tedious, it does pay great money for teens.
If you are familiar with Excel formulas, this may help the job move along faster.
47. Social Media Associate Intern
A lot of small businesses will employ a teenager part time for social media. 
Many small businesses owners realize that having an online social media presence is essential for sales and to promote their business.
They will gladly pay a teenager who is very familiar with these tasks to help promote their brand and business.
48. Marketing Internship
Reach out to marketing companies and see if they have any paid internships available.  Not only is this a great way to earn a paycheck, but you are also gaining great real world professional skills.
49. Restaurant Host
Being a restaurant host is the first personal encounter a person has with a restaurant.
If you have a great welcoming personality then this is a great job especially if you are not looking for a ton of physical labor.
All that is needed is a warming smile, greet customers as they come in, and seat them.
50. Lifeguard
If you are thinking about getting trained as a lifeguard, don't worry because there are many opportunities to work as a lifeguard. 
There are all kinds of establishments that hire lifeguards.
Lifeguards are in demand at places such as condo associations that have pools, retirement communities, or even at a hotel.  These establishments often employ lifeguards.
51. Online Order Shopper
There are a lot of grocery stores and other places that offer online ordering.  Online ordering is not only a great way to save money on groceries, but a great way to also save time since someone else is doing the shopping.
Some of those places include:
Kroger
Meijer
Walmart
Target
As the orders come in, you can go shopping and complete them.
52. Work At A Library
One of the best jobs for teenagers is to work at a local library.  Tasks include putting away books and other media.
Not to mention these jobs pay well since they are government.
53. Sell Gift Baskets
Giving gift baskets has skyrocketed over the last few years during the holidays.  Today, selling gift baskets are seen as a great way to earn extra income.  Gift baskets are no longer just for holidays.
Many corporations and small businesses now use gift baskets as a way to promote their brands at all kinds of events.
Themed gift baskets are very common at conferences and even at kid birthday parties.
If you are artsy, put these gift baskets together and sell them in bulk to corporations and businesses for extra cash.
54. Sell Clothes
If your a teenager you probably have a ton of clothes in your closet that you no longer wear. You can sell your clothes online for cash especially if you have name brand clothes.  People will pay for name brands such as:
Nike
Reebok
Adidas
FUBU
Starter
FILA
New Balance
Selling clothes is a great way to turn your dusty clothes into cash fast.
55. Investing
Teenagers can also make money by investing in stocks and earning dividend income. This is a great exercise to do under a parent's care. Know how to teach your child about the stock market so you can teach them all there is to know about stocks and investing.
56. Reselling
Teens can make money by reselling items, particularly sneakers from their parents garage or basement. You can make 100k as asneaker reseller if you are able to hustle and have time to persue. Knowing the industry and having some business acumen will provide the best chance of success.
BONUS: How To Find Teen Jobs Online
If the above jobs are not what you're looking looking for, be sure to check out Indeed for jobs online for teenagers.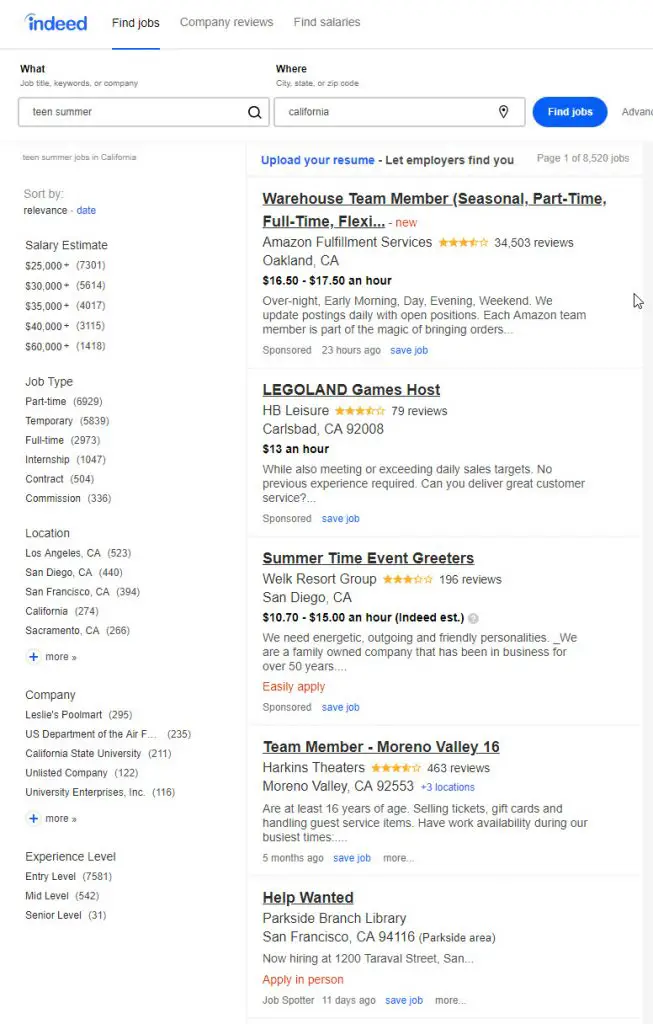 You can see in the example above we used "teen summer" for summer jobs only and "California" as the location.
Additionally, you can type the following searches:
teen online jobs:  Type "teen online" and leave where blank in search box for location.
summer jobs for teens:  Type "teen sumer" and put your location in the where box.
teen jobs:  Type "teen" and put your location in the where box.
Wrap Up
As you can see from the list above there are a lot of choices when it comes to a job and making money as a teenager.
If you can fine tune your interests and likes, you can make easy money with one of the jobs listed above.
Not only will you be having fun and learning, but you will also be earning a paycheck as well.
All three of those things are great for all teenagers.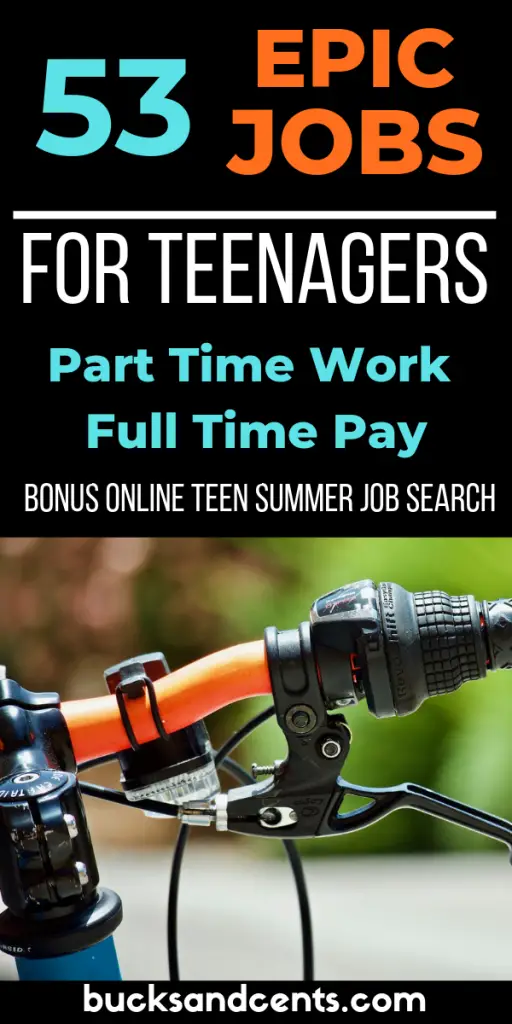 ---
Looking for more ways to make money?  
Check out our  Making Money Guide:  Making Money Strategies That Work 
---