This post may contain affiliate links to products that I recommend and I may earn money or products from companies mentioned in this post. Please check out my disclosure page for more details.
---
Do you have a closet full of shoes that are no longer getting used, like me? I have a lot of sneakers and vintage shoes in my closet that I want to sell for extra money. Whether you have a pair of designer sneakers, running shoes, or high heels, there are plenty of places where you can sell them for cash.
From online websites and apps to local consignment stores, eBay, and more, there are tons of places to sell your used shoes and get paid.
We'll explore the top 10 places to sell shoes for cash and get the most money for your unwanted footwear. With detailed information on each option, you can make an informed decision on which one is right for you!
How Can I Sell My Shoes Quickly?
The best ways to sell your shoes quickly and make the most money include online sneaker resale sites, eBay, and social media platforms. These are all popular options that can help you sell your shoes fast. Each has its own advantages, so it's important to consider which one is the best fit for you.
Selling Shoes Though Types of Online Sneaker Resale Sites
There are many online sneaker resale sites that make it easy to sell your shoes for cash. These websites specialize in reselling sneakers, so you'll get the most money for your used shoes by selling on these platforms. You can sell everything from designer shoes to vintage or rare kicks. Popular options include StockX, Stadium Goods, and GOAT.
Using eBay to Sell Shoes
eBay is one of the oldest and most popular sites for selling items online. It's great if you want to sell a lot of different types of shoes at once. However, it may take longer to sell on eBay as there is more competition with sellers all over the world. You'll also have to factor in eBay fees when pricing your shoes.
Selling Shoes on Social Media
Social media is another great option for quickly selling your unwanted footwear. Platforms like Facebook Marketplace, Instagram, and Depop make it easy to sell your shoes for cash directly to other users in your area or around the world. This can be a quick and easy way to sell them as long as you take good pictures of the shoes and price them accordingly.
Best Places to Sell Shoes for CASH Online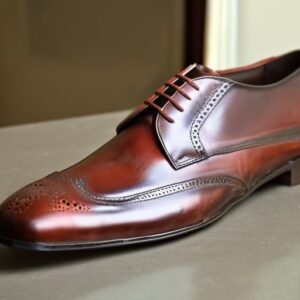 Whether you ultimately decide to sell your sneakers through an online sneaker resale site, social media, online marketplaces, or selling apps, you'll be able to sell your shoes quickly and easily. Below are the best places to sell your shoes for cash.
1. StockX
StockX is one of the most popular sneaker resale websites out there. Sellers Send their shoes to StockX, who then authenticate the shoes and sell them on their website. There are various fees as well if you sell on their platform, but you still get a good return for your shoes. This is ideal for name-brand sneakers such as Jordans, Yeezys, and Air Force 1s. You wouldn't want to sell your $15 Walmart shoes on StockX!
2. Stadium Goods
Similar to StockX, Stadium Goods is an online sneaker marketplace where you can sell sneakers for cash. They make it easy to sell your sneakers quickly and securely, with the authentication process taking roughly two weeks. As with StockX, this is ideal for name-brand shoes such as Nike, Adidas, or Yeezys.
Stadium Goods takes care of the entire process of selling your shoes online for cash. What I like about Stadium Goods is that my shoes are not just sold on their site but rather on other platforms such as Amazon, Tmall, and Farfetch. They also deliver internationally and globally to customers in over 180 different countries.
3. GOAT
GOAT is another popular platform for selling sneakers online. It's similar to StockX and Stadium Goods in that they focus on premium sneaker brands. If you want to flip sneakers and make money reselling sneakers, then GOAT is a great option.
Sellers can sell directly on their platform. There is an application process, however, to sell on their site, and you must pay applicable fees, which is common with any selling platform. Once your shoes have sold, they will send you a prepaid shipping label via email, and you simply ship your sneakers to their new home! If you have designer brands to sell, GOAT is one of the best places to sell sneakers.
4. Grailed
Grailed is an online buy-and-sell marketplace specifically designed for menswear and streetwear. It's the perfect place to sell your used shoes if you have a lot of designer and vintage shoes that don't fit in with other reselling platforms.
To sell on Grailed, be sure to include alluring photos, a comprehensive description, and an attractive asking price. Additionally, you can select whether you want to ship the shoes directly or meet up with potential buyers in person for payment completion.
Grailed is a good option because they will soon implement buy now pay later options for buyers allowing them to purchase your shoes and pay later, creating a more attractive buying experience.
5. The RealReal
The RealReal is an online marketplace specializing in luxury and designer items. Here you can sell high-end footwear from brands like Gucci, Chanel, and Louis Vuitton for cash. If you are looking for the best shoe brands, some of theirs include:
Gucci Ace Sneakers
Chanel Espadrilles
Louis Vuitton Slides
Balenciaga Race runners
Christian Louboutin pumps
Prada brogues
Saint Laurent Chelsea boots
Alexander McQueen ankle boots
Valentino Rockstuds
Yves Saint Laurent sandals
The process of selling on their site includes uploading photos of the shoes and filling out a product questionnaire so that the authenticity team can determine the validity of your item. Once approved, your item will be listed on the website with recommended pricing from The RealReal's professional appraisers. This is ideal for those who want to sell their designer shoes quickly and easily without worrying about getting scammed or wasting time dealing with unreliable buyers.
6. eBay
eBay is one of the most popular sites to sell items online, including shoes. Selling shoes and sneakers are one of the best things to sell on eBay for profit due to their low costs and ease of use. You can sell anything on eBay, including used sneakers.
If you have some rare or unique kicks, then eBay might be the best platform for selling them as their reach is global, and there are millions of buyers using the site daily. You'll need to consider fees when pricing your items and listing your shoes, however, so factor those in when setting your prices.
7. Facebook Marketplace
If you're looking to sell your shoes locally, then Facebook Marketplace is the perfect place. Here you can list your items for sale, and buyers in your area can contact you directly. It's a great way to sell your shoes quickly without having to leave the house! Plus, it's free to list items on Facebook Marketplace, so if you don't make any sales, at least you didn't lose too much money.
A plus with using Facebook Marketplace to sell your sneakers for cash is that you can also sell to buyers near where you live, so you don't have to travel far. You can also use Facebook Marketplace to sell other used items as well especially if they are bulky. I use Facebook Marketplace to find places near me that buy used appliances and sell furniture that I don't need anymore.
8. Depop
Depop is an online marketplace where people sell their clothing, accessories, and footwear. As with other marketplaces, sellers have the option to set their own prices as well as offer discounted bundles or promotional offers. Depop also takes care of all payments and shipping so that sellers don't have to worry about dealing with transactions themselves.
Depop is known as a great place to sell both new and gently used shoes, especially if you have some vintage or designer kicks that you'd like to sell.
9. Poshmark
Poshmark is another online marketplace where users sell their clothing and accessories directly. The platform makes it easy for sellers to list their items by simply uploading photos, writing descriptions, and setting prices. Using Poshmark is a unique experience because of a feature called "parties," where sellers can host virtual events and sell their items live on the app. Shoes sell well on Poshmark. Shoes on Poshmark are name-brand sneakers and other types of shoes for men, women, and children. They include popular brands such as Nike, Adidas, Converse, Vans, Puma, and more. There is a wide variety of styles available, including athletic wear, casual shoes, dress shoes, and sandals. You can also find unique accessories such as shoe laces, insoles, and shoe bags on Poshmark.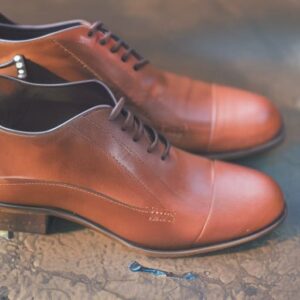 This website is great for those who want to get rid of their clothes quickly as well as make money doing so! Plus, Poshmark handles shipping and payments so sellers can focus on selling more items instead of dealing with the tedious side of it.
10. Amazon
With over 200 million active users, Amazon is another popular marketplace for selling shoes online. To sell your shoes on Amazon, all you need to do is create a seller account and list your item using their intuitive platform. This way, you'll be able to sell your items to millions of potential buyers from around the world.
The downside of selling on Amazon compared to other sites is that there are higher fees associated with each sale. However, many sellers find success selling their products here regardless due to its high traffic and user base.
11. ThredUP
Selling your name-brand shoes on ThreadUp is also a popular place to sell your sneakers. Many people buy and sell shoes on ThreadUp because of their low sell fees and quick shipping process. ThreadUp is an online marketplace that allows users to buy and sell used clothing online, shoes, and accessories. More of a consignment option, ThreadUp offers a convenient way for shoppers to find quality items at discounted prices and enables sellers to earn money by selling their previously owned clothes.
12. OfferUp
If you're looking for other ways to sell shoes, OfferUp is the perfect platform for you. With its easy-to-use app available on any smartphone device, it provides a simple and straightforward approach when marketing preloved items. Additionally, there are two methods of completing transactions: shipping the item directly or meeting in person with the buyer locally. Be sure to include either option in your listing.
OfferUp encourages users to communicate with their buyers within the app, making it easier for everyone. Furthermore, others can review previous buyers and sellers they've interacted with, so always be sure to take a look at that information. If past customers have left unfavorable reviews about someone on OfferUp, then you should think twice before doing business with them, especially if you're planning on meeting in person!
13. Mercari
Mercari is a great option for selling used shoes because it's easy to use, has an established customer base, and has low fees. Additionally, Mercari handles the payment process quickly and securely while providing excellent customer service. Finally, they have a convenient shipping tool that makes it simple to ship your items quickly and efficiently.
What people like the most about using Mercari to sell shoes online for cash is that you can find the exact size and style of shoe that you are looking for. And since Mercari is free to use, it's a great way to sell your shoes without having to pay any upfront fees. 
14. Flyp
Flyp is a great platform to sell your used shoes online and make money. Flyp provides users access to a wide array of professional sellers who are ready and willing to sell your clothes on your behalf. With them, you can rest assured that all the processes involved in pricing, listing, negotiating with buyers, packing, and shipping each item will be taken care of.
Here's how it works:
Snap pictures of your clothing, shoes, and bags to create an inventory "Lot."
Receive matchings with a Pro Seller for estimates on pricing and commission percentages
Work hand-in-hand with your chosen Pro Seller by sending them the Lot using Flyp's protective shipping label; you're always ensured total protection through their Policy!
Your Pro will handle all selling duties so that you don't have to lift a finger—you'll get paid right away as soon as they receive funds associated with each sale.
Best Places to Sell Shoes for Cash Locally (Near You)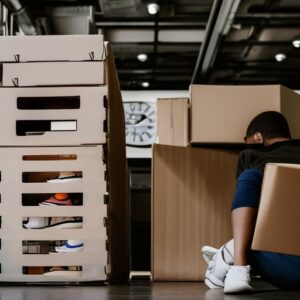 If you are looking for a list of the best places to sell shoes for cash locally near you, there are options. There are a lot of advantages to sell locally, including helping out your local economy and small businesses, along with saving money on shipping.
15. Consignment Shops
Selling shoes at consignment shops can be a great way to make some extra cash, as they often sell items quickly and offer competitive prices. Plus, you don't have to wait long for payment; most stores pay out in cash or gift cards right away!
16. Garage Sales
If you are looking to sell your shoes at a garage sale, it is important to research what type of shoes sell best in your area. You may also want to consider bundling your shoes with other items, such as clothing or accessories, so that they sell faster.
17. Flea Markets
Flea markets are great places to sell used shoes because shoppers can easily find the items they need without having to search through racks of clothing or shelves of accessories. Plus, flea market sellers usually sell items for lower prices than traditional stores and boutiques, so you can make some extra money on each sale.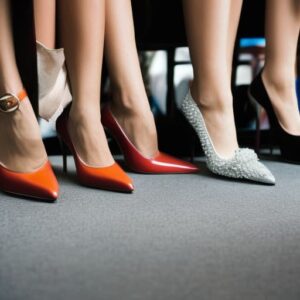 18. Pawn Shops
Pawn shops can also be a great option for selling used shoes. Although you may not get the highest price for your items, they typically sell quickly, and you can get cash right away. Plus, many pawn shops will take trade-ins, so you could potentially make more money by trading in your old shoes for something new!
Pawn shops sell just about anything and are a top choice for who buys TVs near me as well. Therefore if you need to sell your old shoes and want a place to sell sneakers close to home (and maybe a few home goods), pawn shops are a great choice.
No matter what method of selling used shoes online or locally near you, always remember to research each option thoroughly so that you can make an informed decision on where to sell for the most money.
How to Determine the Value of Your Used Shoes
The value of your used shoes will depend on various factors, including the type and condition of the shoes. To determine what you can sell your shoes for, start by researching similar items on sites like eBay or Poshmark to see how much they sell for. You should also take into account any wear and tear as well as any defects in order to get an accurate estimate of the value of your used shoes.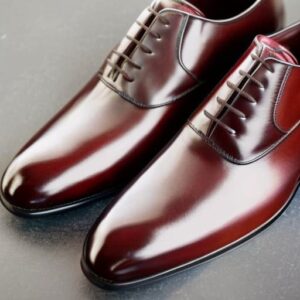 Selling used shoes can be a great way to make some extra money. With so many different places available to sell used shoes for cash, it's never been easier to turn unwanted footwear into fast cash! From online marketplaces and apps, local consignment stores, sneaker resale sites, eBay, and more, you're sure to find a platform that works best for you and
Tips for Selling Shoes Online for Cash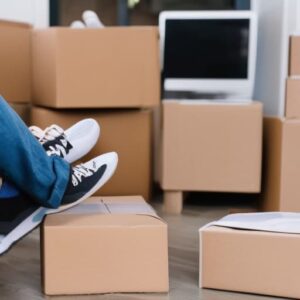 Selling shoes online for cash can be a great way to make some extra money. To get the most out of your sales, here are some tips and best practices:
Set realistic prices based on your research of current demand and price points
Clean and inspect each pair of shoes before sending them off to buyers
Consider any fees associated with the platform you're using (eBay, Amazon, consignment shops, etc.)
Choose reliable shipping options, so buyers receive their purchases quickly and safely
Provide excellent customer service throughout the entire process in order to keep customers happy.
Related Questions:
Where Can I Sell my Jordans Instantly?
If you're looking to sell your Jordans instantly, there are many options available to you. You can list them on popular online marketplaces like eBay or Craigslist, where buyers from all over the world can easily find and purchase your product. Additionally, you can post them for sale on sneakerhead forums and exchanges such as Kixify, StockX, and Goat. These platforms allow other sneaker enthusiasts to bid on your shoes in real time! This is a great option for those who are looking for a hassle-free way to offload their Jordans quickly and easily.
Do Pawn Shops Buy Shoes?
Pawn shops are one of the places to sell shoes online. They are a great way to get rid of used or old shoes that you no longer need or want. Pawn shops typically buy shoes that are in good condition and still have some wear left on them. As long as the shoes aren't too worn out, most pawn shops will take them off your hands and give you cash for them. In addition, pawn shops may also offer to buy items such as rare designer items or limited edition releases that could be more difficult to find online. If you're looking for an easy way to get rid of your old shoes and make some quick cash, then pawn shops can be a great place to do so.
Can I Sell my Shoes on Amazon?
Yes, you can sell shoes on Amazon. To start selling shoes on Amazon, first, you will need to create an Amazon seller account and then set up your product details. You'll also need to provide product images, descriptions, and accurate sizing information, so potential buyers know what they're getting when they purchase from you. Once the items are listed for sale, buyers can purchase them directly from your store. Selling shoes through Amazon could be a great way to reach more customers and make extra money!
Should I Sell my Shoes on my Own Website?
If you have a large collection of shoes that you'd like to sell, then creating your own website could be a great way to do so. This will allow you to control the entire process from start to finish without having to rely on any third-party platforms. However, this will also require more effort and resources in order to build and maintain your own store. You'll need to create product pages, provide shipping options, manage inventory, customer service inquiries, etc., which may be time-consuming. Therefore, it's important to consider the pros and cons of each option before deciding which one is best for you.
Selling used or unwanted shoes for cash can be a great way to make some extra money. By researching the various platforms available, you can determine which one works best for your needs and situation. Whether you sell them through eBay, Amazon, or on your own website, there's always an option that could help you get the most money for your shoes! Good luck and happy selling!
Where can I sell my used shoes for cash?
There are various places where you can sell your used shoes for cash. Some popular options include online marketplaces like eBay and Craigslist, sneaker-specific platforms like StockX and GOAT, as well as local consignment stores and thrift shops.
How do I determine the final price for my sneakers?
When deciding on the final price for your sneakers, it's important to consider factors such as their condition, rarity, brand, and market demand. You can research similar listings to get an idea of the current market value and adjust your price accordingly. Additionally, be open to negotiation as buyers may try to negotiate a lower price.
What are the fees associated with selling sneakers?
The fees involved in selling sneakers can vary depending on the platform or marketplace you choose. Some common fees include listing fees, seller fees (a percentage of the sale price), payment processing fees, and transaction fees. It's important to carefully review the terms and fee structure of the platform you are using before listing your sneakers for sale.
Can I sell sneakers online?
Yes, you can sell sneakers online through various platforms and marketplaces. Some popular online platforms for selling sneakers include StockX, GOAT, eBay, and Grailed. These platforms provide a wide audience of potential buyers and often have seller protection and verification processes in place to ensure a safe and secure transaction.
What happens if my item doesn't sell within 90 days?
If your item doesn't sell within 90 days on a specific platform or marketplace, the process can vary. Some platforms may automatically relist the item for an additional fee, while others may require you to manually relist it. Alternatively, you may have the option to lower the price, modify the listing, or remove the item from sale altogether.
Where can I find places to sell sneakers near me?
To find places to sell sneakers near you, you can use online directories or search engines. Look for consignment stores, thrift shops, or specialty sneaker stores in your area. You can also ask fellow sneaker enthusiasts or check local classified ads for any potential opportunities.
Can I sell my shoes for cash even if they are worn?
Yes, you can still sell your shoes for cash even if they are worn. However, the condition of the shoes may affect their value and desirability. It's important to accurately describe the condition of the shoes in your listing and provide clear photos so that potential buyers know what to expect.
Can I sell sneakers and other items together?
Yes, many platforms and marketplaces allow you to sell sneakers along with other items. If you have other items to sell, you can include them in the same listing or create separate listings. Just make sure to accurately categorize and describe each item to attract the right buyers.
Related Resources:
How to Sell a Scrap Washing Machine for Money (Dryer Too!)
Sell Used Pallets: Who Buys Used Pallets Near Me? (11+ Places)
Recycling Cardboard for Money: 15 Places to Sell Boxes Near You
Places To Sell Video Games For CASH Near Me
How to Sell Feet Pics & Make Money [2023 Guide]