This post may contain affiliate links to products that I recommend and I may earn money or products from companies mentioned in this post. Please check out my disclosure page for more details.
---
Cardboard is one of the most common materials found in our daily lives. It's also a great material for recycling and reusing, offering many opportunities to make money from selling cardboard. In this article, I will discuss how to find cardboard buyers near you, what types of cardboard buyers there are and tips on getting the highest value from cardboard recycling. l will also provide information on how to properly store cardboard for sale and other useful advice for making money with cardboard recycling and the best practices I have used to make cardboard recycling a monetary success for myself.
Can You Get Money for Recycled Cardboard?
Yes, you can get money for cardboard recycling. With cardboard being one of the most abundant materials around, there are plenty of cardboard buyers looking to purchase used cardboard from individuals and businesses. Used moving boxes are one of the top moving hacks for cardboard recycling and buyers will pay top dollar for clean cardboard.
According to the EPA, in 2018, an all-time high of 68.2% recycling rate was recorded for paper and paperboard – the highest among other materials in MSW (Municipal Solid Waste)– totaling approximately 46 million tons! So, yes you can easily earn money recycling cardboard with those kinds of volume numbers.
However, it is important to note that cardboard prices vary depending on the quality of cardboard and its condition. The more cardboard you have with fewer blemishes and less water damage, the higher price it can fetch.
Is Recycled Cardboard Worth Money?
Recycled cardboard is worth money, depending on the cardboard type and condition. Used cardboard boxes are generally made up of corrugated cardboard, which is recyclable cardboard with a layer of fluting that helps to make it stronger. Corrugated cardboard can also be reused multiple times without losing its strength or integrity.
In addition to cardboard boxes, there are many other types of cardboard that can be recycled for cash. These include chipboard and paperboard.
Chipboard is used for:
Shoe boxes
Cereal boxes
Gift cardboard packaging
Egg cartons
Paperboard is used for:
Notebooks
Greeting cards
Cardboard tubes and cylinders
These two cardboard types – chipboard and paperboard – are also recyclable and may fetch a good price if they're in good condition.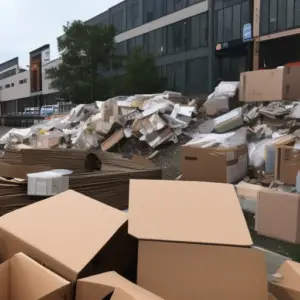 The best ways to recycle cardboard are to either bring it to a cardboard recycling center or find cardboard buyers near you who will purchase your cardboard directly.
What Determines the Value of Used Cardboard?
The value of used cardboard depends on a few factors, including the type and condition of the material. Here are some of the most important points to consider when determining the value of used cardboard:
Type of Cardboard: Different types of cardboard offer different values. Corrugated cardboard boxes, for example, have a higher value than paperboard products such as cereal boxes. The corrugated material is thicker and sturdier and can be recycled more easily.
Condition: In general, materials in better condition will be worth more. Boxes should not have any tears or holes, and drywalls should be free from paint or large stains.
Market Demand: Market demand also affects the price of used cardboard. Recyclers may pay more for certain types if there is high demand for them in certain areas.
By considering these factors you can get an idea of what your used cardboard might be worth before you sell it to a recycler.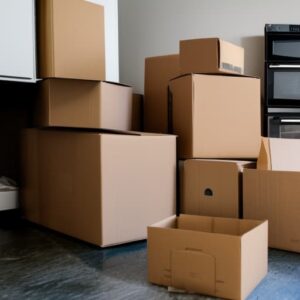 Can You Recycle Cardboard Boxes for Money?
Yes, you can recycle cardboard boxes for money. In fact, it is one of the most common forms of materials that recyclers will accept for cash. It is important to note however that not all cardboard boxes are created equal and some may not be accepted by recyclers or may only be accepted at a reduced rate. When I moved back in with parents, I needed moving supplies so there is definitely demand for cardboard boxes.
To maximize your profits when recycling cardboard boxes, make sure they are clean and free from any foreign materials such as staples or tape. Additionally, try to ensure that they are in good condition with no tears or large stains. Finally, research local prices offered by recyclers to ensure you get the best deal possible when selling your material.
Where to Sell Used Cardboard for Cash
Selling used cardboard for cash is quite simple and there are a number of options available to you. I've sold used cardboard and made 100's of dollars from doing so.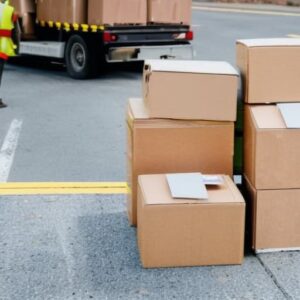 Here are some of the most common ways to sell used cardboard:
The Best Places to Sell Cardboard Near You
1. Rebox
Rebox is a recycling center that pays cash for cardboard boxes in all shapes and sizes. It serves hundreds of businesses in North America. It has multiple locations in Canada, and the United States. They also focus on sustainable solutions for other business waste such as paper and plastic.
If you are a business owner, Rebox can be a great option to turn cardboard waste into cash. To get started, you can complete their online from the Rebox website.
2. Quincy Recycle
For more than half a century, Quincy Recycle has been the preeminent recycling expert in the industry. Specializing in paper, plastic and metal waste management solutions, as well as being one of the nation's premier Gaylord box suppliers and buyers; this company is dedicated to helping their customers create sustainable industrial disposal solutions tailored to fit any business model.
They don't just buy cardboard boxes, they but all types of recyclable materials including:
Old Corrugated Containers (OCC) can be baled up for easy transport and recycling.
Sorted Office Waste (SOW) consists of scrap paper, used envelopes, and other office materials.
Manifold White Ledger (MWL) is a type of lightweight card stock used in magazines or books.
Sorted White Ledger (SWL), the heavier version of MWL, has many uses such as business cards.
Mixed Paper (MP) can include cardboard, cardboard boxes, newspaper, magazines and other paper products.
3. Duffy Box
For almost a century, Duffy Box has been the go-to for businesses looking to minimize their environmental impact. Proudly sourcing and purchasing used cartons and cardboard from industrial facilities as well as collecting recyclable materials using its vast fleet of 200+ trailers, companies can trust in this reliable partner when needing eco-friendly solutions.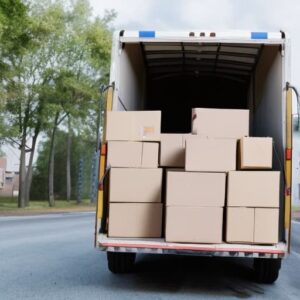 Take one step closer to sustainability by signing up for Duffy's free commodities audit and production evaluation service. They will cater a plan specifically tailored for your business' industry demands. You can make money selling cardboard to them while at the same time, knowing that you are doing your part in reducing waste.
4. Recycler's World
If your looking for a community for cardboard buyers and sellers, Recycler's World is a great place to start. Since its inception in 1995, Recycler's World has become a globally sought-after online B2B trade platform for scrap, waste and byproduct materials. This online marketplace specializes in connecting cardboard recyclers with individuals looking for cardboard boxes. You can create listings for cardboard and cardboard boxes you have available, as well as post listings for cardboard boxes you are looking to buy.
Recycler's World was established May 1, 1995 as an online B2B portal to promote the trade of scrap, waste and by-products. The client base has expanded worldwide and a web of regional portals has evolved.
5. Craigslist
One of the best ways to find cardboard buyers near you is through the classified ads on Craigslist. You can post a listing of cardboard boxes that you have for sale, as well as search for cardboard boxes that other people are looking to purchase.
You can also sell used appliances as well on Craigslist with cardboard boxes. Appliance cardboard boxes are often in good condition and can be resold to people who don't want to spend the money on a new cardboard box.
The postings are organized by location, so it's easy to find cardboard buyers in your area. Make sure you include detailed descriptions of your cardboard boxes and how much money you want for them. This will help potential buyers decide if they want to make an offer or not.
6. BoxCycle
BoxCycle could be compared to the eBay of cardboard boxes. It is an online marketplace for cardboard boxes and other packaging materials. Sellers can list the dimensions of their boxes they have for sale along with the amount of money they are selling them for.
Buyers can search their site if they are looking for cardboard boxes of a certain size or quantity. They will then be able to contact the seller directly and negotiate for the cardboard boxes they need. Additionally, BoxCycle has minimum quality standards for selling boxes on their site.
I've used BoxCycle before and it was a breeze to use their platform. The steps to sell cardboard boxes on BoxCycle:
List the dimensions of your box.
BoxCycle does the advertising and collects the payment.
Once their is an offer, the seller accepts it and arranges a pickup time at your location.
Buyer has a pickup slip provided from BoxCycle and picks up boxes from you.
7. Used Cardboard Boxes
Used Cardboard Boxes will buy your used cardboard boxes, cardboard tubes and cardboard cores. They offer competitive rates for cardboard boxes that are in good condition. Items highly sought after by Used Cardboard Boxes are:
gaylord totes
produce bins
shipping boxes
pallets
supersaks
barrels & drums
The process to sell cardboard to Used Cardboard Boxes is easy, contact them via their website or phone. They will then send a driver over to pick up the cardboard boxes from you. There's no need to even bale them or use baling wire as they will take care of all that for you.
Used Cardboard Boxes may also be a good choice if you are looking for who buys used pallets near me if you are looking to sell pallets that you have on hand.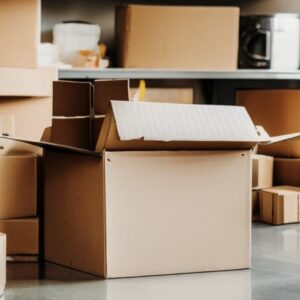 8. BoxSmart
BoxSmart offers cardboard recycling near me for money. Boxsmart's advanced recycling program can be a substantial revenue source for your scrap corrugated boxes and out-of-date box inventory compared to traditional recycling methods. They will buy cardboard boxes including gaylord totes, cardboard cores, cardboard tubes and shipping boxes. BoxSmart will also buy cardboard that is not suitable for resale but still has some recyclable value. The best part about recycling cardboard for money with BoxSmart is that you don't have to bale it or buy baling wire.
9. Sadlers
For over sixty-eight years, Sadlers have been expertly buying and selling used cardboard boxes across the UK. With their trusted partnerships with some of the biggest food, drink, manufacturing and distribution organizations in Europe—as well as other countries —Sadlers offer a secure collection service for all kinds of recycled materials. Why not get in touch today to find out how you could benefit financially while protecting our environment by selling your commercially used cardboard boxes? Oh, did I mention this is a this family-run establishment?
10. Padnos
With multiple locations in Grand Rapids, Michigan, and throughout Michigan, Padnos buys and sells all grades of cardboard throughout the Midwest. They focus on metals, electronices, plastics, and paper for recycling, however they do focus on cardboard that is square and over 24″x24″ in size. They won't accept cardboard with food or grease on it, cardboard that has been contaminated by other materials, cardboard that is still wet from liquids, cardboard smaller than what they consider a minimum size, cardboard boxes with staples or tape attached to them, or cardboard that contains hazardous materials.
11. RecycleInMe
Need help to find the right place for your recyclable materials? RecycleInMe is a revolutionary scrap marketplace that makes it easy and fast to buy or sell reusable resources. With just a few clicks, users can register an account so they can advertise their goods on our platform. Plus, potential buyers are also able to search through available posts in order to contact suppliers if they're interested in any of the recyclables – making this digital hub perfect for businesses and individuals alike who want access to efficient deals.
12. eBay
You can sell cardboard for cash on eBay. The best things to sell on eBay often involve cardboard boxes, cardboard tubes, cardboard cores and other cardboard packaging products. It's easy to set up an eBay account, list your items for sale and then ship them out once they are sold. You can even offer free shipping on some of your listings to help attract more buyers. And if you have a lot of cardboard that needs to be recycled but doesn't meet the requirements of companies like Sadlers or BoxSmart, eBay might still be able to be a useful platform for you.
13. U-Haul Box Exchange
U- Haul has dedicated programs for helping with cardboard recycling near me for money. Their Box Exchange program allows customers to buy and sell secondhand cardboard boxes at their certified U-Haul locations.
Maximize the value of your used moving boxes by listing them on U-Haul Box Exchange for other families that are about to move. U- Haul has dedicated programs for helping the environment by upcycling cardboard and other materials. You can make easy money from selling cardboard, just list the boxes you have and wait for someone to purchase them. They have used shipping and moving boxes of all sizes available for purchase and will also buy cardboard boxes from customers. This way, cardboard boxes will be reused as opposed to thrown away or recycled.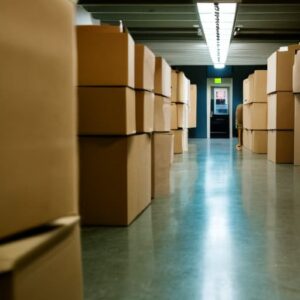 Alternatively, you can browse through the exchange and take advantage of free boxes offered by generous sellers as well.
14. Container Exchange
Container Exchange is a marketplace that specializes in selling gaylord cardboard boxes.
By choosing to sell your cardboard with Container Exchange, you can maximize the return for your cardboard. You can list your boxes for sale on their marketplace and somebody is sure to buy it. Their online marketplace allows buyers to find cardboard boxes quickly and easily with dimensions of boxes listed on their site.
Some boxes are currently listed for sale over $56.00 so you are bound to make a good profit when you decide to sell cardboard with Container Exchange.

Container Exchange offers a comprehensive service that can help you gain maximum returns from your packaging investment. This includes free professional website listing and assistance, exposure to manufacturers nationwide through their network, marketing and advertisement resources for quick sales as well as arranging any necessary shipping when items are sold.
15. Recycle Finder
Recycler Finder has a free database listing all cardboard and paper product facilities within a radius of your zip code. Reusing or recycling these materials is easy, as local recyclers will buy them and then sell them to paper mills so that they can be made into new cardboard boxes. So don't just throw away business waste.
Where to Find Cardboard and Cardboard Boxes for Free
Looking for free cardboard? Here are five places to try:
Recycling Centers: Check local recycling centers and sorting facilities – they may provide cardboard that's been pre-sorted by material type.
Newspaper/Magazine Publishers: Newspapers and magazines are usually delivered in cardboard boxes, so contact your local publisher to see if they have any cardboard that's been discarded. It's also a top choice where to get free newspaper if you're moving.
Grocery Stores/Supermarkets: Many major grocery stores offer free cardboard boxes in their back room or on the loading dock – just ask a staff member!
Schools/Universities: Schools often receive shipments of supplies in large cardboard boxes that can be taken for free after use.
Moving Companies: Many moving companies will give away cardboard boxes they no longer need. I've called moving companies when I was looking for ways how to move across country for cheap.
Neighborhood Giveaway Sites: My neighbors always have cardboard boxes lying around. Get connected to nearby neighbors through sites like Craigslist, Freecycle, or neighborhood Facebook groups and ask if anyone has extra boxes to give away.
Neighbors: People often store cardboard in their garages, attics, or basements.
Local Businesses: Contact small businesses near you and inquire if they have any used cardboard they're willing to give away.
How to Store Cardboard for Sale
Once you've gathered cardboard boxes, it's important to store them correctly so that they remain in good condition. This will allow for top dollar.
Here are a few tips:
Keep cardboard out of direct sunlight and away from moisture: The cardboard should remain dry and cool to avoid deterioration.
Store cardboard boxes flat: Stacking cardboard boxes can lead to damage, so it is best to store them flat in a single layer.
Label the cardboard properly: Marking cardboard with its dimensions and weight will help buyers identify what they need quickly.
Store cardboard in a secure area: Cardboard should be stored in a secure location, away from potential theft and damage.
Should You Bale Cardboard or Sell Cardboard Separately?
When it comes to cardboard recycling, you can bale cardboard boxes (in cardboard balers) for more money or sell them separately. The best option depends on the size of cardboard you have and how much buyers are willing to pay.
Smaller cardboard boxes should be sold separately as buyers may not be willing to purchase a large cardboard bale. On the other hand, larger cardboard boxes can be sold in bales, as buyers may prefer buying one large lot instead of multiple small lots.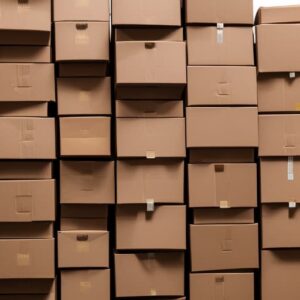 If you have a lot of cardboard, a baler might be the way to go and a recycling company might prefer baled cardboard.
How Much is a Cardboard Bale Worth?
The value of cardboard bales varies depending on the market and cardboard type. Generally, cardboard is priced by weight. A cardboard bale is worth around $100/ton, but cardboard boxes with higher quality paper can bring in more money. The recycling business is always changing, so research cardboard prices in your area before you sell.
Summary
Cardboard is a great resource for recycling and reusing, and cardboard buyers near you can help you make money from selling your cardboard. Cardboard box recycling is profitable. By finding free cardboard boxes from local sources, properly storing cardboard for sale, understanding the value of cardboard bales, and knowing whether to sell cardboard separately or in bales – you'll be able to maximize the value of cardboard recycling. Happy recycling! 🙂
Related Posts