This post may contain affiliate links to products that I recommend and I may earn money or products from companies mentioned in this post. Please check out my disclosure page for more details.
---
As an avid marathoner, I thought I'd seen all the ways a shoe could be put to use. That confidence was upended when Bloomberg announced that used sneakers were a legitimate asset class – the subject of a $1b tradeable market. Learning the shoe-flipping biz and reselling sneakers opened a whole new challenge.
Sneaker resale requires capital, intel, relationship skills, tech-savvy, patience, and some luck. A successful business involves the early purchase of limited new releases, preemptive buying of retro stock, and identification of buyers through physical and social networks. Risk management is critical.
To map a plan for cashing in, we'll unbox the shoe biz, considering what makes and breaks a successful resale shop. This guide will detail the sneaker culture and offer tips on the best ways to sell sneakers for retail price.
What Is Sneaker Reselling?
Sneaker reselling involves buying sneakers from retailers or manufacturers and then reselling them for profit. When the purchase happens at a discount, the shoes can be sold immediately. What is typical is for sales to occur months or even years after the retail price has appreciated.
While the industry is experiencing rapid growth now, it has been going as an underground activity amongst sneakerheads (shoe-crazed fans who bought and sold amongst themselves) since the mid-eighties, when Nike launched the legendary Air Jordan 1.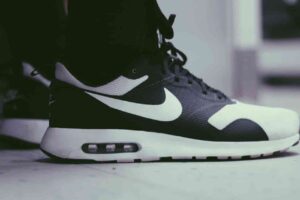 Reliable resellers would camp overnight outside retail outlets on the evenings before releases, ensuring they'd be the first to snap up the newly-released items before sell-out. That still happens, but the emergence of the Internet has shifted the product release, queueing, and buying online.
Sneakerheads today use social media and industry contacts to learn of release dates – usually timed for the pre-dawn hours. They join long online cues, sometimes using bots and paid employees to place orders off multiple credit cards, in a bid to bypass the one-customer-one-pair policy that the manufacturers increasingly try to apply. Reselling hyped sneakers is often one of the best things to sell on eBay for profit quickly.
The "Informal" Sneaker Resale Industry
Many "informal" resellers start at school to make pocket money and from there proceed to become knowledgeable collectors and professional resellers – but still in the "informal" resale industry. They are affectionately known as "sneakerheads."
Where the specialized knowledge of sneakers used to be in the domain of a selected few in the formal retail sector just two decades ago, the knowledge gained by the new breed of sneaker resellers in the informal sector is now out there for all to have. Additionally, so is their experience to learn from!
This proliferation of "sneaker knowledge" is what opens up the industry to those of us who aspire to make 100k (or more) as sneaker resellers – or sneakerheads! 
Let us briefly glance at the development of the informal sneaker reseller industry. The main phases in the development of the sneaker reseller industry are mentioned because they define points for you to enter into the market as a reseller.
(From here on, all reference to the sneaker resale industry is to be understood as referring to this informal sector).
They also illustrate the main driver behind a particular strategy in the sneaker resale market.
A great source of this specialized knowledge and skills is to be found among the successful resellers who started to teach their skills and experience over YouTube and similar platforms – giving impetus to a "new generation" of sneaker sellers – and opening up the opportunity for those who seek to enter the industry.
The "sneaker industry teachers" soon gathered great numbers of followers on social media, turning many into celebrities – and boosting their sales even more! 
One almost had the impression that only the sneaker reseller "celebrities" were in the game. Still, this myth was soon dispelled when the marketplace apps came in on the action – opening the industry even wider!
The GOAT app top sellers each sold more than $2 million in sneakers in 2017. The same top sellers became so proficient by the end of 2018 that they each sold more than $10 million in sneakers overall.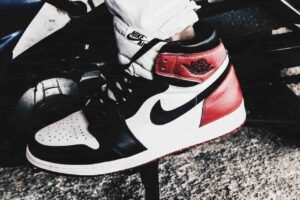 Apart from these influences on the sneaker reseller industry, one must mention the influence of the social media platforms such as Facebook, Instagram, and similar venues. This opened up the industry to all who have access to the internet.
Against this background, you have to plan your strategy to earn 100k (or more?) as a sneaker reseller. There is no question that you can make $2000 a month or more in the reselling community.
The Sneaker Reseller Market in a Nutshell
Sneakers are released in limited quantities. You build up your inventory by purchasing from manufacturers or retailers (at retail prices). You now add your markup and sell it directly to consumers. This is the main market.
The aftermarket is where like-new and gently-used shoes can be thrifted or purchased on any number of apps. It is also possible to use these apps to find a good deal from another reseller on what's known as the "aftermarket."
How to Build Your Inventory
The pandemic has caused a massive shift from brick-and-mortar shops to online trade in many industries. This is the case in the sneaker resale industry as well. In a way, it has accelerated a trend that has already gained momentum even before the pandemic.
Steps to Build Your Inventory Reselling Shoes
Buying your inventory to resell sneakers is arguably the most important part of the sneaker reselling business, as it impacts your profit margin directly. 
First, you have to know where to buy your inventory. Second, you want to avoid buying the wrong stuff that you will not be able to resell. Let us consider a few things for you to be aware of.
Step 1 is building up your inventory by purchasing from manufacturers and retailers. It is important to keep an eye on certain apps. Good retailer apps to monitor are Adidas, Adidas Confirmed, and SNKRS (Nike). 
Bear in mind that this may be the most difficult part of building up your inventory. Quantities are limited, and the demand is high because many people are starting to capitalize on the sneaker reselling opportunity.
Step 2 is to consider the sneaker community aftermarket.
Fortunately, there are several sneaker industry apps to assist you here as well. Some worth mentioning:
Step 3 explores online sneaker shops in the sneaker game, other resellers' Instagram pages, Facebook groups, and Reddit to find additional inventory.
Before the pandemic (presumably after the pandemic again), sneaker markets were also useful, both as a buying platform for inventory and as a platform to make money selling stock.
These events are very productive because you deal with a group of buyers who know what they want and have committed themselves by paying an entry fee. Furthermore, they already have cash at hand.
By now, it should be clear to you that the retailer apps are a major advantage in building up your inventory. But it is also very useful for at least two other purposes:
You can use it as a price guide to ensure that you post competitive listings only.
You can also use it as a selling platform (in addition to buying stock).
You can also automate the process of finding the shoes that you want to purchase for your inventory. For this, you may want to consider using AIO Bot (there are others, too). This comes at a cost, though. Watch out for fake shoes, though. 
Once you have bought AIO Bot and installed it on your computer, you can choose which shops you want to search. Just enter the shoe you're looking for, the size, and the color. The Bot will manage the process and take care of searching the sites for you.
On a side note, it is important not to buy fake sneakers – and it is easy to fall into the trap if you are new to the sneaker reselling game (especially if you buy from online marketplaces with no middleman (e.g., Amazon or eBay). A young reseller might look for limited edition coveted shoes on Amazon. However, the risk of fake shoes is a reason not to buy from Amazon because anyone could open a storefront claiming authentic Adidas Yeezys only to be knock-offs.
Apart from a price that is too good to be true, you may also take a few other precautions:
Ask for high-resolution photographs against a verifiable, current background (such as a newspaper). Then compare the photographs with the pictures of the shoes on their official site· In the case of new purchases, ask for the receipt.
Check the seller rating on the platform that you are doing business (e.g., eBay), and read the buyer reviews.
How To Buy The Right Sneakers
"Scarcity" is the secret sauce. The most successful outfits were the ability to lay hands on shoe models produced in smaller numbers than demand required. When the stock dries up on the store shelves, desperate buyers drive up the price profits are born.
The right sneakers to buy are the ones that will be the subject of the supply/demand skew sketched above. No sense in hoarding shoes that nobody wants.
There's a four-step algorithm to optimizing your shoe stock mix:
1. Master the release cycle.
2. Mine the market.
3. Follow buyer groups.
4. Diversify.
Master The Release Cycle
Shoe manufacturers produce a new release each month. Their Air Jordan experience has taught them the value of scarcity, and brands like Adidas and Nike intentionally produce fewer models than they can sell to keep expectations hyped.
Mastering the release cycle is a two-pronged step to staying on top of the industry and key to your side hustle. To begin, you need to receive all the company-issued media. This tells you when and where the shoes will drop. And what the models will be.
Shoes developed around celebs are in demand. Study the releases to assess the impact of such partnerships on the shoe demand.
The next step is to develop relationships with insiders. This includes store owners who'll give you a heads-up on what they intend to stock. And in what numbers.
Mine The Market
The StockX app provides excellent raw data on what has sold. Learn how to analyze this for trends. Look for:
Geographic data: Demand is not evenly distributed. Learn where it's coming from.
Hot models: See which releases trade at the steepest, most sustained premium to their retail price. Subsequent releases are likely to follow the pattern. Conversely, avoid the duds detected in your model.
Open Interest: Find out where latent demand is and which models are involved.
Follow Buyer Groups
Staying in touch with the end consumers gives a good sense of how tastes will change. You can get an edge over other resellers by anticipating changes in fashion, and this happens when you have your nose to the ground.
Facebook, Instagram, Twitter, and less so Tiktok are apps that facilitate access to consumer groups. Identify the influencers and get close to them.
Diversify
Sneaker resale is an investment business, and as befits the practice, you don't want your eggs in one basket. Rather than bet all your time and treasure on the "next big thing," spread the capital by investing in a portfolio of shoes.
A little-known diversification strategy is brick flipping. Bricks are non-premium, lower-end sneakers. They don't offer the staggering margins that Yeezy's and Nike Mags have been known for, but:
They're mispriced: They sell at different prices in different locations because they're subjected to less concentrated attention. This creates the opportunity to arbitrage by buying in the cheaper shop and delivering to the customers at the more expensive locale.
They're not scarce: This allows you to play a volume game on the thinner margins. A hard-to-realize $200 profit on two pairs of rare high-end shoes yields less than a $1.50 profit applied to two hundred pairs of bricks.
Time diversification also is important. Not all models appreciate over the same time. Some even experience a dip in price before soaring on a return to fashion years later. Develop a nose for these revivalist models and buy them for the longer term.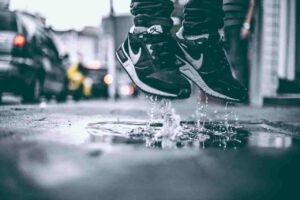 Not all release dates are equal. Spread the capital around economically significant events like Black Friday and Christmas. June 2020 was a boom month for the sneaker biz, as COVID stimulus checks arrived. Be aware of similar future events.
Sneakers That Are Hot Now
In a constantly evolving market, we'll provide a snapshot of the shoes that have been doing well.
·      Nike Jordan 1, Travis Scott / Fragment Version: A three-way collaboration with a top influencer and hip designer has led to a successful release of the shoe that kickstarted flipping. StockX has it at $1.600. Resale prices have topped that.
·      New Balance/Levi's 990v3: A top running-shoe manufacturer created a design phenomenon by partnering with an iconic denim brand. This shows the power of the non-celeb collab. Targeting an older audience (see "Slipper Flippers" later) comes in at $250.
·      Adidas Yeezy 450: This model has taken a popular line over the edge, with a take-it-or-leave-it futuristic design. This is a good shoe to stock over the long horizon, as its unique design makes it future-memorable $240.
·      Jordan Retro 3 A-Ma Meniere Version: Jordan partnered with a retail shop to rejig an old success story. Releases like this show why successful resellers should anticipate new releases of successful old models. At $640, it's not cheap, but it is a Jordan. And that name is very trendy.
·      Vivienne Westwood / Asics Gel Kayano 27 LTX: This sneaker interestingly adds a punk look to a marathon stability shoe. Running shoes are highly personalized and don't generally translate well as fashion. Look out for exceptions like this $280 rarity.
·      New Balance / Aime Leon Dore 550: Part of the Made in USA program, this showcases what happens when established brands revitalize by targeting models narrowly. At $230, this lends itself to volume play.
These shoes are worth tracking in real-time to hone your sense of how demand evolves. Be sure to download and dissect the sales data.
Tips For Buying Sneakers On eBay
Still a leading platform for online purchase, eBay helps you like this:
Quality Authentication: Take advantage of eBay's product authentication program, which ensures you are against buying counterfeit items.
Seller Feedback: Sellers have feedback ratings. If they have a reputation for burning buyers, you'll see that here before you commit.
Don't Bargain Hunt: Scammers try to lure prospects with bargain-basement pricing. Check against Stockx, and avoid discounted items on eBay.
Work Your Nose: Learn common-sense rules for identifying scammers. They tend to have a signature, and noticing it upfront can save you cash and embarrassment.
Plausibility Check: Apart from the item sold, check the seller's inventory for plausibility. Avoid sellers who seem to have lots of rare items in stock.
Where To Find Popular Upcoming And Rare Sneakers
The first step to finding gems is identifying them. Then you know what to hunt. There are three sources for this:
Market Research
Trends have a tendency to repeat. By analyzing buying patterns (we've mentioned StockX), you can identify models that are due to jump on their next release. You'll also get a sense of where the stock is moving to – and you may want to rebuy from those sources in the future.
Manufacturer Releases
The manufacturers tell you what they're hyping. You want at least to be ahead of the information that's being explicitly shoved into the public domain. Apart from reading the model names, see if the releases contain hints of a broader campaign.
Read more than the notes. Company financial statements (released quarterly) give hints or outright statements about how brands are positioned. This may give clues to production levels (implying scarcity and therefore price) and marketing themes.
Befriend your local purchasing managers. They'd be flattered by your interest and may give you clues about what stock they're getting – and what's not moving off (or event on to) the shelves.
Pop Culture
It didn't take a producer release. When Tom Hanks pimped the Nike Cortez Ultra Moire in the movie Forest Gump, it put the shoe on a path of a continuous resurgence in demand. With all the price spikes that go with it.
While the companies will trumpet the names of Celebrities, it partners with, be on the lookout for shoes that appear without explicit endorsement. Noticing them early gives a chance to stock up before the blowup. Systematically scanning upcoming movie trailers for footwear is a good idea.
Knowing what you're looking for, turn to the sources where they're to be found. Primary sources are the manufacturers and retailers mentioned above. Secondary sources include end-users and other resellers. Befriend your foes. Rivals who hit a cash squeeze may be willing to sell you their stash at a discount.
Dangers Of Sneaker Resale
Risk management is a key part of every successful business strategy. The sneaker resale risk factors are:
·      Liquidity: Many strategies involve borrowing money to buy stock. Not being stuck with unsold gear when the loan is due requires careful capital management.
·      Shrinkage: Sneakers are hot items, and they can walk out the door. Budget for insurance against loss in storage, transit, or mugging.
·      Information: The sneaker biz is increasingly driven by data and tech. Getting unreliable release information of lagged price feeds will lead to price and acquisition strategy errors.
·      Quality: If you're buying resold shoes for further resale, you open yourself to counterfeiting and damage. Buy from accredited sources, and request verification from sellers. Multi-angle shots of the shoes against current newspapers is one method.
·      Competition: Hordes have been drawn to the business in the push for a quick buck. This makes it harder to get rare shoes. It also creates downward pressure on the margins.
·      Regulation: Lawmakers have their eye on taming what's been a free-wheeling industry. Consumer protection concerns see resellers struggling to get the quantities they need, as retailers are compelled to reserve stock for end consumers.
How Much Money Can You Make As A Sneaker Reseller?
The operative word here is "can." Legends are written about teenagers who've paid their way through college (and the used car mart) off sneaker flips. And while it is a great way how to make money as a teenager, other truths exist. Quieter stories are told of people who've given up because scarcity kills their cumulative absolute profits.
You can land up at either extreme. But where you expect to be is a function of how much capital you raise and how methodically and patiently you deploy it.
There still are opportunities to get a 10% return on investment. Reaping $100k in profit would require a $1m investment. But you don't need it all upfront. Invest what you have (and can borrow against immediate/short-term flips), and immediately reinvest in the business until your cumulative investment equals $1m.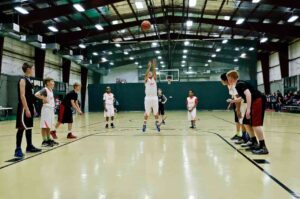 This strategy requires patient persistence, but a sure way to end up packing everything in is by blowing everything on the first "sure shoe" you run into.
By way of example, suppose you can borrow $100k at 4.5% per annum. Let's say you can make a modest 10% average return on your stock flip, and it takes three months to work through your inventory. In two years, you get $98k after repaying your debt. 
These are modest assumptions, but $100k out of nothing is a sizeable payoff.
Is Reselling Sneakers Profitable?
There is no one-size-fits-all answer to this question. The profitability of sneaker reselling depends on a number of factors, including the following:
The type of sneakers being resold
The rarity and desirability of the sneakers
The geographical location of the reseller
The resale market conditions
That said, it is generally possible to make a healthy profit by reselling sneakers. Buying shoes and selling for a large profit is a great way how to build wealth from nothing. It's possible to turn a profit of several thousand dollars in a single transaction in some cases.
Buy Sneakers as Assets
The popularity of streetwear brands also boosted the sneaker reselling trade. Huge profits were made on limited editions of certain kinds of popular sneakers (which often were collaborations between celebrities and the sneaker industry. Sneakers became assets.
Then followed an industry shifting move by Nike (quoted from https://www.bloomberg.com/features/2021-sneaker-investment/:
The shoe giant's "Consumer Direct Offense," announced that year, was focused on driving sales away from brick-and-mortar partners such as Foot Locker Inc. and toward its stores, mobile apps, and websites. 
By the end of the fiscal year ended May 31, 2019, it was clear the move was paying off: Digital sales were up more than a third, and direct-to-consumer sales had climbed to $11.8 billion, almost double what they'd been four years before. 
Resellers grabbed the SNKRS app and made very good use of it! This started frenzies at new sneaker release events – followed by the release of the Frenzy app. 
This new app created by Shopify aimed at "leveling the playing field." Frenzy allows you to fill out credit card info in advance and buy limited-edition sneakers during flash sales in just two taps.
This shift in the business created the potential to make good money – fast! The StockX app appeared as the middleman to stabilize the volatility that resulted.
Its founder (a consultant with a sneaker blog at the time) remarked to the Financial Times that "the secondary market for sneakers was "more similar to the illegal drug trade" than a stock exchange.
This business shift was cemented by the appearance of bot software and real-time market research – which has become the norm for sneaker resellers wanting to make 100k and more. 
Future Of The Sneaker Industry and Resale Market
Sneaker flipping has gone through exciting changes since the 1986 release of Air Jordan 1. A dusting of the crystal ball shows five themes that will mark the next thirty-five years:
The Empire Strikes Back
Established brands are keen to muscle in on the billions of dollar revenue added to the resale market over the year. This sees companies like Nike and Adidas trying to access the customers directly, disintermediating the traditional resellers.
Expect these companies to promote their own reseller networks, driven by tamed sneakerheads who share their revenue with the manufacturers in exchange for access to early stock. The manufacturers will use production surges to flush out stubborn indie sellers, flooding the market with previously rare models.
Bot Death
There's a constant arms race between the brands and the sneakerheads. The first group tries to maintain a one-on-one relationship with consumers, while the resellers use an army of robots to spoof accounts and fill the release queues.
Expect the brands to win this one. Technologies like blockchain will be used to prevent identity spoofing. This will make it harder and ultimately impossible for resellers to obtain an advantage over consumers.
The Rise Of The Consumer
Following the previous theme, technology will turn increasingly towards empowering consumers and not sneaker resellers. Consumer-led group buying will resurge. Instead of camping outside stores overnight, groups of buyers will approach brands directly.
A new range of apps will bring functionality to end-users rather than resellers. Shopping will be integrated with personal wealth management. It will provide location-relative pricing and release date. Prices will be adjusted for shipping costs.
These changes will invert the release cycle. Consumers will dictate release dates, target models, and price. They'll demand and receive direct delivery. 
Margin Collapse
The competitive pressures outlined above will entrench volume over margin as the key profit driver (see "Brick Flipping" above). This will winnow out smaller resellers who cannot front the capital for larger purchases or the storage space for the higher stock count.
While this will kill speculative trade, premium sneakers still will have premium value. But this will be realized in time – much like artworks and wine. Again, this favors sneakerheads with deeper pockets, able to fund their investment from their own funds or long-term loans.
Slipper Flippers
As the generation of commercial sneakerheads inspired by Run DMC's My Adidas ages, apparel items for older people will go through the same cycle of informal resale. The improved quality of geriatric life will boost this trend., which will reopen the window shut down by competition in the sneaker biz.
Sneaker World Industry Trends
The easy profit window is slowly closing on the sneaker culture and sneaker resale market. But it's not shut yet – and opportunities exist for resellers to sell sneakers with risk-managed, balanced shoe-folios. Reselling sneakers is a creative way to make money on shoes. Moving nimbly and cleverly is key.